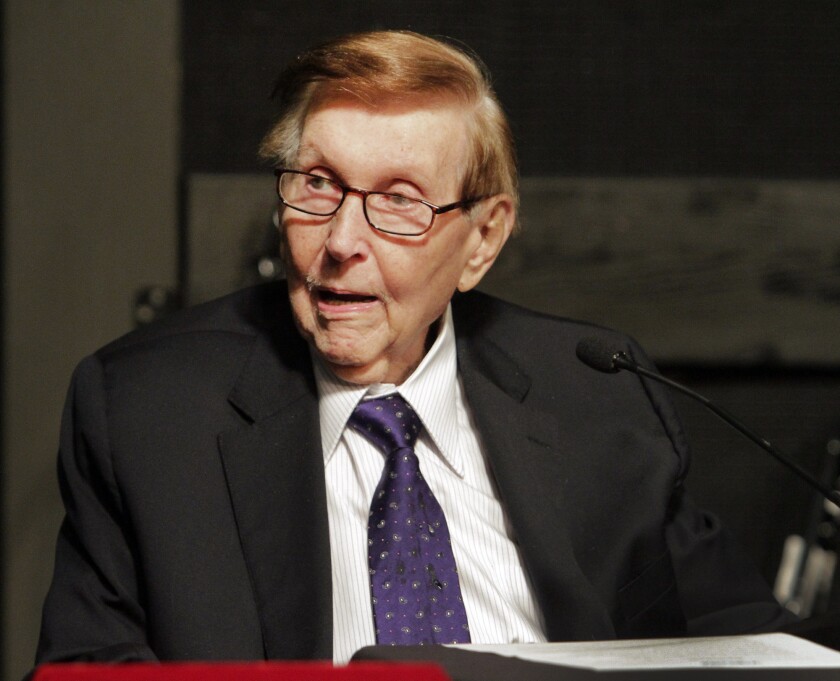 Newly released court documents depict a remorseful Sumner Redstone late last year as he sought to make amends with his daughter.
Redstone in December wrote a letter to Shari Redstone to apologize for a nasty rift that prompted him to threaten to bar his daughter from attending his funeral or even visiting him in the hospital, according to the court documents.
The records were made public Monday in a contentious legal dispute, after the Los Angeles Times and two other media organizations last month petitioned a judge to open court documents that had been sealed.
The disclosure comes in advance of a trial, set to begin May 6, to determine whether the ailing 92-year-old media mogul is mentally competent and whether he has been unduly influenced by people around him.
The Dec. 11 letter revealed just how deep divisions in the Redstone family became after the mogul began spending much of his time with two former companions, Manuela Herzer and Sydney Holland.
Shari Redstone, at the time, believed that she was not welcome in her father's home in Beverly Park.
"This letter expresses my true feelings, and I am under no duress or coercion when signing it," Redstone wrote to his daughter, who serves as vice chair of Viacom Inc. and CBS Corp. "I wish to put our family back as we were before Sydney and Manuela, and restore our family relationship to what it was then. This is very important to me."
The document, part of a trove of newly available records, was released after Los Angeles County Superior Court Judge David J. Cowan asked Redstone's attorneys to explain why they had not released records that he had ordered unsealed March 18. Despite the order, those records were not released until Monday.
Meanwhile, Redstone's legal team has asked the judge to prevent the public from attending key portions of the upcoming trial, including during testimony from doctors and his nurses.
"Mr. Redstone objects to the public being present for any portion of testimony from treating or examining physicians and nursing staff," according to filing by Laura A. Wytsma, one of Redstone's attorneys. "There can be no dispute that Mr. Redstone enjoys a constitutional right to medical privacy."
Cowan now must decide whether Redstone's request to protect details about his health and medical care trump the 1st Amendment and expectations that trials are open to the public.
Last month, Cowan said he recognized that Redstone has certain rights to protect his privacy and he asked Redstone's attorneys to come up with a plan to try to keep medical information confidential during the trial.
"The court intends that the trial be open to the public," Cowan wrote in his March 18 ruling.
Jean-Paul Jassy, a lawyer representing the Los Angeles Times and the Hollywood Reporter, said the plan submitted would restrict the public's right to attend the trial.
"The plan put forth by Mr. Redstone's counsel does not adequately protect the public's right to know what is happening in court," Jassy said. "What Mr. Redstone's counsel has proposed is an unworkable system with people being ushered in and out of the courtroom, question by question."
Attorneys representing Herzer declined to comment late Monday.
meg.james@latimes.com
---