Sumner Redstone's ex-girlfriend alleges forged signature, strange voicemail from him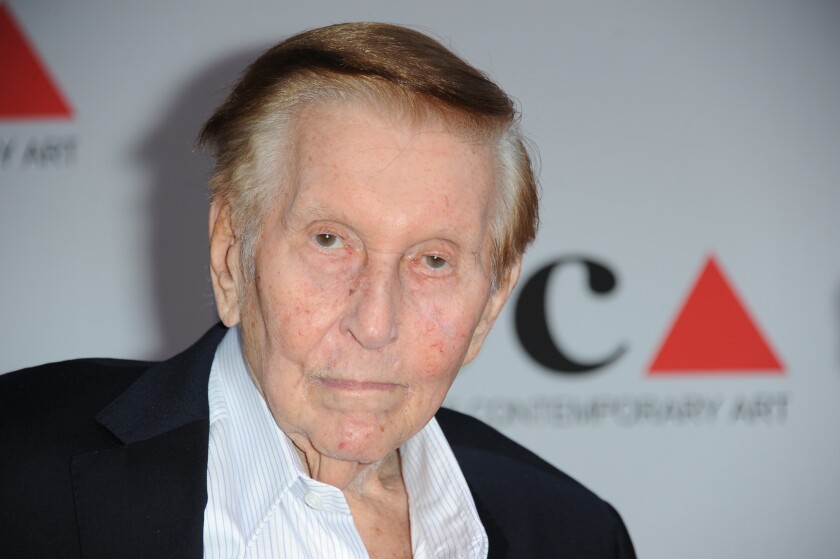 Sumner Redstone and his legal team are encountering more turbulence in the contentious dispute brought by Redstone's former girlfriend, including allegations that his signature was forged and that the ailing mogul is being manipulated by Viacom's chief executive.
Manuela Herzer, Redstone's former girlfriend, is contesting recent changes that removed her from a position of power in Redstone's life and in his legal documents.
In new court filings, submitted to a judge on Monday, Herzer takes aim at Viacom Chief Executive Philippe Dauman.
SIGN UP for the free Indie Focus movies newsletter >>
Herzer alleges that Dauman has made false and misleading statements about Redstone and his condition.
"The truth is that Mr. Dauman inaccurately and misleadingly depicts Sumner participating in conversations that did not occur," Herzer said in a declaration filed on Monday.
Herzer and her lawyers have asked a judge to allow them to take depositions of Redstone, Dauman and two of Redstone's doctors. She is trying to reverse the Oct. 12 decision to remove her as Redstone's primary caregiver and as the agent in charge of Redstone's advance healthcare directive.
Dauman was designated as Redstone's healthcare agent, replacing Herzer, on Oct. 16.
A Los Angeles County Superior Court judge on Monday granted Herzer's request for a hearing, which now is scheduled for Dec. 21.
Representatives of Redstone blasted Herzer's latest legal manuever, and the mounds of documents filed by Redstone's former girlfriend and her lawyers. Redstone's attorneys also disputed the allegation that Redstone's signature had been forged.
"Her attacks on anyone who disagrees with her self-serving accounts are unfounded and outrageous," Gabrielle Vidal, an attorney for Redstone, said in a statement.
Monday's court filings by Herzer contain an email allegedly sent from Dauman's Viacom corporate account. The Oct. 7 email includes statements purportedly written by Redstone and apparently sent to Viacom board members. Redstone is executive chairman of Viacom Inc. and CBS Corp.
The email lauds Dauman's management of Viacom.
"The statement depicts Sumner heaping praise on, and expressing confidence in, Mr. Dauman," Herzer said in a declaration filed Monday. "In reality, Mr. Dauman wrote all of the statements heaping praise on himself."
Herzer said that she was present with Redstone at his home in Beverly Park on Oct. 7, and that Redstone did not participate in drafting an email sent to board members.
By early October, according to Herzer, Redstone was unable to form full sentences.
"Sumner did not say or articulate the flattering words that Mr. Dauman wrote about himself, and instead Sumner was essentially being used by Mr. Dauman to deceive the Viacom board of directors and shareholders," Herzer alleged.
A Viacom spokesman declined to comment.
Viacom's stock has been hammered this year, falling more than 45%, as investors worry about the changes in TV viewer behavior. Viacom owns the cable TV channels Comedy Central, MTV, VH1, BET and Nickelodeon. Viacom also owns Los Angeles-based Paramount Pictures movie studio.
Herzer said in her declaration that Dauman often talked to Redstone, but she disputed that the two executives engaged in in-depth conversations. "Like all of their conversations at this point in time ... it was simply a soliloquy" by Dauman, Herzer said.
Redstone's attorney, Vidal, fired back, saying Herzer appeared to be ridiculing Redstone for his physical disability, his inability to effectively communicate with others, and that she was attacking anyone who disagrees with her version of events.
"Ms. Herzer's lies continue, and her litigation tactics lack merit and basic human decency," said Vidal, an attorney at Loeb & Loeb, said Monday. "It is surreal that while doing everything she can to disrupt Mr. Redstone's life, Ms. Herzer is asking the Court to be put in charge of his future healthcare decisions."
Herzer is represented by Pierce O'Donnell of the Greenberg, Glusker law firm in Century City.
The new court documents also include an analysis by a handwriting expert who said the most recent signature of Redstone appears to be forged. The handwriting expert, Jim Blanco, examined dozens of signatures of Redstone in recent years, including authorizations to sell CBS and Viacom stock. One document was a letter sent to Sharon Memorial Park in Sharon, Mass., where Redstone wants his remains interred after his death.
One of the Redstone signatures was on a 2013 request to have his bank transfer $100,000 from his household account into an account held by Herzer. The email asked that another $100,000 be transferred into the bank account of Redstone's other former girlfriend, Sydney Holland.
Herzer's lawyers contend that the alleged forgery of Redstone's signature appeared on a contract between Redstone and Herzer that outlined the ground rules for Herzer to move her belongings from Redstone's Beverly Park mansion in late November.
The Redstone camp strongly disputed the allegation that Redstone's signature had been forged. Redstone's attorney, Vidal, delivered the contract to the mogul and was present for the signing.
"The contract was not forged, and the suggestion that Loeb & Loeb perpetrated a fraud on this court is offensive in the extreme and absolutely false," the Redstone opposition papers said. "Gabrielle Vidal brought the contract to Mr. Redstone and watched him sign it."
Meanwhile, the Herzer court documents describe a strange voicemail message that Redstone allegedly left on someone's phone in September. Herzer said she was with Redstone during the call, and her voice also can be heard on the recording.
Herzer's lawyers said the voicemail message illustrates how the Viacom Inc. and CBS Corp. executive chairman has trouble articulating his thoughts and that he would "parrot" the words of others.
The voicemail recording, which was filed with the court under seal, allegedly reveals that Redstone could manage to form only three words: "Call me back," according to the new court filings.
Then Redstone started weeping, the court documents said.
ALSO:
How 'Star Wars' could become Disney's next cash cow
Box office: 'In the Heart of the Sea' sinks below 'Mockingjay -- Part 2'
Charles Barkley trashes CNN campaign coverage and Donald Trump on TNT's 'Inside the NBA'
---
From the Emmys to the Oscars.
Get our revamped Envelope newsletter for exclusive awards season coverage, behind-the-scenes insights and columnist Glenn Whipp's commentary.
You may occasionally receive promotional content from the Los Angeles Times.