Judge dismisses mental competency case against Sumner Redstone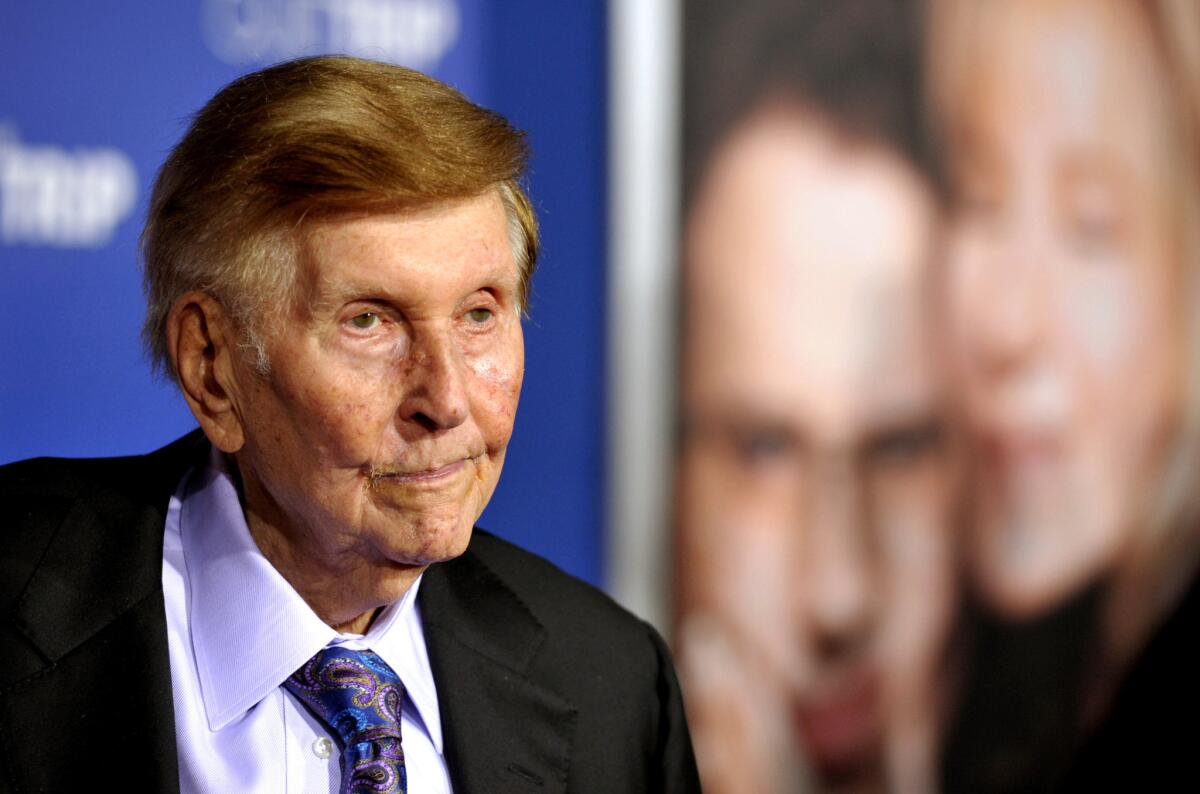 In a victory for media mogul Sumner Redstone, a Los Angeles judge dismissed a lawsuit that challenged his mental competence, removing one of the clouds that have been hanging over his family's corporate empire.
Monday's ruling — on what would have been the second day of the trial — doesn't entirely end the legal drama with Redstone's former girlfriend, Manuela Herzer. She promptly vowed to appeal and immediately filed a new lawsuit against his family members. But the decision eliminates a major distraction for Redstone's executives, particularly at the struggling Viacom, which can now focus on shoring up the lagging performance of its Paramount Pictures film studio and cable networks such as MTV and Comedy Central.
If the lawsuit had succeeded, with the judge finding that the 92-year-old billionaire was mentally incompetent, it could have set off a prolonged corporate tussle over who has ultimate control over Viacom and CBS Corp., the other large media company controlled by the Redstone family.
Instead, the case was instrumental in mending a rift between Redstone and his daughter, Shari Redstone, and it firmly established her as the mogul's heir apparent.
Los Angeles Superior Court Judge David J. Cowan did not expressly rule on whether Sumner Redstone was mentally competent. But Cowan concluded Redstone was in command of his faculties enough to recognize and articulate — despite a severe speech impediment — the person he wanted in charge of his healthcare.
See the most-read stories in Entertainment this hour >>
"Shar … Shari," the mogul said last week during a dramatic 18-minute videotaped deposition that clearly moved the judge.
"In brief but compelling testimony, Redstone overcame his very significant ailments, including inability to speak clearly and what looked like much pain in swallowing" to provide the testimony, Cowan wrote in his ruling. "The court was able to see the strong conviction he had about what he said. He seemed very alert. He was composed and did not appear angry.... There are no legal grounds not to follow his stated wishes."
Immediately after Cowan's decision, Redstone's legal team gathered in the courthouse hallway around Shari Redstone, 62, and her son Brandon Korff, who lives in Los Angeles. As Shari Redstone hugged the lawyers who handled the case, tears began streaming down her face.
"I am grateful to the court for putting an end to this long ordeal," said Shari Redstone, who is vice chair of Viacom and CBS, in a prepared statement. "I am so happy for my father that he can now live his life in peace, surrounded by his friends and family."
The case provided a rare window into the rivalries, infighting and jockeying for power among the people who desperately wanted to stay in the billionaire's orbit — and the harsh consequences when they fell out of favor. Herzer filed the petition in late November after Sumner Redstone removed her as the agent in charge of his healthcare. He also removed her from his will.
Herzer, who was accompanied in court by her children and friends, declined to comment.
Her attorney, Pierce O'Donnell, expressed disappointment after Cowan's decision, saying he did not have the opportunity to call several witnesses, including Viacom Chief Executive Philippe Dauman, to try to demonstrate that Redstone was under undue influence by those who surround him.
O'Donnell also announced that Herzer had promptly filed a lawsuit demanding at least $100 million from Shari Redstone, her two sons, five nurses for Redstone and his longtime chauffeur from Paramount Pictures, Isileli Tuanaki, who also serves as house manager.
The new suit says "Shari and her henchmen" orchestrated Herzer's ouster from Redstone's Beverly Park home last fall, and robbed her of the $70 million that he planned to leave Herzer before he cut her out of his will in mid-October.
The suit alleges "intentional interference" with an expected inheritance, breach of contract and invasion of privacy. It contends that one of the nurses, Joseph Octaviano, regularly communicated via email with Shari Redstone and her younger son Tyler Korff to alert them about the goings-on the mogul's home beginning in mid-2014 when his health began to decline.
In an interview, one of Redstone's lead attorneys, Robert Klieger, dismissed Herzer's latest legal volley as "preposterous."
Sumner Redstone has not appeared in court. After Cowan's decision, Redstone's attorneys trooped to his home overlooking Beverly Hills to deliver the news. Redstone was "incredibly emotional, incredibly happy, and thankful to everyone around him, including his family," Klieger said.
Meanwhile, Redstone's legal team also was preparing to file a lawsuit against Herzer and another former girlfriend, Sydney Holland, whom Redstone booted from his home in late August after learning of her affair with another man, according to court records. That suit is expected to seek $150 million that Redstone provided the two women over a five-year period, and it will contend that Herzer and Holland took advantage of Redstone and that their treatment constituted "elder abuse."
O'Donnell called the legal threat "laughable," adding that Redstone freely gave the gifts to the women. "This is obviously a desperate act," he said.
Viacom and CBS shareholders were alarmed by Herzer's initial lawsuit, which was filed in late November, because it alleged that Redstone was "a living ghost," reliant on a feeding tube and prone to crying spells.
Within three months, Redstone was forced to step down as executive chairman of CBS and Viacom. Even that action became controversial because Shari Redstone refused to support her father's hand-picked lieutenant, Dauman, in the role of Viacom executive chairman. Shari Redstone and Dauman are among the trustees who will oversee the media mogul's voting shares after he dies or becomes incapacitated.
Sumner Redstone's unequivocal testimony made Cowan's decision easier, legal analysts said.
"It starts from the basic premise that each of us has the right to make decisions about our own heathcare," said Anthony Szczygiel, a professor emeritus at the University at Buffalo School of Law who specializes in elder-care issues. "Once you set aside all the sexy details about this particular case, it really came down to that."
The two sides nearly reached a settlement last month that would have paid Herzer as much as $30 million, but it unraveled over several issues, including whether Redstone would cover Herzer's legal expenses should Shari Redstone or any other family members sue her. Redstone himself also dug in his heels.
"They misjudged Sumner's appetite for paying Manuela Herzer any more money," Klieger said, adding that Redstone was "our best
witness. There is no question that Sumner Redstone was the one who won this case."
The turmoil surrounding Redstone had been a concern among investors who have been anxious to see a turnaround at the New York-based Viacom.
"At the end of the day, this is background noise and what matters is the underlying performance of the two media companies," said Brett Harriss, a research analyst for Gabelli & Co.,
the second-largest voting shareholder in Viacom and CBS.
CBS is down nearly 6% over the last year. Viacom is down 38%, reflecting investor concerns that the company's channels and studio have fallen far behind rivals.
On Monday, CBS and Viacom shares barely budged. Viacom closed down 2.15%, or 89 cents, to $40.43 a share. CBS shares slipped nearly 3%, or $1.68, to $56.00. The two companies are valued at $42 billion.
meg.james@latimes.com
MORE:
Sumner Redstone says his former girlfriends received $150 million from him
Sumner Redstone trial showcases family rifts, betrayals and lavish spending
Hulu officially confirms cable-like digital bundle, says it's set to reach 12 million subscribers
YouTube now bigger than TV among advertisers' target audience
Follow @MegJamesLAT for the latest on the business of Hollywood.
---
UPDATES:
9:27 p.m.: Updates with additional details and background
10:20 a.m. This article has been updated throughout with comments from Shari Redstone, more comments from the judge and information about additional lawsuits.
8:52 a.m.: This article has been updated with comments from the judge in the case.
This story was originally published at 8:36 a.m.
From the Oscars to the Emmys.
Get the Envelope newsletter for exclusive awards season coverage, behind-the-scenes stories from the Envelope podcast and columnist Glenn Whipp's must-read analysis.
You may occasionally receive promotional content from the Los Angeles Times.