Super Bowl counterprogramming plays defense on TV and online with Puppy Bowl and Key & Peele
There's more happening on Sunday than the highly anticipated showdown between Denver's Peyton Manning and Carolina's Cam Newton.
Super Bowl counterprogramming has evolved into a robust genre for networks that are looking to lure in viewers with no interest in the epic gridiron showdown — which this year sees the battle between the Denver Broncos and the Carolina Panthers — or those who just need a break from it.
Puppy Bowl, which corrals 84 puppies from 44 animal shelters across the country, has emerged as one of the hallmarks of Super Bowl alternatives and is now in its 12th year.
------------
FOR THE RECORD
8:49 a.m.: An earlier verison of this article stated that Puppy Bowl is in its 11th year. It is in its 12th year.
------------
In its inaugural year, the pupfest averaged 638,000 viewers, according to Nielsen. By 2008, it hit the 1 million average audience mark. Last year, it brought in 2.76 million viewers in its first run from 3-5 p.m. Eastern time/Pacific time. And because it is repeated several times, the number of viewers who sample it for at least one minute during that time is more robust.
"Animal Planet started Puppy Bowl as a cute counterprogramming stunt to the Super Bowl," said Puppy Bowl executive producer Melinda Toporoff. "Now 12 years later, it is a part of pop culture and more importantly, has helped hundreds of dogs find their forever homes."
Not to mention, advertisers love it. Though not quite on par with the $5 million that a 30-second spot on the Super Bowl is going for this year, Animal Planet's "Puppy Bowl" last year fetched $2,200 for a 30-second ad, up from $1,700 in 2014.
The success of Puppy Bowl has spawned other animal-centric bowls vying for the attention of those seeking an alternative or a break from the aggressive tackles and scrimmages on the human field.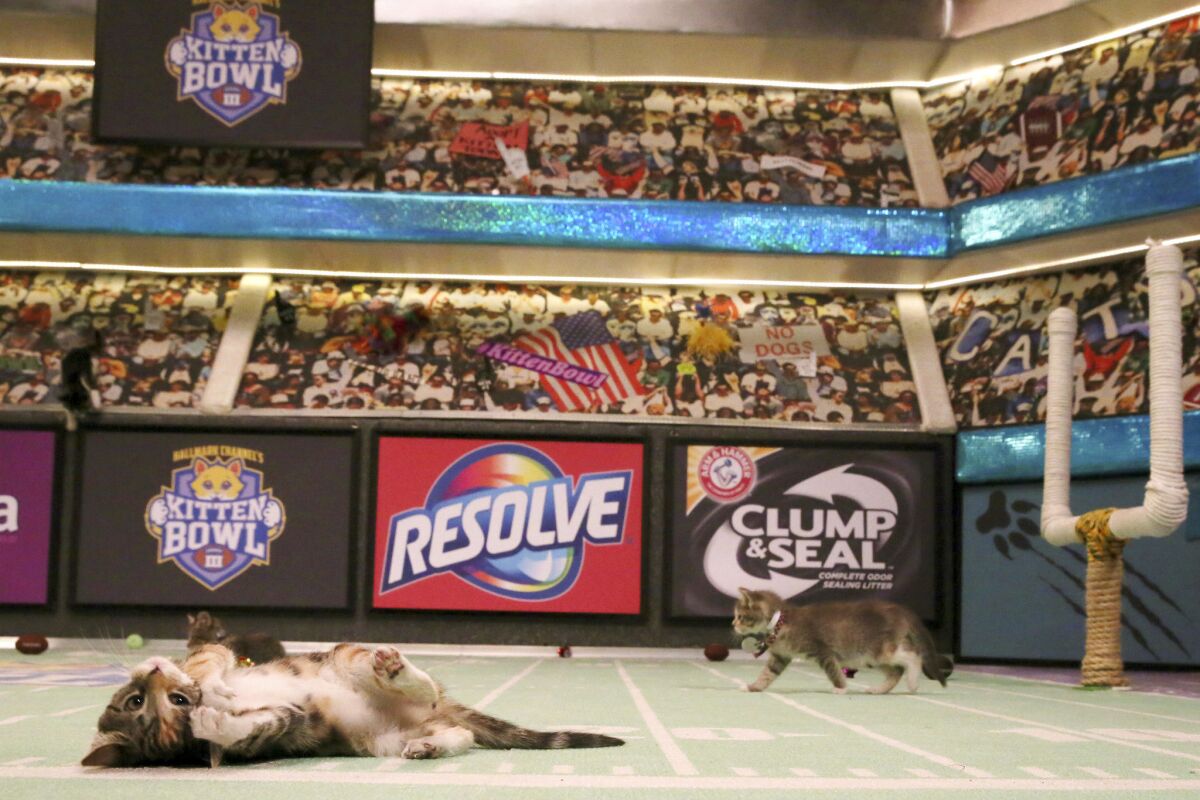 The Kitten Bowl on the Hallmark channel is now in its third year. North Shore Animal League America supplied nearly 100 rescue kittens to fill up Hallmark's paw-friendly field for the taping in October and features Yankees radio broadcaster John Sterling.
Hallmark Chief Executive Bill Abbott said that though the TV event isn't the cash cow, nor ratings blockbuster, that the Super Bowl is, the Kitten Bowl initiative allows Hallmark to reach an audience it might not normally attract and create digital content that gets a lot of views. Plus, advertisers love it, he said.
"It's not necessarily leading the way in terms of profitability, but it's a solid business proposition," Abbott said.
National Geographic Channel, meanwhile, has Fish Bowl, which is exactly what you think it is — fish swimming in a bowl.
Then there are ventures, such as the one website provider Squarespace is doing with comedy pair Keegan-Michael Key and Jordan Peele, that play off the big game.
The duo known as Key & Peele, portraying aspiring sportscasters Lee and Morris, will not only create a 30-second spot for Squarespace, but they'll offer live-streamed commentary during the game on its website — and it's sure to be interesting considering they will essentially be doing a lot of talking around the game since they can't actually say the players' names or specifically mention the game at all because NFL owns all the rights and CBS is the exclusive broadcaster.
Squarespace founder Anthony Casalena doesn't seem worried by the limitations: "Constraint breeds creativity. We actually think it will make it funnier."
"Real Talk with Lee and Morris, Presented by Squarespace" will start at 6 p.m. Eastern time/3 p.m. Pacific time Sunday on Squarespace's website — and for an extra incentive to tune-in live, it won't be available for replay.
Another staple of Super Bowl Sunday are programming marathons. To name a few: AMC once again will air "The Walking Dead" back-to-back throughout the day. BBC America is running a "Star Trek: The Next Generation" binge-athon. Bravo will offer up marathons of "Real Housewives of Poromac" and "Real Housewives of Atlanta."
Comedy Central, meanwhile, will serve up what's it's dubbing the "Smoke a Bowl & the Ultimate Hashtime Show." In case the name didn't make it clear, the programming block will include the airing of "Harold & Kumar Go to White Castle," "Harold & Kumar Escape from Guantanamo Bay" and "Pineapple Express."
And for those who want just commercials, YouTube is once again serving up its AdBlitz channel and site where Super Bowl advertisers display their multimillion-dollar television spots online before game day — fans can also view and vote for their favorite ad.
Last year, 840 million minutes' worth of Big Game ads were watched on YouTube, more than twice as much as the previous year.
I tweet about TV (and other things) here: @villarrealy
ALSO:
Lady Gaga will sing the national anthem at Super Bowl 50
Broncos' Antonio Smith to play in Super Bowl despite father's death
Fan of the House: Welcome to the Super Bowl, where nothing is out of bounds
Get our L.A. Goes Out newsletter, with the week's best events, to help you explore and experience our city.
You may occasionally receive promotional content from the Los Angeles Times.