Paramount rushes for Beijing 'Transformers' premiere amid dispute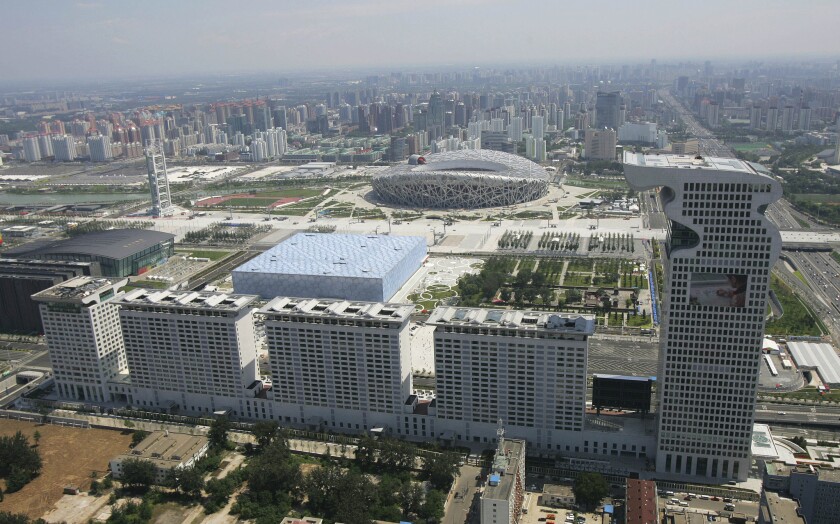 Reporting from BEIJING —
Hollywood studios, salivating over China's booming movie market, are falling over themselves to sew up cooperation deals on the mainland. But just days before its global launch of "Transformers 4," Paramount Pictures got a crash course this weekend in how fraught such tie-ups can be.
The studio had been hit with a sudden punch: Pangu Plaza, a Beijing luxury hotel, mall and office complex, was livid over what it claimed was a product-placement deal gone sour. Pangu said it was cutting off cooperation with the film, launching a lawsuit and asking Chinese regulators to postpone the movie's release.
Any delay of this Friday's opening could potentially have cost Paramount millions -- the first three installments of the franchise have done increasingly massive box office on the mainland: 2007's original grossed $45 million, the 2009 sequel took in $72 million and the third film hauled in $172 million in 2011.
So Paramount sprung into action. On Sunday night, a giant replica of the Bumblebee Transformer was moved from another part of Beijing to the entry of the dragon-shaped Pangu hotel. Around noon, reporters started getting calls that a big press conference was set for 4 p.m. at the hotel.
Paramount Vice Chairman Rob Moore, director Michael Bay, producer Lorenzo Di Bonaventura and star Jack Reynor jetted up from Shanghai, where "Transformers 4" had just closed the city's film festival Sunday night. A Beijing premiere was also arranged -- never mind that the film's official unveiling had happened in Hong Kong last week and its Shanghai debut was on Sunday.
The whirlwind of activity shows the lengths Hollywood is willing to go to keep its Chinese partnerships on track, lest an L.A. studio be branded -- by Chinese business partners or regulators -- as an unreliable partner in the world's No. 2 movie market.
The press conference was delayed by more than 90 minutes because flights from Shanghai to Beijing were backed up. But finally, Moore and the others took to the stage in a massive ballroom in front of a giant screen reading "Celebration Before the Premiere."
"It was unfortunate that we had this misunderstanding," Moore told the assembled press corps, who ate canapés, drank wine and pocketed $50 "transportation fees" for attending the event on four hours' notice. "Pangu has been a great partner for us. We've taken steps to put this behind us, we've worked through all of the issues, and we're excited that Pangu is now excited to support us."
Bay and others autographed a giant poster, posed for photos in front of Bumblebee, and then decamped for the Beijing premiere. But tensions were still palpable after the 13-minute ceremony.
In the hotel's driveway, Moore haggled over the wording of a joint English and Chinese press statement that was supposed to go out to the media; a Pangu executive puffed on a cigarette and yelled at an interpreter that he was dissatisfied; several Americans affiliated with the Paramount entourage huddled in hotel hallways making phone calls and saying things like, "This is crazy," and "I don't understand what's going on."
Beijing Pangu Investment Co. chief executive Lu Tao then called his own media briefing and said the company had dropped its request to block the movie's release but was still moving ahead with a lawsuit against two companies, Jiaflix China and Chengxin, with whom it had signed its original product-placement contract. That contract, Lu said, was written in Chinese.
Jiaflix was founded by former Paramount president Sid Ganis, his cousin Marc and Kenneth Huang. Chengxin is run by Zhou Ning, a former soccer star. Calls to the Beijing offices of Jiaflix and Chengxin were not answered.
At the 2013 Shanghai film festival, the Ganis brothers, along with Zhou, appeared alongside Paramount executive LeeAnne Stables and touted the Pangu Plaza product placement deal.
Stables, in charge of marketing partnerships and brand integration, told Chinese reporters then that the new Transformers film would be "a wonderful opportunity to bring the wonderful culture and the beauty of your country to theater audiences around the world," adding, "We're thrilled to be showcasing China within the film."
Zhou appeared to be representing Pangu at the event; a report from the state-run China Daily newspaper identified him as an official representative of Beijing Pangu Investment Co.
Details of the deal were not discussed then. But Lu said on Monday that Pangu's contract with Jiaflix and Zhou's company included a fee of at least 10 million renminbi, or $1.6 million.
In exchange, Lu said his company was to benefit in five ways: It would appear in the film for at least 20 seconds; host an exhibit of "Transformer" props at hotel at least eight months; be allowed to license "Transformers" imagery for consumer products and retain all income from their sales; appear in all promotional materials; and host a "VIP celebration" with cast, director and Paramount leaders ahead of a premiere.
But Lu started to get nervous about the arrangement in February and contacted Jiaflix -- whose Beijing offices are in the Pangu Plaza office tower -- to inquire about the status of the deal. In June, Lu said Jiaflix China informed Pangu that it would be unable to fulfill any terms of the deal.
Pangu then reached out directly to Paramount and to Jiaflix's U.S. offices. According to Lu, Jiaflix's U.S. office responded that the only product placement deal in place was an English-language contract signed by Jiaflix, Paramount and Zhou.
Lu denied that Zhou had been authorized to sign such a contract with Paramount on behalf of Pangu. After talking to the studio, Lu decided Pangu had been "cheated" by Zhou and Huang -- Jiaflix's China point man -- and started pursuing legal action.
Lu said the response from Paramount was "positive" and "sincere" and that Pangu wants the film "to be a huge success in China."
"I think this is a very good reminder to Chinese companies seeking international cooperation not to be cheated by the middleman," Lu said.
A Paramount executive, who spoke on condition of anonymity, did not explain the dispute as having arisen from two competing contracts in two different languages. Instead, he said the "specificity" of the agreements was the issue and that "when it's a new group coming in, sometimes there's an expectation that's not in line with what the norm is."
The Pangu deal was but one of several Chinese product placement deals for the film, which also shot in multiple locations in the country. Bay filmed scenes for "Transformers 4" in Hong Kong, Beijing, Tianjin and elsewhere.
Along the way, Bay faced various difficulties while making the movie in China, including being attacked by a man in Hong Kong who tried to throw an air conditioner at him and attempted to extort money from the production.
But on Monday, with the finish line in sight, Bay and his studio tried to put on a positive face, and for now, it seems, the "Transformers 4" show will go on in China.
The Pangu hotel's lobby was even advertising the Transformers Juice, a green concoction reportedly favored by Bay during his stays at the hotel.
"As a director, working with Pangu Palace was fantastic," Bay said, misidentifying the property (he also goofed on the name of the nearby iconic Bird's Nest Olympic stadium, which he called the Bird's Cage). "I want to put all this misunderstanding aside and just celebrate the great movie we shot in China. I hope everyone enjoys it."
Tommy Yang in The Times' Beijing bureau contributed to this report.
Follow Ryan Faughnder on Twitter: @rfaughnder
---
From the Emmys to the Oscars.
Get our revamped Envelope newsletter for exclusive awards season coverage, behind-the-scenes insights and columnist Glenn Whipp's commentary.
You may occasionally receive promotional content from the Los Angeles Times.