Univision's cancellation of 'Piolín por la Manana' shocks fans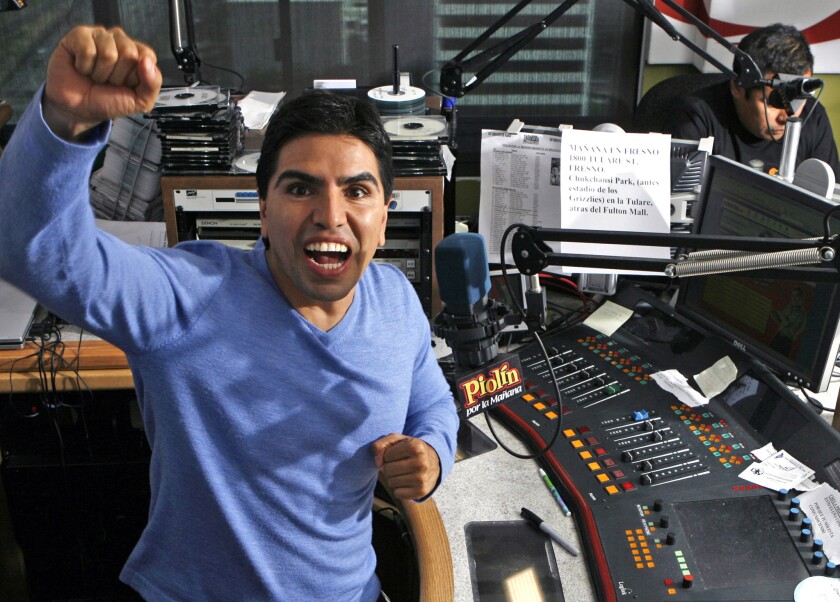 Univision Radio Network's sudden cancellation of Eddie "Piolín" Sotelo's wildly popular morning radio talk show "Piolín por la Manana" has fans aghast, wondering why the show is going off the air.
"He was popular," said Juan Carlos Palma, 30, a barber in El Monte who was a listener to the show. "We listened to him in the mornings. He wanted to make you laugh. I couldn't guess why they got rid of his show."
Piolín, whose nickname means "Tweety Bird," is one of the best-known Spanish-language personalities in the country, and his program made its reputation with a madhouse blend of satirical sketches, irreverent commentary, double-entendre wordplay and interjections by wacky characters.
PHOTOS: Memorable TV series finales
Lately, his program, broadcast in Los Angeles on KSCA-FM (101.9), had begun to be eclipsed in the increasingly competitive world of Spanish-language morning radio. Ricardo "El Mandril" Sanchez's program on KLAX-FM (97.9) last month snagged the No. 1 spot in the Los Angeles County-Orange County market, according to Arbitron.
A Univision representative Monday night confirmed the network has dropped the show. As of late Tuesday morning, no reason has been given for the decision, and the host's Twitter account has been quiet for days.
In a post on OC Weekly, Gustavo Arellano, who pens the weekly "Ask a Mexican" column, wrote that the news "stings particularly bad."
Arellano wrote that Piolin's show "served as the Mexican Pacifica Radio," where he would interview politicians, doctors, entertainment personalities and also serve as an inspiration for working class immigrant workers.
Arellano added: "While Piolín was more than happy to delve into the double entendres, childish voices, and general wackiness that defines Spanish-language radio hosts, he also showed that audiences could embrace something more substantial, more thoughtful."
Sotelo, a native of the Mexican state of Jalisco who arrived in the United States as a teenager without working papers, gave no indication of his impending departure in an interview with KPCC-FM last week. In one of the conversation's highlights, Sotelo spoke about his experience as an immigrant.
"Anybody who comes to the United States, they come because they want to work for their dreams," he said. "When I came to the United States … I crossed the border from Tijuana, and I remember going through difficult situations when I was crossing the border, as soon as I arrived to Santa Ana, California. It was difficult, so I better take advantage of my time and my blessing to be in this great nation."
Piolín had recently begun branching out into other entertainment platforms, such as doing voice acting for Disney's "Beverly Hills Chihuahua" films.
ALSO:
Review: Gogol Bordello's 'Pura Vida Conspiracy'
Review: Selena Gomez's 'Stars Dance' a sassy pop-EDM mix
Pew Research study finds more Latinos getting their news in English
Twitter: @rfaughnder
Staff writers Reed Johnson and Hector Becerra contributed to this report.
---
From the Oscars to the Emmys.
Get the Envelope newsletter for exclusive awards season coverage, behind-the-scenes stories from the Envelope podcast and columnist Glenn Whipp's must-read analysis.
You may occasionally receive promotional content from the Los Angeles Times.