Competition heats up among Spanish-language media firms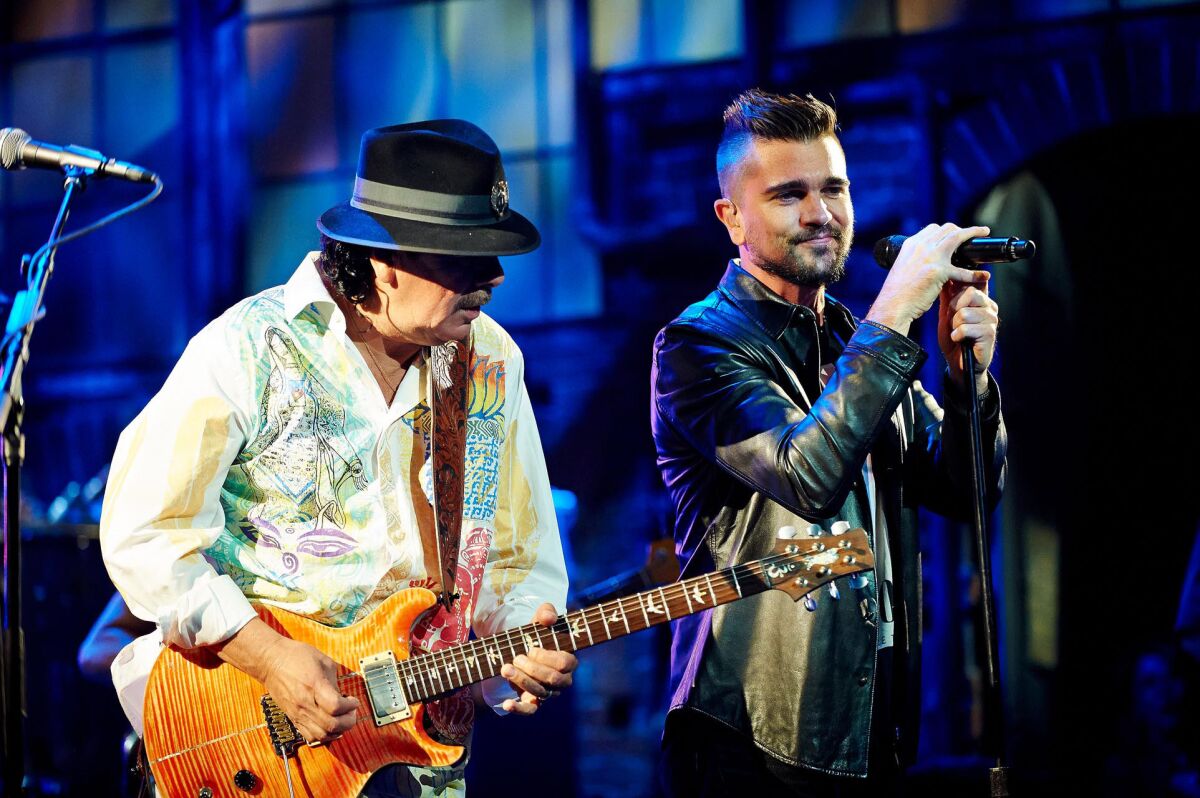 NEW YORK — Soccer, spicy love stories, a search for a next-generation Latino boy band and even NASCAR racing have become armaments in a stepped-up battle for Latino television viewers.
For years, the two established Spanish-language media companies — Univision Communications and NBCUniversal's Telemundo — have dominated the space. But with more than $2.5 billion in annual advertising revenue up for grabs, Latino media has become one of the hottest and most competitive corners of the industry.
The landscape has shifted dramatically in the last two years. Established players such as Walt Disney Co., 21st Century Fox and Discovery Communications Inc. have crowded into the space to try to grab a share.
On Tuesday, Univision Communications and Telemundo took turns trying to wow hundreds of advertisers in separate venues in New York City to kick off the annual TV advertising sales auction known as the upfront. For years, the two networks have worked to secure a larger percentage of advertisers' budgets — pressing their case that the more than 50 million Latino consumers wield more than $1.3 trillion in spending power and are hugely relevant.
"The year is shaping up very nicely for us," Univision Communications Chief Executive Randy Falco said Tuesday. "With the World Cup coming we have a lot of buzz.... But the fight continues to make people aware of the growing demographic with growing influence on the economy, politics and culture."
For Univision, this is a crucial year. This will be Univision's last broadcast of the hugely popular World Cup of soccer before it has to surrender the marquee property to archrival Telemundo. The monthlong tournament begins June 12 in Brazil.
In addition, Univision's private owners — billionaire Haim Saban and four private equity firms — are weighing a timetable to take the company public to recoup their $12-billion-plus investment.
The consortium hasn't settled on the timing of a public offering — nor has it ruled out an outright sale of the company. For now, the group says it is busy expanding Univision's business by bolstering its roster of advertisers and programming.
The broadcaster has signed 95 new advertising brands in the last year, the biggest expansion of its roster, said Keith Turner, president of Univision sales and marketing. The company also has been busy stitching up the media rights to important Mexican and U.S. soccer leagues, including an eight-year deal for Spanish-language rights to Major League Soccer.
Before a standing-room-only crowd at the Al Hirschfeld Theatre in Manhattan, Univision unveiled its new programming lineup. It plans a high-profile production with music producer and former "American Idol" judge Simon Cowell called "La Banda."
The show intends to scour the U.S. and Latin America for a new musical band of young Latino heartthrobs.
Univision is America's fifth-largest TV network, and on some nights it draws more younger viewers than even its big-named counterparts ABC, CBS and NBC. Still, the company must increasingly defend its turf from competition from Telemundo and others.
Telemundo also entertained many of the same advertising buyers Tuesday night. Executives stressed that, although its audience was smaller than that of Univision, the company reaches more bilingual and English-speaking Latinos because of its connection with parent NBCUniversal.
Telemundo also is loading up on sports properties to gain greater market share. NBCUniversal, owned by cable giant Comcast Corp., outbid Univision three years ago to broadcast the World Cup for 2015 through 2022.
The $600-million license fee was nearly double what Univision paid for the last World Cup package, but underscored that Comcast was willing to spend big to grow Telemundo.
"We are delivering a more consistent level of quality for our advertisers and viewers," said Joe Uva, chairman of NBCUniversal Hispanic Enterprises and Content. "Our company is investing — we've really put a stake in the ground."
Telemundo also introduced its new president: Luis Silberwasser, a former London-based Discovery Communications executive, will take over the leadership of the Miami-based network and its Telemundo production studios in August.
NBCUniversal is also changing the focus of its smaller Spanish-language cable channel, mun2, in an effort to grow viewership. The channel is currently in about 41 million homes, and executives believe they can quickly build on that by adding soccer matches and NASCAR to the lineup.
"Mun2 is going to get an extensive makeover," Uva said.
Telemundo also announced that it would broadcast next year's NFL Super Bowl, to be played in Arizona, on mun2, the small cable channel -- a deal that came together in the last few days. The audience of advertisers packed into New York's Frederick P. Rose Hall cheered wildly.
The battle lines are clearly drawn.
Elbowing their way have been new entrants — some backed by major media companies, including 21st Century Fox and Walt Disney Co. Now, Latino networks are as likely to be programmed in English, turning up the volume in a long-standing debate about what language marketers should use to be more effective.
MundoFox, Discovery Hispanic Networks, NuvoTV, Estrella TV and Azteca are among the smaller TV players targeting the ever-growing demographic.
NuvoTV -- an English-language network targeting Latinos -- touted a slate that includes two new reality series from the network's chief creative officer and Jennifer Lopez's Nuyorican Productions — one is a competition series in search of the next Latino superstar, the other follows the lives of 10 professional dancers on tour with some music heavyweights.
Discovery en Español played up its thematic programming nights (automotive and human adventure) with new additions such as "Cromo clandestino" (Chrome Underground) and "Al limite" (Tethered).
Azteca America, now shortened to Azteca, added a new fallen-from-grace telenovela, "Las Bravo," to its slate and stressed an interest in beefing up its comedy presence with "El Club de los Chistes."
---
Get our L.A. Goes Out newsletter, with the week's best events, to help you explore and experience our city.
You may occasionally receive promotional content from the Los Angeles Times.