Wanda Group partners with Sony Pictures, giving China's richest man a leg up in Hollywood
Reporting from Beijing —
The Chinese conglomerate Dalian Wanda Group announced a partnership with Sony Pictures on Friday, giving it some creative control over upcoming Sony films and underscoring China's rapidly rising influence in Hollywood.
Wanda, which is led by China's richest man, Wang Jianlin, will invest an undisclosed amount in Sony Pictures and "highlight the China element in the films in which it invests," the company said in a statement.
"In the past, the partnership between a Chinese company and a Hollywood mainstream studio was mostly limited to small investment in a single film, and the Chinese company was a passive investor in both content and investment amount," said the statement. "The alliance will help strengthen Wanda's power to influence the global film industry, and set a good precedent for Chinese film producers in their international investment."
A kids awards show on Hollywood's fringe »
The deal grants the Hollywood studio better access to a vast Chinese market hungry for action-packed blockbusters such as its "Spider-Man" movies. And it hands Wanda more cachet in Hollywood. Earlier this year, Wanda acquired Legendary Entertainment — the Hollywood production company behind "The Dark Knight," "Jurassic World" and "Godzilla" — for $3.5 billion.
It already owns the AMC theater chain and has agreed to buy Carmike Cinemas, which would make a Chinese company the biggest cinema operator in the United States.
Wanda had aimed to acquire a 49% stake in Paramount Pictures, but Viacom Inc. said this week it was abandoning its plan to unload the struggling studio.
"The Chinese market for Hollywood films continues to boom, and this alliance gives a huge boost to our ability to connect directly with its audiences," Sony Pictures Chairman Tom Rothman said in the statement.
Wanda's Wang has snapped up several entertainment companies in recent years, so the latest partnership is not particularly unusual. Analysts were struck more by the company's brazen vow to play up Chinese aspects in blockbuster films.
"This is feeding into what the Chinese government wants to hear, that Wanda is doing this for patriotic reasons, in a sense, and to promote China as a global player," said Stanley Rosen, a USC political science professor and Chinese film expert.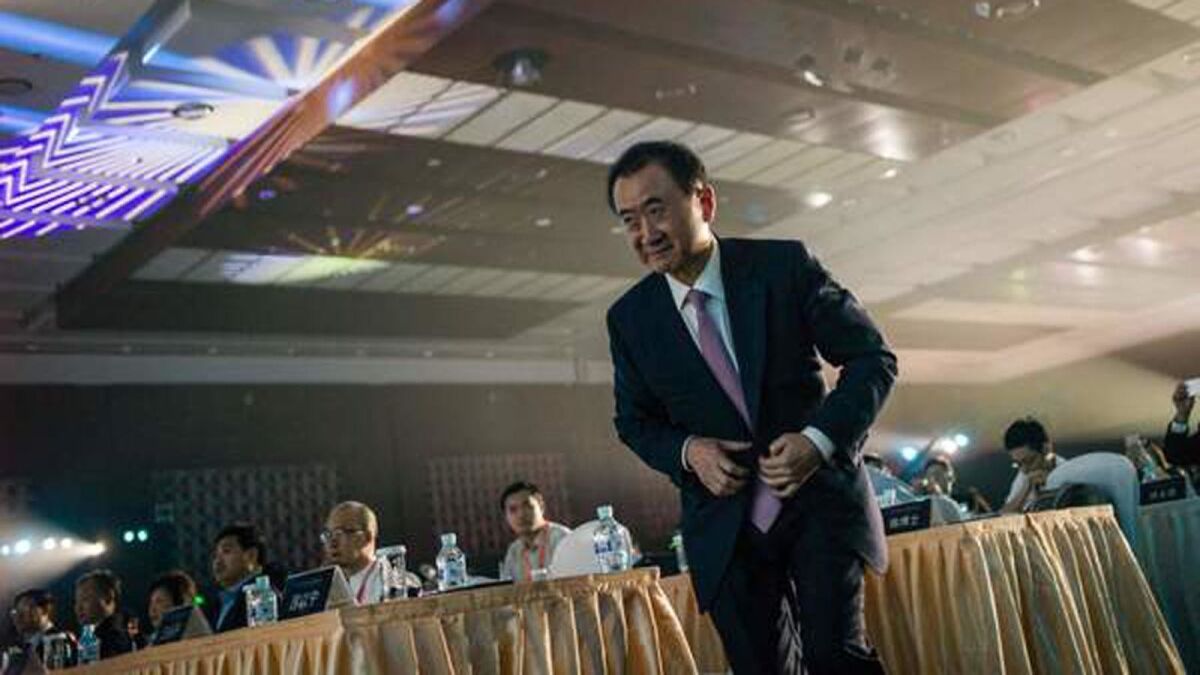 China's box-office figures slumped this spring for the first time in five years, delaying projections that the country would top the U.S. as the world's largest film market. The drop followed an astounding 49% expansion last year and a nationwide cinema construction boom. The Wanda announcement, Rosen said, helps dispel notions that China's box office is in decline.
"This makes sense for Wanda," he said, "because it's continuing to establish credibility in Hollywood."
The company declined to comment beyond its news release.
China's Hollywood ambitions have raised red flags in Washington. Last week, 16 members of Congress signed a letter calling for increased scrutiny over China's involvement in American films, citing "growing concerns" over Chinese efforts to exert "propaganda controls on American media."
China's domestic films are strictly censored, and top Chinese officials have repeatedly emphasized their goals of promoting a positive image of China abroad.
"Should the definition of national security be broadened to address concerns about propaganda and control of the media and 'soft power' institutions?" the letter asked.
Wang, in an interview on Chinese television in early September, said he hopes to "change the world where rules are set by foreigners."
Wanda's real estate arm has recently found itself tangled in local U.S. politics. On Thursday, Unite Here Local 11, a labor union in Southern California, filed a complaint accusing Wanda of using foreign money to oppose a ballot measure. Wanda, which has denied the claim, plans to build a $1.2-billion hotel-condominium project in Beverly Hills, sparking a dispute between the company and the Beverly Hilton Hotel over a valuable parcel of land.
In China, Wanda has transformed itself from a real estate company into a major force in entertainment. The company is building what it touts as "the world's largest film and television studio" in the eastern Chinese city of Qingdao — a 400-acre complex that is to house 30 soundstages, a permanent facsimile of a New York City street and the country's largest exterior water tank and post-production facilities. The first phase of the studio is scheduled to open in 2017.
"I understand the business thinking, which is, they're moving upstream," said Jeffrey Towson, a professor of investment at Peking University.
"You ever watch [the mixed martial arts celebrity] Connor McGregor? He has a great quote — he said, when he joined MMA, 'we're not just here to take part, we're here to take over.' Are China's giants going to Hollywood to take part or take over? What's their ambition? I tend to think it's the latter."
Meyers is a special correspondent.
ALSO
Disney pulls 'Moana' costumes for children amid cultural appropriation uproar
After a miserable summer, the 2016 Toronto Film Festival offered a cinematic renewal
Review: The Denzel Washington-led remake of 'The Magnificent Seven' is handsome, but lifeless
From the Oscars to the Emmys.
Get the Envelope newsletter for exclusive awards season coverage, behind-the-scenes stories from the Envelope podcast and columnist Glenn Whipp's must-read analysis.
You may occasionally receive promotional content from the Los Angeles Times.