Weather Channel launches campaign against DirecTV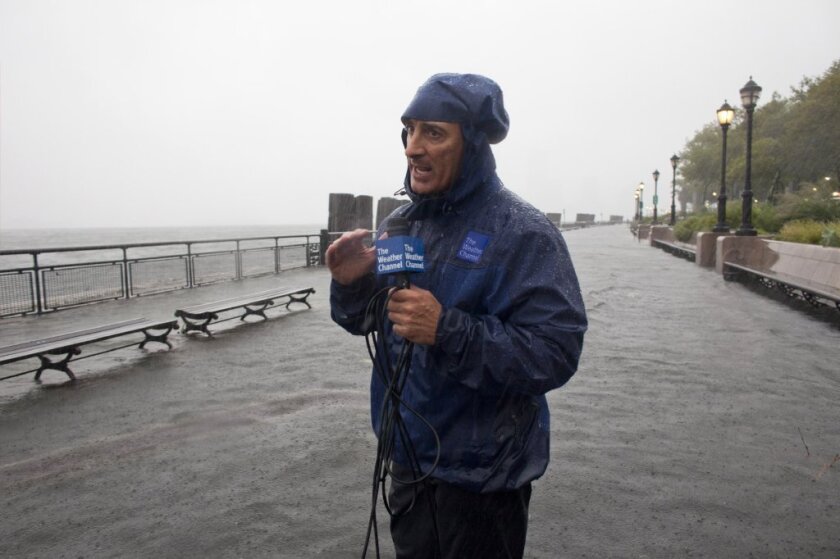 The Weather Channel is threatening to rain all over DirecTV if it can't come to terms on a new distribution agreement with the satellite broadcaster.
The current contract between DirecTV, which has more than 20 million subscribers, and the Weather Channel expired at the end of last year. An extension was agreed upon, but now the Weather Channel is anticipating that DirecTV will drop the service because the two are still at an impasse. The current extension expires Tuesday.
"For DirecTV to take us off their lineup would be deeply irresponsible to its customers who not only count on the Weather Channel on a day-to-day basis, but depend on us before, during and after severe weather events," David Kenny, the chief executive of Weather Channel parent Weather Co. said in a statement.
PHOTOS: Cable versus broadcast ratings
The Weather Channel said that starting Saturday it would ask its DirecTV viewers to call their congressmen and senators and "ask them to help keep this critical public safety resource in the DirecTV lineup." The network added that "given the increasing frequency and severity of weather-related emergencies across the country, access to timely and accurate weather information is imperative for public safety and, therefore, an issue meriting congressional attention."
The two sides are divided over financial terms, people familiar with the matter said. The Weather Channel, which is increasing its spending on weather-related programming and recently hired "Good Morning America" weatherman Sam Champion to host a new morning show, is looking to boost the fees it gets from pay-TV distributors.
According to SNL Kagan, an industry consulting and research firm, the Weather Channel charges distributors an an average of about 13 cents per subscriber per month. That pales in comparison to general entertainment networks such as USA and TNT and sports channels like ESPN that charge from 60 cents up to $5 per subscriber per month.
However, the audience for the Weather Channel is also on average much smaller than those networks, which is why DirecTV is balking.
PHOTOS: Behind the scenes of movies and TV
Like many distributors, DirecTV is looking to lower or keep costs flat for the networks it carries, especially because networks that have lots of sports have been very successful at driving up the price tag for their channels. DirecTV recently said it would again raise costs to its subscribers in part to cover for an increase in their programming fees.
In a statement, DirecTV said talks are continuing with the Weather Channel on "how to provide its service to our customers at the best value since people now use so many other ways to retrieve weather-related information."
DirecTV recently added a channel called WeatherNation, which is also in the forecasting business but does not have the size or brand equity of the Weather Channel. It placed WeatherNation right next to the Weather Channel on the channel lineup, a move that irked Weather Channel executives and was seen as a negotiating ploy.
"Customers will continue to get round-the-clock hard weather news, free of any interruptions from reality TV, on Weather Nation," DirecTV said.
The line about reality TV was a dig at the Weather Channel's efforts to broaden its programming beyond straight weather with shows such as "Highway Thru Hell," described as "a series about man versus Mother Nature," and "Breaking Ice," about ships that travel through ice-covered waters.
ALSO:
DirecTV issues veiled threat to Weather Channel
Supreme Court to settle fight between Aereo, broadcasters
Red Hot Chili Peppers to spice up Super Bowl with Bruno Mars
Follow Joe Flint on Twitter @JBFlint.
---
From the Emmys to the Oscars.
Get our revamped Envelope newsletter for exclusive awards season coverage, behind-the-scenes insights and columnist Glenn Whipp's commentary.
You may occasionally receive promotional content from the Los Angeles Times.