Fight with DirecTV puts storm clouds over Weather Channel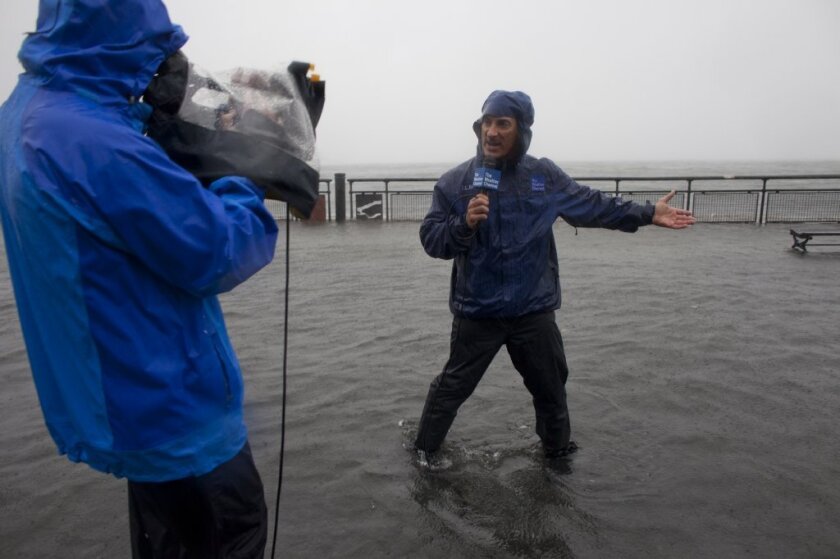 You don't need to be a weatherman to know why the wind is blowing so hard in the fight between the Weather Channel and satellite broadcaster DirecTV.
DirecTV's current deal to carry the Weather Channel is up Monday night, and the two sides are nowhere near a deal. The Weather Channel expects to be dropped, evidenced by its plea on Saturday for DirecTV subscribers to contact lawmakers to complain that they will be robbed of a vital public service channel should the channel go dark.
"Given the increasing frequency and severity of weather-related emergencies across the country, access to timely and accurate weather information is imperative for public safety and, therefore, an issue meriting congressional attention," the Weather Channel said in a statement.
ON LOCATION: Where the cameras roll
DirecTV begs to differ. It noted that not only is it now carrying WeatherNation, a smaller service that Weather Channel executives privately deride, it also distributes over 1,600 local TV stations and has its own emergency channels in times of extreme weather.
The satellite broadcaster also said its customers are tiring of the Weather Channel's efforts to broaden its programming beyond whether it's sunny or rainy outside to include reality shows such as "Highway Thru Hell," described as "a series about man versus Mother Nature," and "Breaking Ice," about ships that travel through ice-covered waters.
"We have heard from an overwhelming majority of our customers that they want a weather service that's 24/7, not one that's preempted by reality programming 40% of the time," DirecTV said.
AccuWeather, a chief competitor to the Weather Channel, got into the fray Monday as well saying it would alunch its own network in the third quarter of this year.
Ultimately this is not a debate over Weather Channel's programming as much as it is about the money Weather Channel wants for its programming. According to SNL Kagan, an industry consulting firm, the Weather Channel currently has an average subscription fee of 13 cents per-month, per-subscriber. DirecTV, being one of the nation's biggest pay-TV distributors with over 20 million subscribers, has a slightly lower rate, people familiar with the matter say.
A Weather Channel spokeswoman says it is seeking only one penny more per-month, per-subscriber and that DirecTV actually wants to cut the current fee. A DirecTV spokesman countered that the increase is "substantially more" than one cent. Typically, programming rates increase on an annual basis over the life of a contract. Even if it is just a penny for the entire contract, that still translates to a $2.4-million increase per year.
The desire of the Weather Channel is to broaden its audience, and it is spending more money to do it by hiring bigger talent such as "Good Morning America" weatherman Sam Champion to host a new morning show. It is also, a Weather Channel spokeswoman noted, making big expenditures in science and technology to improve its forecasting.
For it to maintain its current profit margins and invest in content, it feels it needs a greater subscriber fee from distributors.
The resistance to what the Weather Channel wants will fade if it can deliver a hit. After all, not too many distributors are complaining that AMC is no longer American Movie Classics showing old movies, but instead delivers critically acclaimed original dramas such as "Breaking Bad" and "Mad Men." The History Channel isn't really about history anymore, but from a business angle, no one can argue that it hasn't had a successful transformation to a reality-and-scripted channel. Even CNN is adding more documentaries and unscripted programming to its news content.
PHOTOS: Greatest box office flops
DirecTV, on the other hand, would probably prefer that the Weather Channel just stay in its weight class and stick to telling forecasts in a low-cost manner. Like most distributors, DirecTV is getting squeezed by programmers, particularly those that have sports. It wants to draw a line in the sand somewhere.
If the Weather Channel does come off DirecTV and there are no howls of protests from subscribers that force its return, the channel's executives may have to rethink their strategy. Under that scenario, other distributors would likely follow DirecTV's lead, and that could be a bad forecast for the Weather Channel.
ALSO:
Weather Channel launches campaign against DirecTV
Supreme Court to settle fight between Aereo, broadcasters
Red Hot Chili Peppers to spice up Super Bowl with Bruno Mars
Follow me on Twitter: @JBFlint
---
From the Emmys to the Oscars.
Get our revamped Envelope newsletter for exclusive awards season coverage, behind-the-scenes insights and columnist Glenn Whipp's commentary.
You may occasionally receive promotional content from the Los Angeles Times.