'Pitch Perfect 2' and beyond: Female filmgoers flex new box-office clout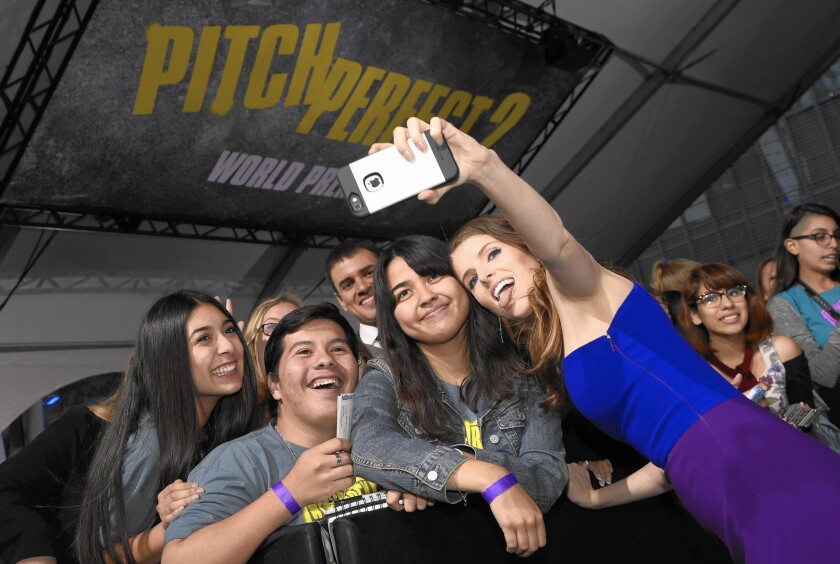 When Rebel Wilson, Anna Kendrick and Brittany Snow walked down the carpet at the premiere of "Pitch Perfect 2," the roars of mostly female fans screaming their names resembled an a cappella medley from the film itself.
"I just love their girl power," said 25-year-old Jessica Hernandez, one of the hundreds who lined up as early as 9 a.m. for a prime spot in the "fan pit" outside Los Angeles' Nokia Theatre.
"Girl power" seems to be at the heart of "Pitch Perfect 2's" $69.2-million opening weekend, with an audience that was 72% female. Its debut far surpassed pre-weekend projections that the film would have a $35- to $45-million opening. For perspective, consider that in one weekend, the sequel beat the entire $65-million domestic haul for the original 2012 film.
Even the reboot of George Miller's action film "Mad Max," which came in behind "Pitch Perfect 2" but ahead of projections with a $45.4-million opening, has a strong woman powering the film. Charlize Theron kicks as much butt in "Mad Max: Fury Road" as co-star Tom Hardy.
These films aren't outliers — at least this year. "Cinderella" and "Fifty Shades of Grey" have earned the year's third- and fourth-highest box office sales, respectively, to date with largely female audiences. And the year's No. 1 movie, "Avengers: Age of Ultron" not only gave Scarlett Johansson's Black Widow a back story and a budding romance with the Hulk, it added a second female Avenger, Elizabeth Olsen's Scarlett Witch.
"The genie is out of the bottle now," said Paul Dergarabedian, senior analyst at the audience measurement service Rentrak. "Hollywood is catching on to the fact that it's good business to try and attract female audiences. Having more female-driven film has gone from being a trend to being the norm."
Studios have long made billions primarily by aiming at young males — the comic-book-loving "fanboys" who flock to theaters to see action films. But lately, robust totals for films such as Disney's "Maleficent," which was the No. 3 film last summer, have proved the worth of catering to long-underserved female audiences.
"I think now there is recognition in the industry that if you make a film like the 'Avengers,'" said Bruce Nash, who founded the box-office statistics site The Numbers, "you have to make it interesting for everyone who is going to see it."
Analysts say that this summer's films will likely set records, helping box-office receipts climb to a projected $11.2 billion by the end of 2015. Much of that revenue is expected to come from female-driven films that are being paired strategically with male-centric films as counterprogramming to help boost the overall box office.
This means that on the same June 5 weekend that Vinny and the boys hit the big screen with "Entourage," Melissa McCarthy's comedy "Spy" will make its debut. The male-stripper flick "Magic Mike XXL," based on the 2012 original that starred Matthew McConaughey and Channing Tatum, opens opposite sci-fi blockbuster "Terminator: Genisys" on the Fourth of July weekend. And Amy Schumer's highly anticipated comedy "Trainwreck" launches July 17 against Marvel's "Ant-Man."
Some of the counterprogramming, propelled by buzz, could outpace their blockbuster counterparts.
"Spy," which premiered at the South by Southwest festival this year, will likely top "Insidious 3" and "Entourage" when it comes out next month, according to people familiar with pre-release audience surveys. The espionage comedy is written and directed by Paul Feig, who also directed McCarthy in the hit comedies "Bridesmaids" and "The Heat."
"Trainwreck," directed by Judd Apatow and written by Schumer, may not beat its Marvel competitor, but it will arrive in theaters with plenty of goodwill. At its SXSW premiere, audience members were often laughing so hard that it was difficult to hear the dialogue. Schumer's pop-culture prominence — many sketches from her Comedy Central show, "Inside Amy Schumer," have become viral and she recently hosted the MTV Movie Awards — should also make her a box-office draw.
Twentieth Century Fox's "Paper Towns," based on the novel by John Green, is expected to lure in young adults who also went to see Green's other book-to-movie adaptation "The Fault in Our Stars" last summer. The teen tearjerker, which starred Ansel Elgort and Shailene Woodley, debuted with a box-office take of $48.2 million in July 2014, surpassing Tom Cruise's sci-fi epic "Edge of Tomorrow."
Nash warns, however, that if a rom-com or romantic drama is all a studio is offering, "I think you're in trouble." That may be why some big blockbusters have shifted to include more women to help attract female moviegoers.
Lionsgate helped break the mold with franchises such as "Twilight" and "Hunger Games."
"They showed you can still do a big-scale movie like that and bring in a big audience," Nash said, "even if it skews a bit more female."
"Furious 7" set box-office records in April with a massive $143.6-million domestic opening. Part of the film's success came from its diverse fanbase. Though it is an action film, known for over-the-top car chases, it's also known to bring in both male and female moviegoers. Opening weekend drew in a 49% female audience.
"It's ridiculously important to [have female-driven films]," said Kay Cannon, writer and co-producer of "Pitch Perfect 2" at the film's premiere, "because we make up half the society so we have to get our stories out there."
In addition to being written by a woman, the film was directed by a woman (Elizabeth Banks) and stars a powerful female-driven ensemble.
However, having a female-powered film does not always guarantee a hit.
Buddy comedy "Hot Pursuit," which not only stars Sofia Vergara and Reese Witherspoon (who both got producing credits) but was helmed by a female director (Anne Fletcher), received not-so-hot reviews and collected a soft $13.3 million in the U.S. and Canada its opening weekend. It fell 59% in its second weekend.
Martha Lauzen, a San Diego State University film professor, said the increase in female-driven films this summer merely signifies "baby steps" in a shift from male-dominated programming.
"I am always hesitant to say things are changing when we are relying on a handful of high-profile cases," she said of 2015's summer slate. "It's funny how the dearth of female protagonists skews our perceptions of wealth of female characters. We are so used to not seeing them that when we see a few, it seems like this must mark a big change."
When Apatow's "Bridesmaids" became a hit in April of 2011, many began having similar dialogues about the effect it could have on the overall industry.
"People were saying, 'We are going to see lots of similar films.' That really never materialized," said Lauzen, who serves as executive director of the university's Center for the Study of Women in Television and Film.
According to a 2014 study "It's a Man's (Celluloid) World," conducted by Lauzen, females made up only 12% of all protagonists in the top-grossing films of 2014, a decline of 3 percentage points from 2013.
"We'll see what the numbers next year look like," Lauzen said. "The numbers are what keep us grounded in reality."
"Pitch Perfect 2's" Cannon is optimistic.
"I feel like 2014 was a real drought in terms of telling stories about women," she said. "We were all working on those movies and they are all coming out in 2015.
Twitter: @saba_h
---
From the Emmys to the Oscars.
Get our revamped Envelope newsletter for exclusive awards season coverage, behind-the-scenes insights and columnist Glenn Whipp's commentary.
You may occasionally receive promotional content from the Los Angeles Times.