Ted Sarandos upends Hollywood with Netflix revolution
Ted Sarandos gambled on committing to "House of Cards" without a pilot and releasing all the episodes at once. And he says ratings are irrelevant.
When Ted Sarandos put out the word that Netflix would begin producing original shows, he was swamped with story pitches that everyone else in Hollywood clearly had taken a pass on — including some scripts marked with coffee stains, smudged fingerprints and other telltale signs of rejection.
That all changed in 2011 after Netflix bought the political thriller "House of Cards" from "The Social Network" and "Fight Club" director David Fincher.
Overnight, the Internet video service began receiving A-list pitches, including the prison comedy "Orange Is the New Black" from "Weeds" creator Jenji Kohan, a mockumentary from "The Office" creator Ricky Gervais and a sci-fi drama from "The Matrix's" Andy and Lana Wachowski.
Netflix received further validation this summer with 14 Emmy nominations, nine for "House of Cards," three for the cult comedy "Arrested Development" and two for the horror series "Hemlock Grove." None of the nominated episodes ever aired on broadcast or cable TV.
The man at the center of Netflix's transformation from DVD-by-mail service to Internet TV network, Sarandos, as the chief content officer, seems to take pleasure in upending industry conventions — ordering an entire season of a series without asking for a pilot, withholding ratings and even throwing all of a new show's episodes online at once, in one big bundle, so viewers don't have to wait a week for the next installment of a series they love.
Some of his early accomplishments were less visible to consumers. He persuaded studios to change how they manufacture DVDs so the sturdier discs wouldn't break as easily in the mail. As architect of Netflix's content strategy, he cut new deals with the TV networks so their shows could appear on Netflix a season after their initial telecast, instead of waiting four years for a program to reach syndication.
This novel approach introduced new viewers to such critically acclaimed shows as AMC's "Breaking Bad" and helped fuel ratings when it returned to prime time in the new season. Many credit Netflix with breathing fresh life into costly serialized TV dramas, which were threatened by declining DVD sales and audience attrition.
Sarandos' boldest gambit yet is Netflix's entry into original programming. As the industry's newest deep-pocketed buyer, with an annual content budget of $2 billion — and as much as 10% earmarked for original programming — Sarandos has the clout to lead the transformation of TV.
Spend any time with Sarandos and it's clear that he remains a fan at heart. When he spots actor Jamie Foxx leaving Netflix's Beverly Hills offices, Sarandos is quick to herald the celebrity sighting.
An unabashed movie buff who once clerked at a video store, he keeps a giant etched-glass image of Marlon Brando from his favorite film, "The Godfather," prominent in his office. He once described himself as a human algorithm because he loved recommending movies based on a customer's previous rentals. And he recounts, with a hint of incredulity, the congratulations he received from such TV titans as "All in the Family" creator Norman Lear and "Charlie's Angels" producer Leonard Goldberg after the news of Netflix's first Emmy nominations.
"Ted has two feet on the ground," Lear says. "He's very rare."
Still, in a town where people are known by the company they keep, Sarandos, 49, travels in powerful circles. Earlier this month, he and his wife, Nicole Avant — daughter of former Motown Records Chairman Clarence Avant — threw an 87th birthday celebration for crooner Tony Bennett in the lantern-lit backyard of their $5-million Beverly Hills home.
The guest list included Queen Latifah, Sidney Poitier, John Travolta, Vince Vaughn, Will Arnett and House Minority Leader Nancy Pelosi (D-San Francisco).
Television no longer refers to the box sitting in your living room — [it] refers to storytelling."

— Bruce Rosenblum, chairman, Academy of Television Arts and Sciences
Last year, he and Avant, former U.S. ambassador to the Bahamas, hosted a fundraiser for President Obama that featured First Lady Michelle Obama as the main attraction. They were among the president's top 2012 campaign bundlers, raising $500,000, according to the Center for Responsive Politics.
Sarandos, one of five children, grew up in Phoenix with an electrician father and stay-at-home mother who left the TV on all day to cope with a chaotic household. He attended community college while working part-time in a strip-mall video store. By the age of 30, he was an executive for a company that supplied videos to Blockbuster, which now offers Internet streaming and movies by mail as a unit of Dish Network.
A first-of-its-kind revenue-sharing deal Sarandos struck with Warner Bros. while at the West Coast Video/Video City retail chain got the attention of Netflix Chief Executive Reed Hastings. Their first meeting went so well that Hastings recruited him to become Netflix's chief content officer in 2000.
"He loves people and he loves entertainment," says "Arrested Development" creator Mitch Hurwitz, who compares Sarandos to the late NBC executive Brandon Tartikoff and Universal Studios chief Lew Wasserman. "They really understood artists and loved the medium. Ted is one of the few people I've met who has that quality."
Consider the way he acquired "House of Cards."
When Fincher was pitching his first television series, Sarandos was invited to meetings with representatives from other major television networks. He passed.
Instead, he asked for his own meeting with Fincher, who at the time was working on the 2011 film "The Girl With the Dragon Tattoo."
"I knew the stakes were high, in terms of the size of the bet," Sarandos says. "But if we believe all those things we say we believe in — that television is going to be mostly on-demand and mostly delivered [digitally] — then someone had to lead that charge. It had to be something as good or better than anything on TV."
Sarandos studied Netflix data to determine how many subscribers watched political dramas such as Aaron Sorkin's "The West Wing" or the BBC's original 1990 "House of Cards." He identified the die-hard fans of the director's films and the series' proposed star, Kevin Spacey.
On the strength of that projected audience, Beau Willimon's script and Fincher's track record, Sarandos walked into the director's West Hollywood offices with a groundbreaking proposition: Netflix would commit to not one but two full seasons at a cost of $100 million.
Other networks had asked to see a pilot from Fincher before considering the series, a prospect the director didn't relish after receiving commitments from Spacey and Robin Wright.
"There were 100 reasons not to do this with Netflix," Sarandos says. "We had to give them one great reason to do it with Netflix."
"When somebody offers you exactly what you're asking for, be smart enough to say 'yes,'" Fincher says. "There are a lot of people in that position, deciding how they're going to spend tens of millions of dollars, who I describe as the Chihuahua inside a car with the windows rolled up on a hot summer's day. They are people who would react to this situation with incessant trembling and dyspepsia."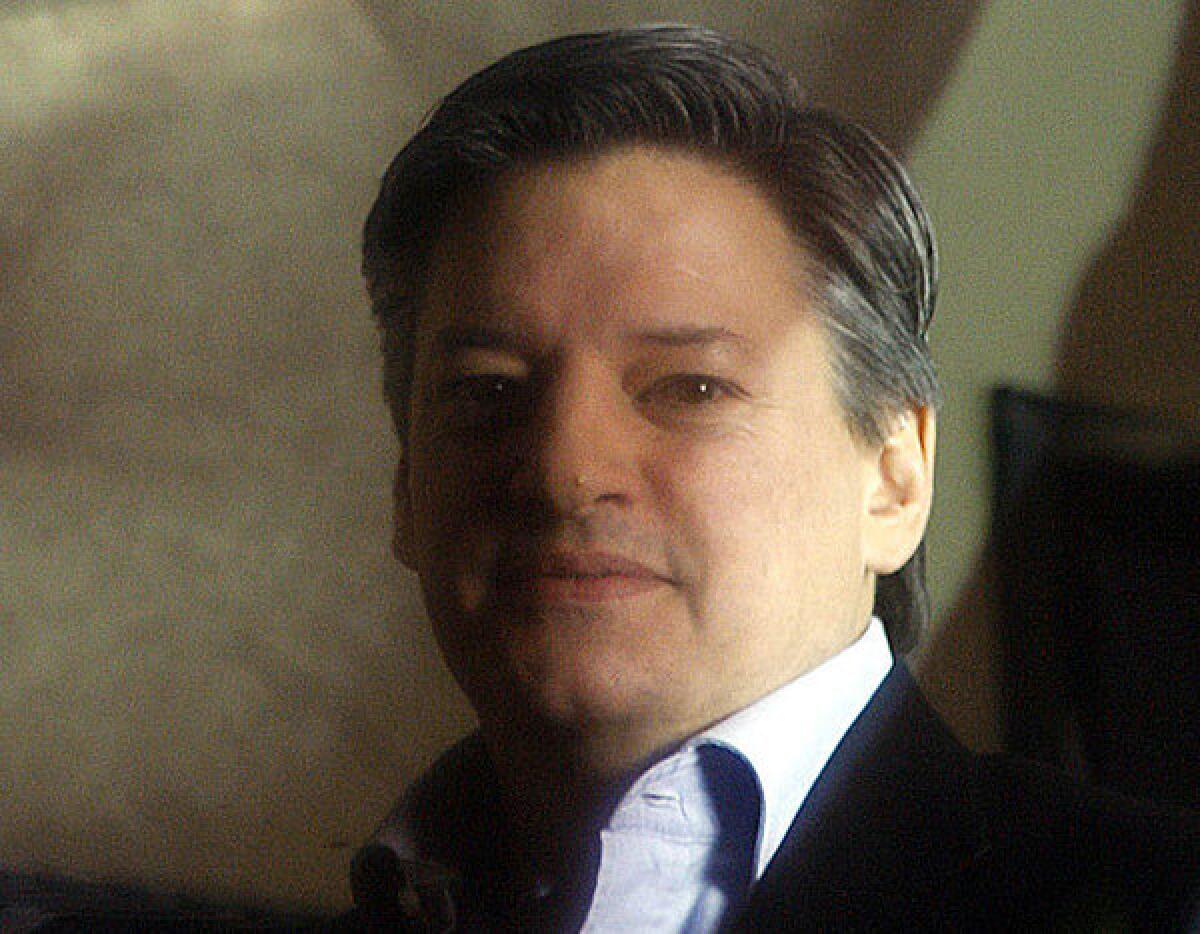 Ted Sarandos
Age: 49
Family: Married to former U.S. Ambassador Nicole Avant; two children, Tony and Sarah, from his first marriage
Home: $5.4-million Beverly Hills property purchased from fashion designer Max Azria
Professional Affiliations: Film Advisory Board for Tribeca and Los Angeles Film Festival; retail advisory board for the Digital Entertainment group; a Harry Crown Fellow at the Aspen Institute; named to Time magazine's list of 100 most influential people in the world
Commissioning its own shows was one way Netflix could differentiate itself from competitors and grow its subscriber base. Its Internet streaming service now boasts 38 million members in 40 countries, who watch about a billion hours of TV shows and movies each month — a dramatic rise from the 6.7 million customers it had in the DVD-centric days of June 2007. The company reported net income of $29.5 million for the latest quarter ended June 30, nearly quintuple its profit for the same period in 2012. Revenue shot up to $1.1 billion, up 20% from a year ago.
Netflix's push into original programming began with "baby steps." Sarandos launched the now-defunct Red Envelope Entertainment to license the rights to distribute such independent films as the Oscar-winning documentary "Born Into Brothels" and financed original productions, including Doug Benson's "Super High Me."
"It was a small, tactical thing that allowed us to get some compelling programming to our streaming service early," Sarandos says. "It helped us cut our programming chops a bit."
As online competition heated up — with YouTube striking film rental deals with major studios and Amazon launching its Prime Instant Video subscription service — Sarandos made headlines with a $200-million deal with pay-TV channel Epix for streaming rights to movies from Paramount Pictures, Lionsgate and Metro-Goldwyn-Mayer. The size of that check, and other deals for exclusive content, placed Netflix on a par with any other TV buyer — and elevated Sarandos' stature in Hollywood.
Netflix's first original series, "Lilyhammer," starring "The Sopranos" mainstay Steven Van Zandt, debuted with little fanfare in February 2012. The experiment validated Sarandos' instinct that subscribers liked getting episodes in one binge-happy bundle. For "House of Cards," Fincher didn't need persuading when Sarandos said Netflix would release all 13 "House of Cards" episodes at once.
"My attitude was, that sounds awesome," Fincher says. "As television becomes more and more like literature, I'd love to be able to set the book by the nightstand when I want to. It seemed like the natural progression of things."
The Academy of Television Arts and Sciences anticipated "House of Cards" and the Netflix moment six years ago when it allowed Web series to be eligible for Emmys.
"Television no longer refers to the box sitting in your living room — television refers to storytelling," academy Chairman Bruce Rosenblum says. "The method by which our viewers experience those stories is truly irrelevant."
None of this has stopped criticism from rival networks. Executives from HBO and Fox have taken potshots at Netflix, especially for flouting the accepted industry practice of releasing ratings.
"Overnight ratings work against quality on television," Sarandos says. "That's why I don't want to adopt the one convention that I think is anti-quality."
Ratings, he insists, are irrelevant for a company that neither courts advertisers nor collects fees for cable or satellite TV subscribers.
"People go bananas," says Kohan of "Orange Is the New Black." "I had lunch with an unnamed executive who spent half the time ranting, 'If it was good news they'd tell us.'"
Sarandos didn't need to see viewer numbers before optioning a second season of Kohan's show. The series was renewed before the initial installment reached subscribers.
"Ted doesn't seem moved by fear," says Kohan, adding, "If I spent my life just writing Netflix shows, that would not be a bad thing at all."
Follow Dawn Chmielewski (@DawnC331) on Twitter
From the Oscars to the Emmys.
Get the Envelope newsletter for exclusive awards season coverage, behind-the-scenes stories from the Envelope podcast and columnist Glenn Whipp's must-read analysis.
You may occasionally receive promotional content from the Los Angeles Times.