Warner Bros. sues 'Harry Potter'-themed store Whimsic Alley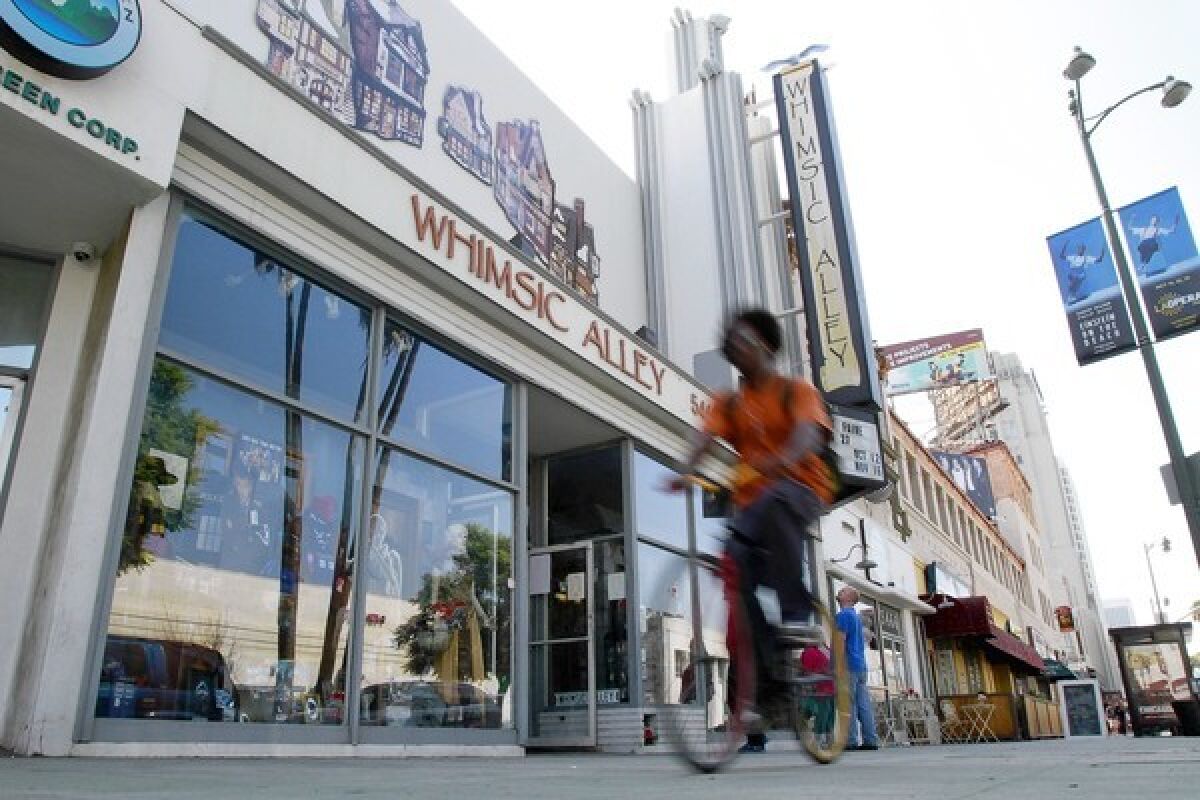 Whimsic Alley calls itself "a shopping haven for wizards of distinction," catering to "Harry Potter" fans with merchandise that includes wands, books, neckties and sweater vests for those looking to re-create the boy wizard's look.
It even has a Hogwarts-style "Great Hall" that can be rented out for children's birthday parties and is reminiscent of a hall of the same name in the "Harry Potter" series' fictional boarding school for wizards.
Now the Miracle Mile shop is the target of a lawsuit filed by Warner Bros., distributor of the "Harry Potter" movies and since 1998 the owner of the bulk of the "Potter" trademarks.
PHOTOS: Life after 'Harry Potter'
The suit filed in U.S. District Court in Los Angeles seeks to stop Whimsic Alley owner Stanley Goldin from selling goods that it says infringe on the studio's "Harry Potter" trademarks, and seeks unspecified monetary damages. A trial is set for January.
Both Goldin and Warner Bros. declined to comment, but legal analysts say it's no surprise that Warner's consumer products division would want to guard its lucrative "Potter" franchise against imitators.
"This guy is getting as close to the line as possible and maybe crosses it," said Allen Grodsky, an attorney who specializes in intellectual property litigation and reviewed the case for The Times. Whimsic Alley "isn't going to hurt them that much, but if this guy is going to be allowed to do this, then anybody can do it."
The studio, which released eight "Potter" movies that, combined, grossed more than $7.7 billion in theaters worldwide, is preparing to launch a new film series from "Potter" author J.K. Rowling, who will write the first installment's screenplay. The new franchise is based on a short volume from the "Potter" canon: 2001's "Fantastic Beasts and Where to Find Them."
"In the right hands, per movie, they should make approximately $100 million from licensing income from toys, apparel and stuff like that," said Lutz Muller, chief executive of Klosters Trading Corp., a consumer products consulting firm in Williston, Vt.
HERO COMPLEX: 'Harry Potter,' collected - Every interview, photo and app
The "Potter" brand also is spawning two new Universal Studios theme park attractions, including a Wizarding World of Harry Potter at Universal Studios Japan and a similar project at Universal Studios Hollywood that could open in 2016.
The studio has alleged that Whimsic Alley's wares and services — including its merchandise, its Great Hall and a forthcoming "wizard cruise" on an ocean liner — infringe on the studio's trademarks and trade dress by offering products "identical or similar in nature to and directly competitive" with licensed wares. Warner Bros. alleges this is "likely to cause confusion, mistake and deception among prospective purchasers."
Goldin's attorney did not respond to requests for comment, but they have filed court papers disputing many of the allegations.
His company says he got into the "Harry Potter" business "almost entirely by accident" after holding senior management positions at Six Flags Corp., Xerox Corp. and Transamerica Insurance Co.
Goldin started selling merchandise online, and opened Whimsic Alley in Santa Monica in 2004, hiring a Hollywood set designer to create an interior reminiscent of a fictional London shopping district, catering to wizards, that is a key part of the "Potter" world.
"I decided that if I was going to do this, I wanted to appeal to 'Harry Potter' fans," Goldin told Costco Connection magazine, which included with its 2006 story a photograph of the smiling businessman dressed in "Potter"-style garb and clutching a wand.
PHOTOS: Hermione Granger through the years
Whimsic Alley, which moved to its Wilshire Boulevard location in 2010, has emerged as an unofficial gathering place for "Harry Potter" fans. On a recent weekday afternoon, a worker who sported a hairstyle reminiscent of "Potter" villain Draco Malfoy's rang up a customer, while a Spanish-speaking couple meandered down a long hall replete with chandeliers festooned in faux cobwebs. A trio of youngsters perused a display of wands.
Customer Caity Knox, 27, said it would be a shame if the legal dispute forced the store to close.
"Whimsic Alley is being bullied and made an example of," she said. "On Harry Potter's birthday, you will see people just going there to hang out and talk about stuff."
Warner Bros. isn't alone in vigorously defending its trademarks. Walt Disney Co., a consumer products juggernaut, has a long history of using the legal system to protect its intellectual property. In September, the Burbank company sued Entertainment Theatre Group in federal court in Pennsylvania, alleging the company's staging of "Broadway: Now & Forever," a musical that features Disney characters including Mary Poppins, infringes on copyrights and trademarks held by the studio.
Whimsic Alley sells some licensed "Potter" merchandise, though a significant portion of its wares are unofficial and merely reminiscent of clothing and other objects from the wizard's universe. It also stocks merchandise from other franchises, including TV's "Game of Thrones" and "Dr. Who." Although the homepage of the store's website includes only one reference to "Harry Potter," it includes images of apparel, wands and pins that evoke Rowling's world.
It's possible that Goldin and Warner Bros. could reach a settlement — as they did after the studio filed a lawsuit against Goldin in 2004 that contained similar allegations. That case ended in a settlement in which Goldin agreed to stop using or displaying items that featured "Harry Potter" trademarks — or other "confusingly similar" products — in connection with the sale of merchandise, according to the studio's new lawsuit.
PHOTOS: The royals' studio visit
"They can say, 'You did this once before, and now you are crossing the line once again,'" attorney Grodsky said. "I understand why Warner Bros. is upset."
Warner Bros.' latest lawsuit was filed in March, about a month after Whimsic Alley got media attention for offering a four-night "wizard cruise" on a Princess Cruises ship, scheduled to take place in November and cited in Warner Bros.' lawsuit.
Although the lawsuit comes down to the question of whether consumers could be confused by Whimsic Alley's wares, Knox said she is aware that much of the store's merchandise isn't licensed.
"I don't think any 'Harry Potter' fans actually identify the franchise as property of Warner Bros.," she said. "'Harry Potter' is very personal to millions of people, and I really doubt that any significant number of them connect that relationship to Warner Bros."
Actually, the fact that Whimsic Alley carries unlicensed merchandise is a plus for her.
"If I am going to dress up as Harry Potter, I am not going to buy something that has a logo on it," Knox said. "I want to buy something that an actual wizard would have."
---
From the Oscars to the Emmys.
Get the Envelope newsletter for exclusive awards season coverage, behind-the-scenes stories from the Envelope podcast and columnist Glenn Whipp's must-read analysis.
You may occasionally receive promotional content from the Los Angeles Times.