'Spider-Man,' 'Transformers' and 'Pirates' toys battle for boys' attention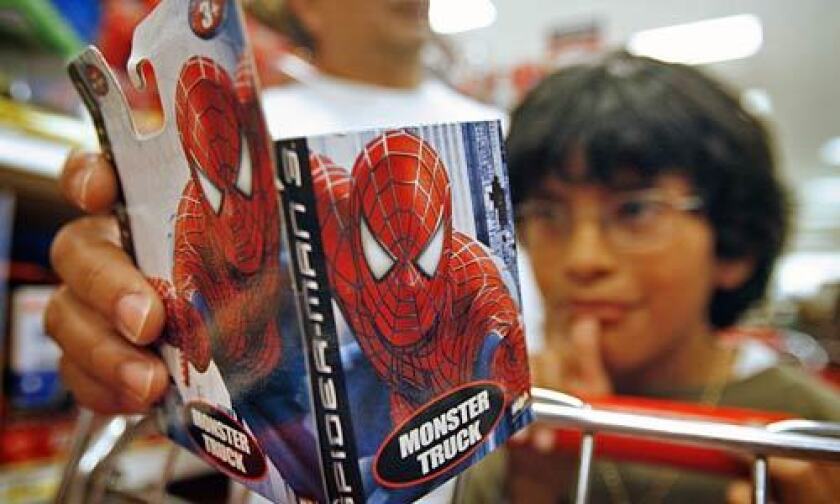 Times Staff Writer
As movie studios battle one another at the box office with their summer blockbusters, toy manufacturers that have hooked their fortunes to these films are facing a similar fight as they vie for the attention of young boys.
Yet, with nine movies having toy-related items for sale during the three-month summer window, consumers could suffer from a form of attention deficit disorder.
"It has become so crowded that kids don't have the time to let that emotion [for the movie] percolate," said Martin Brochstein, executive editor of the Licensing Letter, a monthly newsletter that tracks toy licensing. "The retailers are not looking to keep things on the shelf for as long. It's become a business of caution."
Toy industry analysts expect this year to be strong in action figure sales because of the number of summer movies featuring swashbuckling heroes or crime fighting characters including "Spider-Man 3," "Pirates of the Caribbean: At World's End" and "Fantastic Four: Rise of the Silver Surfer." The biggest seller of the season, however, could be Transformers, the popular toy series that will be brought to life by Michael Bay's upcoming action film. "Transformers," which features the heroic robot Optimus Prime and the villainous Megatron, will be released July 3 by Paramount Pictures. The toys have been out since early June.
Sheliah Gilliland of the Internet toy retailer EToys.com is betting on Transformers.
"Transformers will be the biggest seller—it's a movie based on a line of toys that has been popular since the '80s," she said. "They have always been strong sellers but, because of the movie, they are coming back in a huge way."
Although last year's box office attendance was up by about 5%, action figure sales fell by 9% in 2006, generating close to $1.25 billion of the $22.6 billion in overall toy revenue, according to NPD Group, a consumer and retail information company. Action figure sales fell partly because of a robust 2005, which benefited from the release of "Star Wars: Episode III Revenge of the Sith" and its related toys.
Toys can increase a franchise's popularity and in turn spur excitement for the next installment of a movie.
"Toys are an extremely important category for the 'Pirates of the Caribbean' franchise given the natural pirates play pattern for boys," said Eva Steortz, vice president of Boys/Film Franchises, for Walt Disney Co., which distributed the movie. "Unique ships and action figures represent the three-dimensional way kids bring all of our characters like Jack Sparrow and Davy Jones into their lives to reimagine what they have seen in the films."
The studios license the rights to toy manufacturers and also receive royalties of 7% to 15% of the sales, said Chris Byrne, an independent toy analyst and contributing editor of Toy Wishes Magazine.
With so many sequels, toy manufacturers (as well as the studios) must up the ante to outdo the previous offering.
For instance, Zizzle, the manufacturer behind Disney's "Pirates" toys, has stressed technological advances such as Jack Sparrow's battery operated "Sensor Sword and Magic Ring," which recognizes the sword-bearer if he is wearing the ring and gives directions on how to fend off enemies.
The "Spider-Man 3" blaster, manufactured by Hasbro Inc., shoots out spirals of webs made of goo — instead of squirting straight shots of the stuff like last year.
The beauty of a sequel is that kids know what to expect. Marketing toys for unknown movie characters can be much trickier. For instance, retailers were not sure how toys from Pixar Animation Studios' 2003 summer film "Finding Nemo" would do. Fans were disappointed to find so few of them in toy aisles.
"It opened great and people went to the stores looking for "Nemo" merchandise, but at that point it was too late," Brochstein said. "It's called 'chasing the business.' " The key to successful movie toys is popular characters, said Byrne of Toy Wishes Magazine.
"The idea is not to play with the characters but to become the characters," Byrne said. He expects that's one reason why the "Shrek" toy line is not flying off the shelves. "How does a boy imagine he is a green ogre expecting a child?" he said. "Why would he want to?"
Transformers are considered the ultimate boy toys that could also be a hit with dads who played with them when they were young. Hasbro has come out with an updated line, including the Optimist Prime 18-wheel truck that transforms into a blaster with one pull of a handle. The company will release a new video game in time for Father's Day.
In this summer's toy war, Hasbro, may have the most to lose.
Hasbro holds the master toy license to three Marvel superhero movies being released this summer, "Spider-Man 3," "Transformers" and "Fantastic Four: Rise of the Silver Surfer." That means the manufacturer will essentially be competing against itself in the toy aisle.
Lots of movies do not translate to strong toy sales, said Gerrick L. Johnson, an analyst with BMO Capital Markets Corp.
"We think this [Marvel licensing] deal will be a profitable one for Hasbro; we also think it is expensive and risky," he wrote in a recent report.
The company needs $1 billion in Marvel related sales over the next five years to make a profit on the licenses, he said. "That is a lot of toys and our concern is that interest in super-hero-related movies and toys will begin to wane."
Hasbro is confident it will gain from its Transformers brand and has signed deals with 230 licensees worldwide for T-shirts, bedding, cellphones and shoes.
"It's much more about total enterprise for us," said Brian Goldner, chief executive of Hasbro. "We know we have created a great array of products for kids and collectors."
Hasbro hopes it can count on people like Juan Reynoso to make that profit a reality.
Wearing a "First National Bank of Dad" T-shirt, Reynoso ran into a Target store recently on an "emergency diaper run" only to get stuck in the toy aisle.
Reynoso's 4-year-old, Matthew, scored Chick Hicks, the only missing piece in his collection of dozens of car toys from last summer's hit, "Cars."
Reynoso said his younger boy was crazy about "Cars." He owns the DVD and has seen the movie over and over. An unemployed truck driver, Reynoso ended up buying his 7-year-old son, Gabriel, a "Spider-Man 3" Venom action figure for $15.
His older boy has seen "Spider-Man 3" and Reynoso said he was looking forward to taking Gabriel to "Transformers" after seeing the promotional trailer on the Internet.
Before leaving Target, Reynoso had promised Gabriel the Spider-Man Versus Venom figure — also $15. "We'll come back later for that," he said as he walked down the aisle with his cart full.
lorenza.munoz@latimes.com
---
From the Oscars to the Emmys.
Get the Envelope newsletter for exclusive awards season coverage, behind-the-scenes stories from the Envelope podcast and columnist Glenn Whipp's must-read analysis.
You may occasionally receive promotional content from the Los Angeles Times.