Hey Andy Samberg: Here's a few thoughts to keep the Emmys from tanking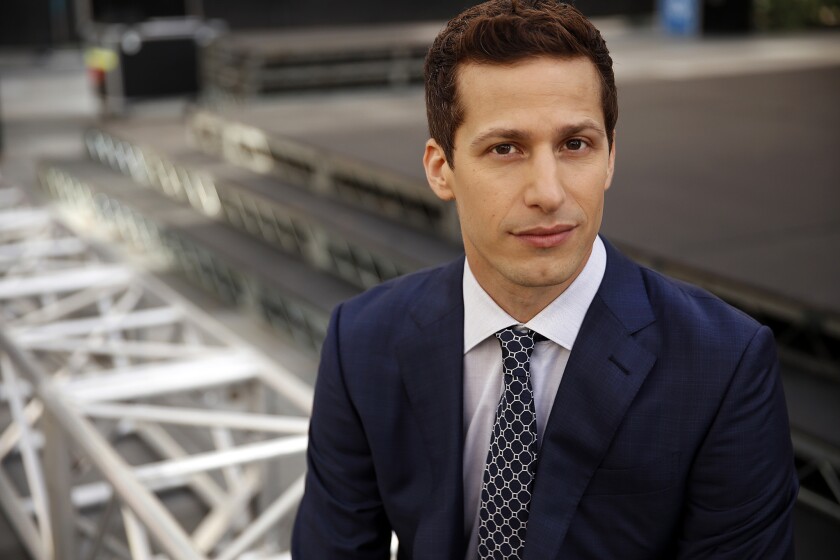 Hey, Andy Samberg, we are super-excited about you hosting Sunday night's Emmys. And by "we" I mean me.
This is, I believe, the 10th year I will be reviewing the Emmys and frankly, I could use a little pick-me-up. Which I am confident you can provide! I know, I know, you don't read the reviews--believe me, there isn't a TV critic alive who wouldn't point-blank refuse to review the Emmys if he or she could.
Between you and me, Andy, it's a thankless job. Kind of like hosting only without, you know, the glamour and the salary benefit. We do get free pizza sometimes, though, and that's exciting.
FULL COVERAGE: Emmys 2015
But what's the point, critiquing the show once it's over? It's not like you're trying out for a steady gig, and even if you tank they're not going to cancel the Emmys next year. So let's this year, let's go on the offense. I realize it's late, but here are a few things that would be great to see:
1. No Miley Cyrus.
I know you tried to help her out at the VMAs the other week, and that was very kind of you, but it did not work out so well. So if she has offered to return the favor, decline; Miley has redefined overexposed.
2. No Donald Trump.
So tempting, right? Those Trump jokes? Colbert is making an Oreo-meal of them on the "Late Night" and jeez, it seems totally in the Emmy wheelhouse since Trump is, in fact, a television star. But when I read you were going to do a few, were even going to invite him personally, I thought "ummmmm. No." At some point we need to stop joking about Trump, who really is running for president, and the fact that he really is running for president. Because it is completely and utterly not funny any more.
3. Nominee interaction.
You could take a page out of CNN's book and set up some inter-personal smack-downs or you could just get Amy Poehler to do her magic. Either way, it's always refreshing when the show acknowledges that many of the people in "competition" know each other, and sometimes well enough to have a little fun with it.
4. Some sort of acknowledgment of all the fabulous shows, especially those on the Big 4, that don't even make the nominations list.
Should there be a shadow-Emmys? A picket line? A broadcast vs. cable face-off? You have some skin in this game, Andy--how can you be hosting an event that increasingly disses your people?
5. Be you.
Just because you've got a tux on doesn't mean you can't and shouldn't be you. Relaxed and fearless and not afraid to inject the show with a little energy when it begins to drag. Be the first host to not make predictable jokes about how long the thing is going--football games last longer and the sports casters never complain! Be the host who doesn't notice the time because it is filled with people winning things and he is having the time of his life. And maybe we will too.
Follow me on Twitter: @marymacTV
See the most-read stories in Entertainment this hour >>
MORE EMMYS:
Is it finally Jon Hamm's year? 4 races to watch at Sunday's Emmys
Emmys will be a big night for 'Game of Thrones' -- and other ironclad predictions
'Transparent' vs. 'Modern Family' and what Sunday's Emmys say about TV's cultural shake-ups
---
From the Emmys to the Oscars.
Get our revamped Envelope newsletter for exclusive awards season coverage, behind-the-scenes insights and columnist Glenn Whipp's commentary.
You may occasionally receive promotional content from the Los Angeles Times.