Kathryn Hahn explains why Rabbi Raquel can't 'quit those Pfeffermans' in Amazon's 'Transparent'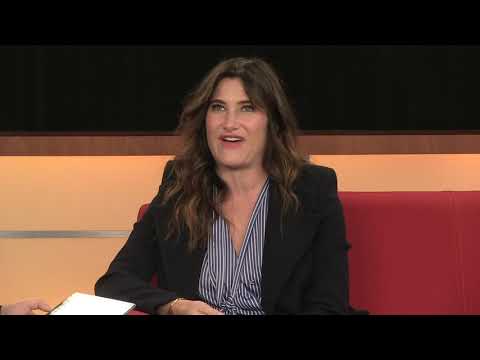 Kathryn Hahn, aka Rabbi Raquel in 'Transparent,' talks about what she's bingeing right now, her favorite classic TV show and more.
Kathryn Hahn feels like "a moral and actual disaster" compared with the kind-hearted rabbi she plays on Amazon's "Transparent."
The prolific character actress, who's up for a supporting Emmy this September for her role as Rabbi Raquel in the comedy, praised her character's flaws and showrunner Jill Soloway (whom she affectionately calls by her last name) for bringing the character to life.
"It's hard to quit those Pfeffermans, for sure," Hahn said during a recent visit to The Times video studio. "Even Raquel is a pretty solid human being — a decent human. Her head is screwed on pretty straight and it's hard [to quit]."
Despite her grief-stricken history with the dysfunctional Pfeffermans, headed by transgender figure Maura Pfefferman (Jeffrey Tambor), and her dealings with Maura's man-child son Josh (Jay Duplass), she doesn't cut them off when his sister Sarah (Amy Landecker) comes seeking spiritual guidance in Season 3.
"She's a rabbi. You're not going to close the door to anybody that is asking for spiritual guidance of any kind, no matter who they are. It would go against everything she believed in," Hahn explained. "And I think there's something so seductive about any of those Pfeffermans who are so charismatic. Even though there's a big part of her [saying] 'Danger, danger!' She couldn't help it. And of course her gut was proven right by the end of it."
The most-read Entertainment stories this hour »
In the streaming series, Rabbi Raquel gets pregnant with Josh's baby despite her mature age and has a miscarriage. Meanwhile, faith and flaws underscore her journey.
"That's what I love about every human in this show that Jill created. Everyone is so human. There's no one who's sainted," she said.
"Transparent" is the second of three collaborations Hahn has had with writer-director Soloway. The women first worked together on the 2013 indie "Afternoon Delight" and are currently at work on another Amazon comedy, "I Love Dick." Soloway co-created the series that is regarded as the character actress' long-overdue breakout role.
Though she grew up Catholic, Hahn's quiet, reflective role has pushed her to examine her personal relationship with God. And it's Raquel's mottled humanity that drew her to the role.
"I just love that you see this religious figure that not only has a vagina, but she's sexual, unmarried, is not like always on the straight and narrow," Hahn said. "She's flawed and messy. But she also is such a good person. She's really struggling to maintain that. I have such respect for her, for sure. I feel like such a mess compared to Raquel — just a moral and actual disaster."
In the years since "Transparent" has premiered, transgender issues have been spotlighted in entertainment and quite viscerally in politics with President Trump's recent tweet about barring trans people from military service. Hahn, who said she too struggled with pronoun confusion and mishaps when the show first came out, has learned quite a bit since then, and reflected on her personal experience with the issues.
"The fact that we could all come together with care and realization that there was a civil rights issue that was happening," she said of how the show affected her thoughts and views. "There is something about this show that has cracked me open, and -- I'm sure a lot of people would say this — [asking] what is real kindness and really being an empath? Really being able to step in someone else's shoes?"
That notion has struck her on a personal level too.
"I'm a parent too so like, what kind of world do I want those kids to grow up in and how do I want them to be? How do I want them to feel about who they are? It's imperative. I want to cry thinking about it…we obviously have so long to go."
Watch Hahn's complete interview below.
Follow me: @NardineSaad
ALSO
The Emmys' 'unkillables': They're aging, they're familiar and they're back
Christopher Nolan has a complicated history with the Oscars — 'Dunkirk' might end that
After so many prestige TV male antiheroes, 2017 Emmy nominations at last spotlight the female experience
From the Oscars to the Emmys.
Get the Envelope newsletter for exclusive awards season coverage, behind-the-scenes stories from the Envelope podcast and columnist Glenn Whipp's must-read analysis.
You may occasionally receive promotional content from the Los Angeles Times.