What time are the Golden Globe Awards? Here's everything you need to know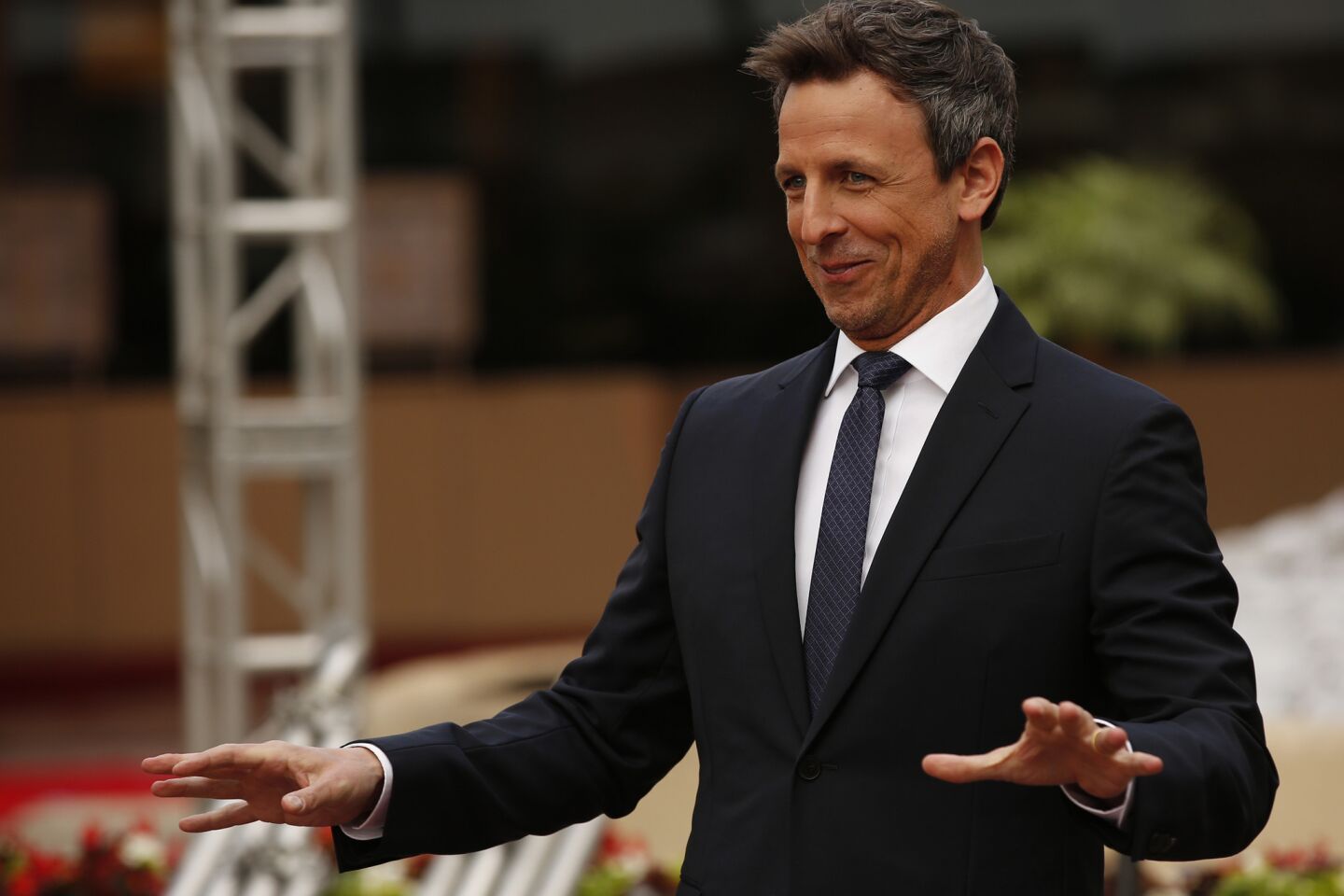 Seth Meyers at the Golden Globes' preview day on Thursday at the Beverly Hilton Hotel in Beverly Hills. Meyers will host Saturday's awards show.
(Al Seib / Los Angeles Times)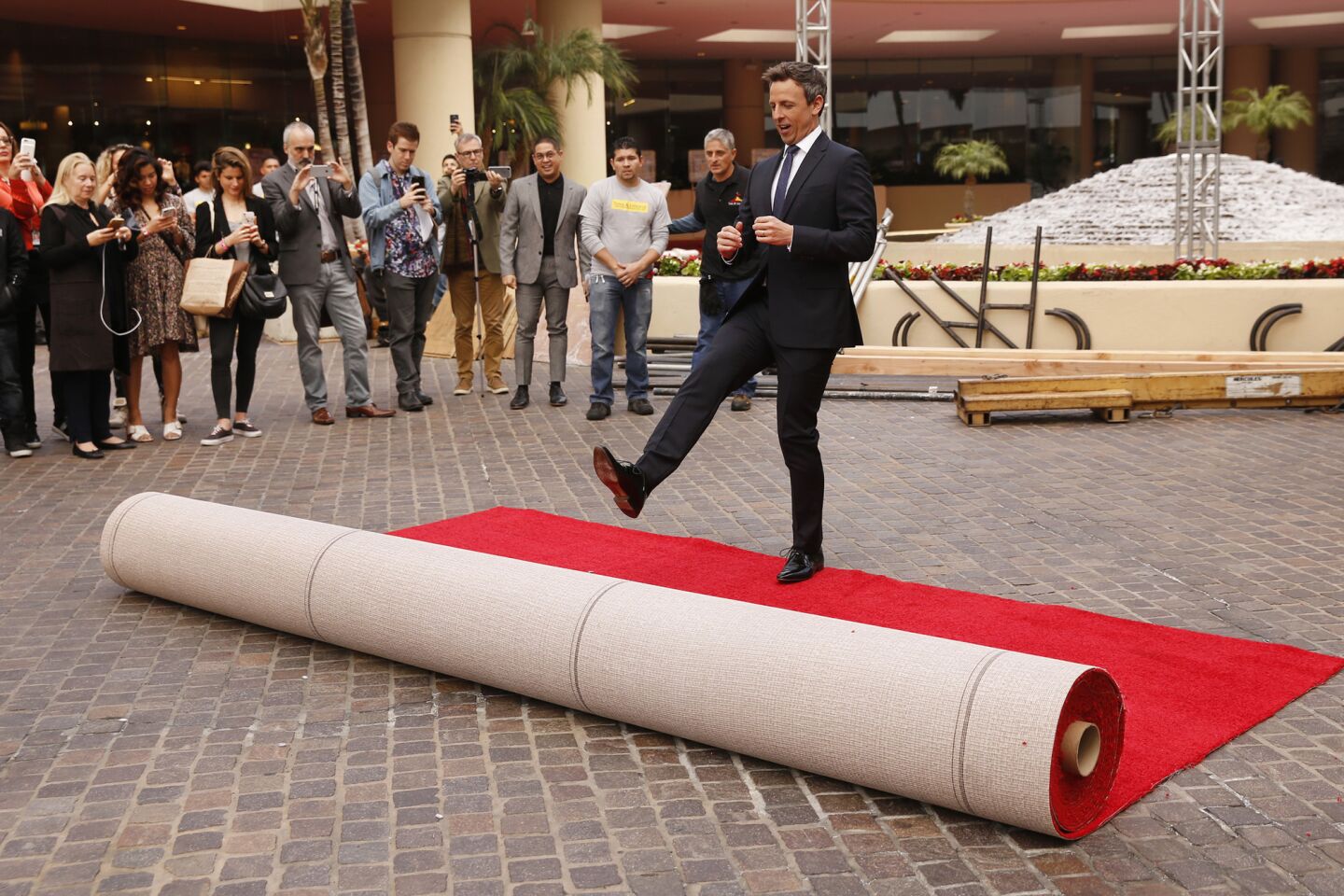 Seth Meyers kicks out the red carpet on preview day.

(Al Seib / Los Angeles Times)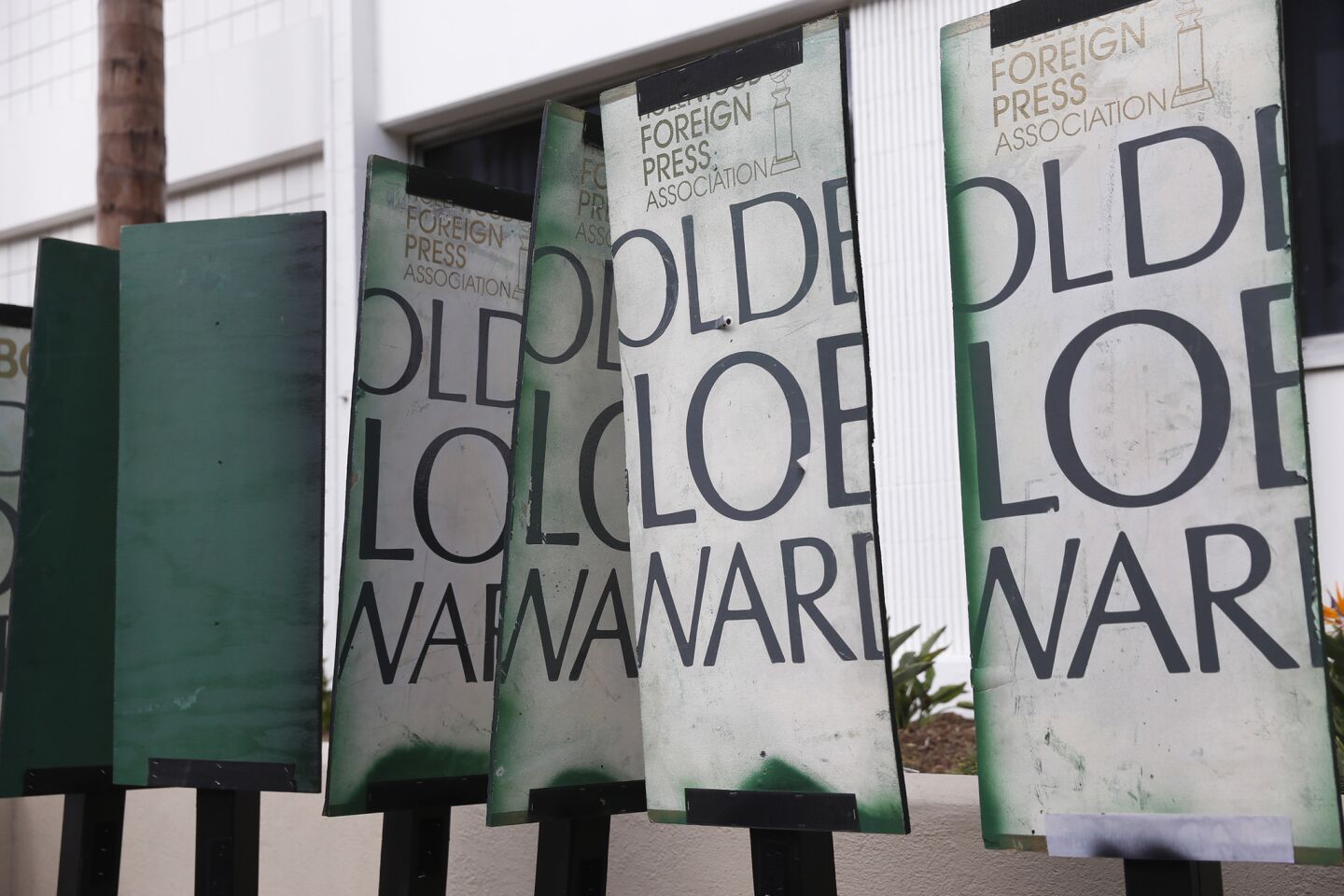 Signs go up in preparation for Saturday's Golden Globes show, where members of the Hollywood Foreign Press Assn. recognize the best film and television, both domestic and foreign.
(Al Seib / Los Angeles Times)
Rolls of red carpet await installation.
(Al Seib / Los Angeles Times)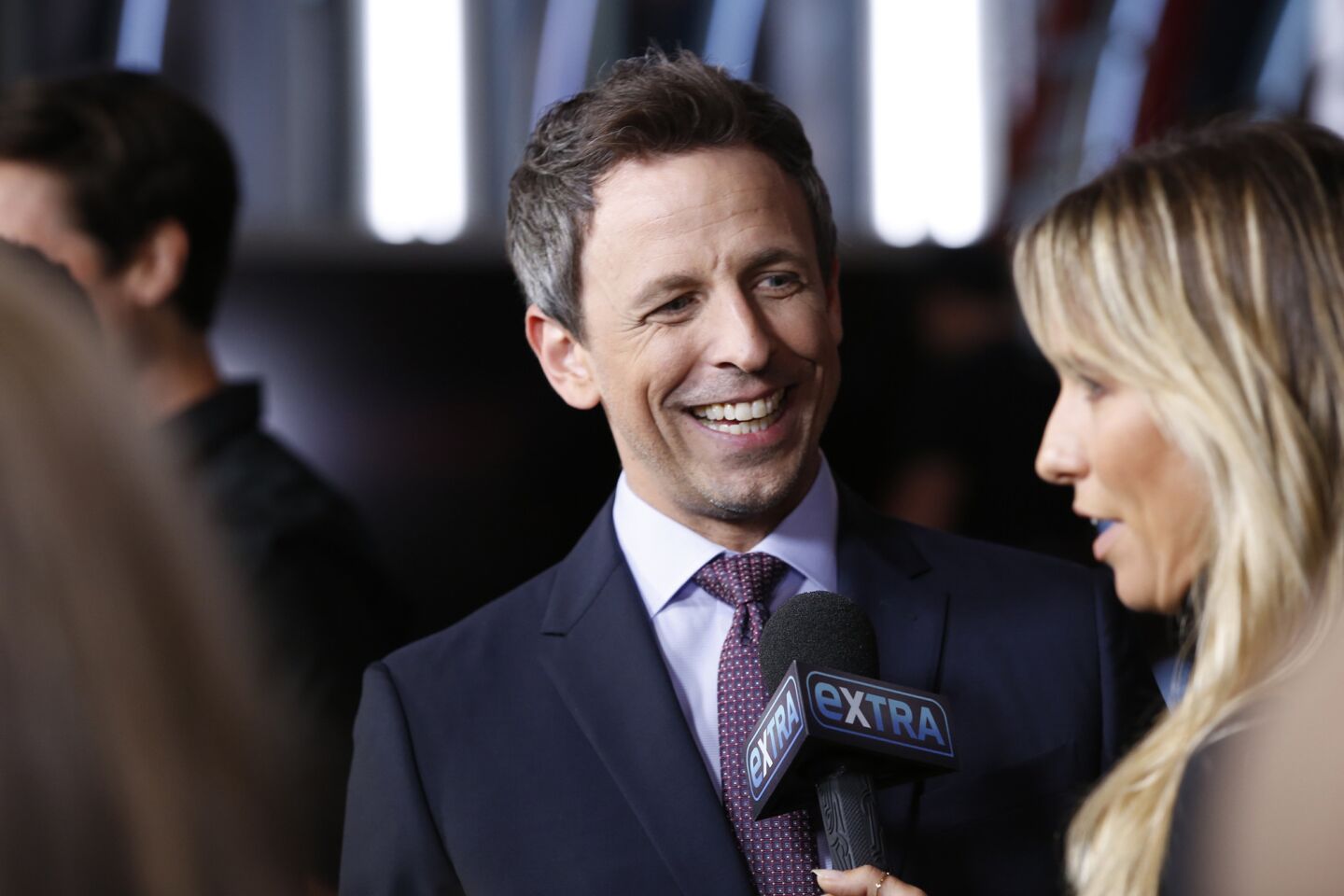 Seth Meyers talks to the media on preview day.
(Al Seib / Los Angeles Times)
Champagne is part of the preview day goings-on.
(Al Seib / Los Angeles Times)
Seth Meyers will host Saturday's show.
(Al Seib / Los Angeles Times)
Meher Tatna, president of the Hollywood Foreign Press Assn., talks with the media at preview day.
(Al Seib / Los Angeles Times)
The 75th Golden Globe Awards kick off the 2018 awards season on Sunday. And here's the lowdown on what you need to know before the stars hit the red carpet.
The anniversary celebration, with its bacchanal reputation and "Party of the Year" moniker, comes during a watershed moment as the entertainment industry crackles over sexual misconduct in Hollywood and beyond.
What time does the show start? And on what channel and streaming service?
The party-like ceremony will take place at its usual haunt, the Beverly Hilton in Beverly Hills, and will air liveon NBC from 5 to 8 p.m. Pacific.
NBC will also stream the show to paid subscribers on its website and through its app and through other providers that carry the local NBC market. (Century Link Stream, DirecTV Now, Fubo TV, Hulu Live TV, Sling TV, Sony PlayStation Vue and YouTube TV will also carry the official stream.)
The official red-carpet pre-show begins at 3 p.m. Pacific and can be live-streamed on the Golden Globes' official Facebook page. Additionally, the "2018 Golden Globe Arrivals Special," hosted by the "Today" show's Natalie Morales, Al Roker and Carson Daly, will air live on NBC from 4 to 5 p.m. Pacific.
The Hollywood Foreign Press Assn., which puts on the annual show, likes to remind people that the glitzy event is viewed in more than 236 countries and is one of the few awards ceremonies to include both motion picture and television achievements.
Watch exclusive video interviews with the nominated actresses, actors and director in our awards season database »
Who is hosting?
NBC often taps its marquee talent to host the boozy, often no-holds-barred event. So it came as no surprise that "Late Night" star Seth Meyers has picked up the gauntlet this year.
"We have a lot to talk a about," Meyers said in a promo for the show, cheekily addressing the Harvey Weinstein sexual assault scandal that upended the industry last fall. There are also plenty of politics in and outside Tinseltown to unpack, and Meyers plans to do just that in his opening monologue, in which he'll address the rampant sexual harassment allegations.
FULL COVERAGE: Golden Globes 2018 »
"I can only tell you that we're having a lot of conversations about it and getting the tone right, but also knowing that we need to address it and hopefully we can find that right way to do that," he told The Times on Thursday.
Meyers has previously hosted the Emmy Awards when they aired on the peacock network, and he is the latest in a long line of fellow "Saturday Night Live" veterans to score the gig. "SNL" alums Tina Fey, Amy Poehler and Jimmy Fallon have hosted in recent years, and so has comedian Ricky Gervais. Meyers even pitched in on jokes when Fey and Poehler hosted, so he's had practice backstage at a few shows.
"What I like about this show, what makes me excited about doing it, is that it's the loosest awards show, so it's fun to keep an eye out for things you can reference through the evening," he told The Times.
Who are the nominees?
As noted earlier, the Golden Globes dole out awards for those whom the HFPA deems supreme in film and television. They also give awards to musicians and the honorary Cecil B. DeMille Award for "outstanding contributions to the world of entertainment." Film and television mogul Oprah Winfrey is the recipient of the latter prize this year.
The full list of nominees can be seen here. In the meantime, here are the big contenders:
Film nominees
Television nominees
Predictions? You got 'em, we want 'em
The Times' resident awards expert, Glenn Whipp, can honestly say he has no idea who will win the motion picture drama race.
Ultimately, Whipp settled on Del Toro's sci-fi romance, "The Shape of Water," as this year's winner. But, he could be wrong and knows it.
Who's presenting?
The stars are coming out on Sunday to present the awards. Among this year's presenters are past winners, nominees, and, naturally, several hail from this year's crop of contenders.
In alphabetical order, here's who you'll see at the podium this year:
Jennifer Aniston, Roseanne Barr, Halle Berry, Carol Burnett, Mariah Carey, Jessica Chastain, Emilia Clarke, Kelly Clarkson, Common, Darren Criss, Penélope Cruz, Geena Davis, Viola Davis, Zac Efron, Gal Gadot, Greta Gerwig, John Goodman, Hugh Grant, Kit Harington, Neil Patrick Harris, Salma Hayek, Garrett Hedlund, Chris Hemsworth, Christina Hendricks, Ron Howard, Kate Hudson, Isabelle Huppert, Allison Janney, Dakota Johnson, Dwayne Johnson, Angelina Jolie, Michael Keaton, Shirley MacLaine, Ricky Martin, Helen Mirren, Sarah Jessica Parker, Robert Pattinson, Sarah Paulson, Amy Poehler, Natalie Portman, Edgar Ramírez, Seth Rogen, Andy Samberg, Susan Sarandon, J.K. Simmons, Octavia Spencer, Sebastian Stan, Emma Stone, Sharon Stone, Aaron Taylor-Johnson, Keith Urban, Alicia Vikander, Kerry Washington, Emma Watson and Reese Witherspoon.
Johnson is also on hand because his daughter Simone Garcia Johnson was named the inaugural Golden Globe ambassador, a title previously referred to as Miss Golden Globe. Garcia Johnson will be onstage helping out presenters and handing out gilded statues.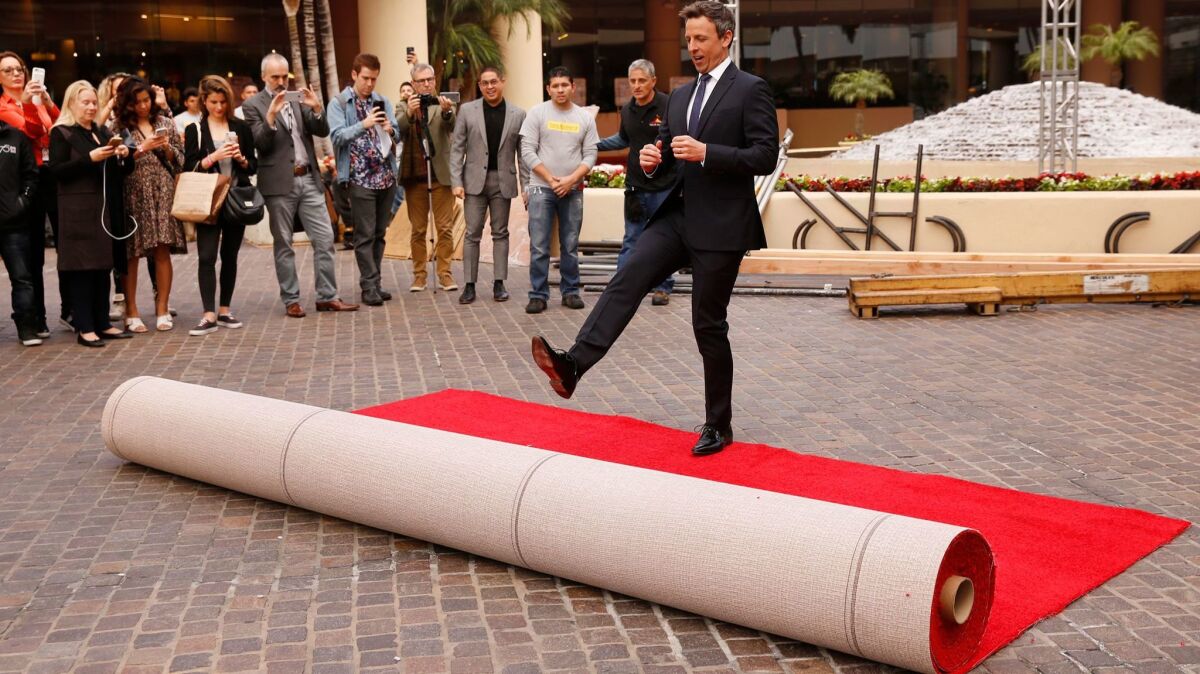 What are they wearing?
The black-tie affair is expected to turn into a black-dress affair, with female nominees and attendees banding together to protest gender inequality and sexual abuse in the industry. Meyers also confirmed on Thursday that he will be wearing black in solidarity.
"If you see a sea of black, it's going to make a statement. It's going to say things have to change, that this is the death of everything that came before," HFPA member Margaret Gardiner told The Times.
Want more?
From the Oscars to the Emmys.
Get the Envelope newsletter for exclusive awards season coverage, behind-the-scenes stories from the Envelope podcast and columnist Glenn Whipp's must-read analysis.
You may occasionally receive promotional content from the Los Angeles Times.