Golden Globes host Seth Meyers arrived front and center when he retreated behind his desk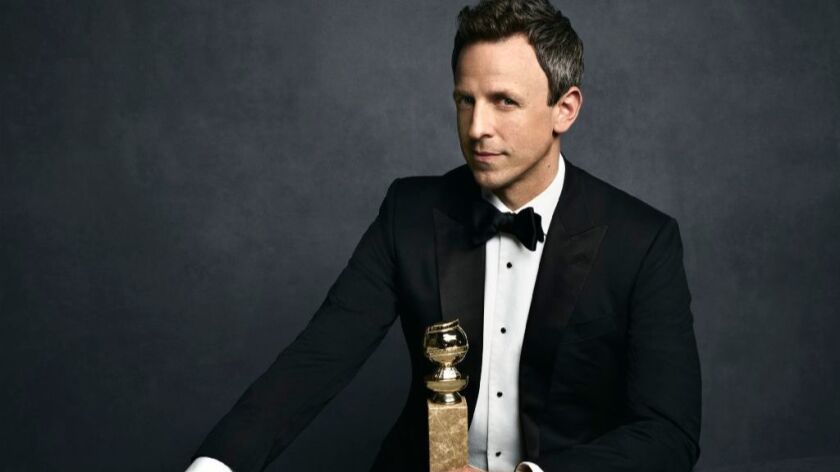 Seth Meyers spent the holiday break visiting his in-laws in Albuquerque, playing with his 21-month-old son Ashe ("One of the great things about him is he barely ever brings up the Trump administration," Meyers says, "because, for him, it's almost entirely trucks") and celebrating his 44th birthday in pretty much the same manner as he commemorated his 43rd.
"My wife and I go away to a hotel, binge watch a television show, get a nice dinner and go to bed," Meyers explains, adding that "Alias Grace" was this year's series of choice. "As a 44-year-old man, that seems perfectly fine."
Meyers returned to work this week but not to hosting "Late Night with Seth Meyers." He and his writing staff flew to Los Angeles, where Meyers will be hosting the Golden Globes on Sunday evening. It's not the first time Meyers has holed up at the Beverly Hilton in early January. He worked on the writing team the three years that Tina Fey and Amy Poehler hosted the ceremony this decade. But it's his first go-around as host, a gig he's happy to take.
"What I like about this show, what makes me excited about doing it, is that it's the loosest awards show, so it's fun to keep an eye out for things you can reference through the evening," Meyers says.
That said, unlike Ricky Gervais, who hosted the Globes four times, bracketing Fey and Poehler's 2013-15 stint, the affable Meyers doesn't plan on having a drink in his hand throughout the evening. Or perhaps at any time during the evening.
"Maybe after I get through the monologue … but probably not," Meyers says. Reminded that Gervais said hosting the Globes amounted to getting drunk, saying whatever you want and cashing the paycheck, Meyers, reflects, carefully choosing his words, "I will get drunk when they're over but not during. And as far as saying whatever you want, I think there's some truth to what you can get away with. But a lot of work will go into crafting what it is we want to say."
That kind of dogged commitment to detail has elevated Meyers to a position of prominence and trust — certainly, for left-leaning viewers — far removed from the inauspicious beginnings of his late-night show in February 2014. Meticulously reported segments like the show's signature "A Closer Look" and the recurring "Jokes Seth Can't Tell," created by writers Amber Ruffin and Jenny Hagel as a means to mock a wider array of subjects, have made "Late Night with Seth Meyers" essential viewing for anyone left bothered and bewildered by Donald Trump's presidency.
See the most-read stories this hour »
"He's coming at the news from a place of outrage, and yet he presents it in an unflappable manner," says Sal Gentile, the supervising writer on the "Closer Look" segments. "Hearing these things from someone else might be off-putting. Hearing it from Seth, it's like you're just talking about the news with a friend."
To hear Meyers tell it, the show's turnaround began two years ago when he decided to start the program from behind his desk. Dispensing with traditional late-night traditions — the walk on stage, the opening credits, the stand-up monologue — allowed Meyers to do what he does best: tell jokes (while seated).
"I always felt like I was my show's own warmup comedian until I sat down," Meyers says. "I wish everything was so easy as making an adjustment that involved sitting. It would have been twice as hard if I went the other direction. Then I would have had to stand seven more minutes a day."
Meyers' comfort from behind a desk, Gentile points out, came from the 10 years he spent writing and performing the "Weekend Update" news parody sketch on "Saturday Night Live," first with Poehler beginning in 2006, then solo for six seasons before ending with a yearlong stretch with Cecily Strong.
"It's funny how such a small thing helped lock him in more," Gentile says. "I can tell you: It didn't feel like that big of a deal at the time when he made that change. But I think it did help him lean into his strengths."
The slight format shift also coincided with the start of the 2015 Republican presidential debates and the evolution of the densely packed "Closer Look" segments, which originally were much shorter because, at the time, conventional wisdom had it that viewers would only watch and share zippier videos. Meyers and his writing staff reasoned that if people would binge watch an entire season of "Master of None" in a single viewing, they might sit still for humorous examinations of weighty issues that clocked in at seven to 10 minutes.
A "Closer Look" segment on Planned Parenthood funding that ran in early September 2015 drew a particularly strong response. And it was not, as Meyers puts it, a "laugh riot." There were jokes, yes, but, given the seriousness of the subject, the humor played a little quieter. It was precisely the kind of direction Meyers wanted to take his show. And it seemed his audience wanted him to go that way as well.
"I think it's dangerous in comedy when you actually start thinking that you're important people," Meyers says. "We try not to do that. But we do try to talk about things that are important to us. And that makes it a gift to come into work every day."
Meyers still works at the 30 Rock building in Manhattan, nine floors down from the room he occupied during his "Saturday Night Live" years. His office's decor remains the same: late-century nerd. There's the framed sheet of uncut 1981 football cards, the year he started collecting, stacks of comic books, the giant black-and-white photo of his Italian greyhound, Frisbee, and a shelf with what seems to be every Wallpaper city guide ever published. Whenever Meyers was working late at "Saturday Night Live," feeling depressed or stuck creatively, he'd pull out one of these travel books and daydream about a time he'd have the time or money to go to, say, Auckland and stay at one of the guide's touted, design-friendly hotels.
"Pretty much everything in here has given me some form of comfort at different times of my life," Meyers says of his office. "The job is rewarding. I can't imagine any other career path I would rather be on. But sometimes it can be a little stressful, just finding the right way to land a joke or a piece."
Gentile though says he's never seen Meyers uptight or nervous, even when, as often happens, news breaks shortly before the show's early evening taping, necessitating a last-minute rewrite.
"The news cycle since Trump is like the 'Speed' bus," Meyers quips. "I will say that the nice thing is, when you're on vacation, you don't have to worry about writing because by the time you get back to work, the news already feels like an old Us Weekly at your doctor's office. 'Oh, my God! J.Lo and Ben are on the outs?' "
There is one thing causing Meyers a bit of stress right now: He can't host the Golden Globes sitting behind a desk.
"But the good news is that it's not a giant stage, so I don't have a very long walk like you do at the Emmys where, from the time they say your name to the time you get to your spot, your child has grown and gone off to college," Meyers says.
"Plus, I like that it's a small room. I'm very good at eye contact. I might just lock in on Helen Mirren all night and she's just going to have to deal with it. I think that's what I'll be remembered for: 'I didn't love him, but I did appreciate how much he looked at Helen Mirren the whole night.' "
'The 75th Annual Golden Globe Awards'
Where: NBC
When: 5 p.m. Sunday
Rating: Not rated
Twitter: @glennwhipp
---
From the Emmys to the Oscars.
Get our revamped Envelope newsletter, sent twice a week, for exclusive awards season coverage, behind-the-scenes insights and columnist Glenn Whipp's commentary.
You may occasionally receive promotional content from the Los Angeles Times.