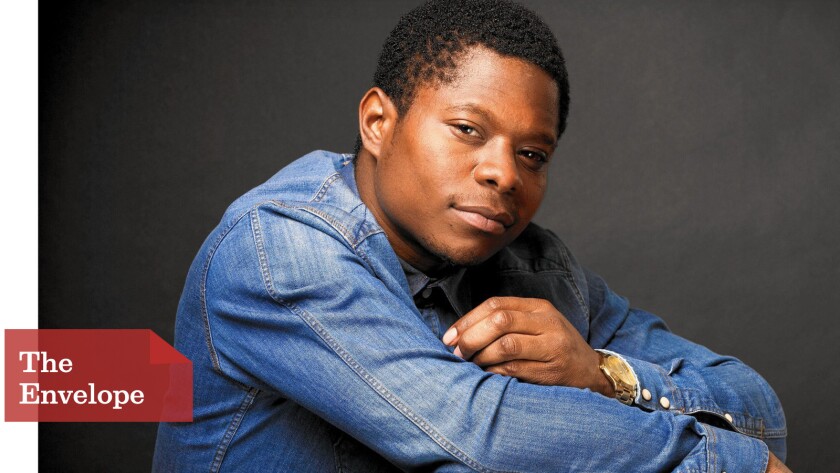 Some of Jason Mitchell's most important scenes in the breakout summer hit "Straight Outta Compton" involved his character, N.W.A co-founder Eric Lynn Wright (a.k.a. "Eazy-E"), and the group's manager, Jerry Heller, played by veteran actor Paul Giamatti. Unlike Mitchell's experience with the rest of the cast, there was no time for him and Giamatti to rehearse before filming began.
Apparently, there wasn't much need.
According to director F. Gary Gray, Mitchell made an immediate impression on his Oscar-nominated costar. "The first couple of scenes that Paul had with Jason, [Paul] pulled me aside and said, 'This guy is really … special.' He said he was one of the best he'd ever worked with," Gray says. "At first, Jason thought it was just a compliment, but Paul was like, 'No, no, no. I'm serious. You don't understand. There is something very natural and organic about your approach that I very rarely see. And I'm talking about the veterans.'"
SIGN UP for the free Indie Focus movies newsletter >>
Giamatti isn't the only one who has recognized Mitchell's talent. The 28-year-old earned significant critical acclaim for his portrayal of Wright, a rap pioneer who shocked the hip-hop world when he died from complications of AIDS at the age of 31.
Mitchell, a New Orleans native, hasn't been in the game long. He always felt that he was a charismatic person who could make his family laugh, so five years ago he decided to try acting.
"I just didn't see much of a great future," Mitchell says of his life before he began acting classes. "My friends were into the wrong things. I didn't know what to do with myself and I just started with trying to make new friends."
Comedic confidence aside, Mitchell was completely oblivious as to whether he had the "acting chops" to turn something that started as a social experiment into a serious career. But he quickly fell in love with the art form and began to study in earnest.
He recalls, "Y'know how you have a coach who is, like, 'Yeah, take this home. Study this and if you have any questions you can call me up.' It's funny, my first acting coach, Ron Flagg, I remember him laughing [and saying to Samuel L. Jackson], 'Jason was really that dude who went home and was, like, "Hey, sorry to call you so late, but …"' But I just loved it. The feeling that it gives you is a really, really strong high."
Mitchell's first paying gig was as a cashier opposite Jason Clarke and Chloë Grace Moretz in 2011's "Texas Killing Fields." He had just three lines — and they all made it into the picture ("I didn't realize you could get cut"). What really brought him to Hollywood's attention, though, were roles he landed in two Mark Wahlberg films that shot in his hometown: 2012's "Contraband" and "Broken City" the following year. He didn't even have to audition for the latter because Wahlberg had taken such a liking to him the first time around. Mitchell then started getting larger roles to audition for, including "Compton." Gray was impressed after watching his submission.
"He actually brought the tears and wasn't forced," Gray says. "Often [new actors] come in and it's their big shot and they act with a capital 'A.' And I like people who just serve the truth. Whether it's high or low, whatever you would do naturally, and he had that natural instinct."
After he shot Gray's movie, Mitchell beat out a number of established comedians for a supporting role in "Keanu," the upcoming Keegan-Michael Key and Jordan Peele comedy. He's currently filming "Kong: Skull Island" alongside Brie Larson and Tom Hiddleston, and Mitchell has given serious thought to the direction he'd like to take his career next.
"I kind of want to be that guy who has no problem doing anything but has this really great sense of humor and has chops on drama," Mitchell says. "Almost like a new Will Smith, but it's kind of different because Will has the tall, dark and handsome going and I don't have that."
---