'Fantastic Beasts' took a little magical thinking to design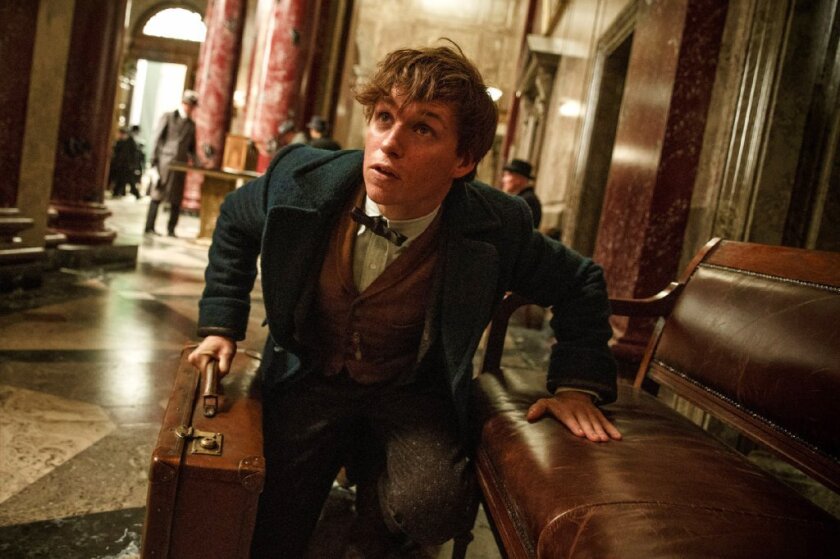 Stuart Craig is something of a legend among production designers. He's won three Academy Awards and has shepherded the now classic look for all eight "Harry Potter" films. And yet, his initial reaction to beginning work on the "Potter" spinoff feature "Fantastic Beasts and Where to Find Them," wasn't exactly a confident one.
"First thoughts are a little bit scared. More than a little bit scared," Craig says. "It's a big and ambitious movie and you have to work very diligently and carefully about how to do it. As you begin and get into it and build the sets one by one, you begin to relax a little."
In many ways "Beasts" was a significant departure from J.K. Rowling's first cinematic series not just because it was an original screenplay, but because it takes place almost a century earlier and across the pond in New York City.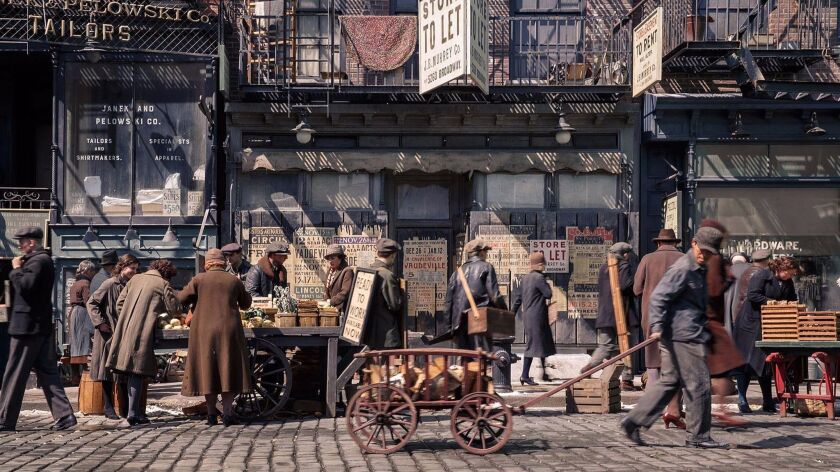 "The strange and interesting thing about 'Harry Potter,' those films, those kids are contemporary," Craig says. "They are about modern kids in jeans and T-shirts. 'Fantastic Beasts' is set in 1926, but it feels like a contemporary film and the 'Harry Potter' films feel like a period film because of the architectural start — it all feels kind of switched. What was intriguing, fascinating was how to do it."
Craig and his colleagues took two trips to New York where they quickly realized the only way to create the big extensive period-looking streets was to do so on the back lot of Leavesden Studios outside of London. They took thousands of photographs, however, and visited abandoned banks and the Tenement Museum, among other locales, for reference. Rowling had also scoured the city beforehand and chosen the iconic Woolworth building as the headquarters for Magical Congress of the United States of America (MACUSA), a key location in the movie. The historic building's exterior and lobby provided an inspiration for the magical version hidden from the eyes of American muggles.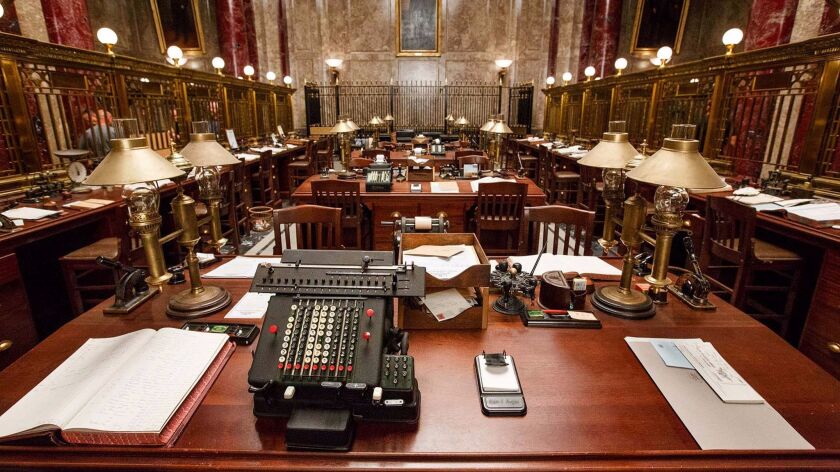 "We've seen the London ministry [in the 'Potter' films] and for the American one, the requirement was different levels in the basement — a wand registration office, a typing pool, prison cells and then one level above street level for a huge concourse and then above that no floors at all," Craig says. "Realizing it was this great cathedral of light made me think of Sienna Cathedral in Italy where the interior is banded in light and dark color. Horizontal bands of marble in two contrasting colors. That seemed like a very good idea for this secular, magical cathedral we had built."
If that wasn't enough, the biggest challenge for Craig's staff of 30 designers and artisans actually turned out to be creating the incredible suitcase the film's lead character, Newt Scamander (Eddie Redmayne), uses to protect rare magical creatures. The suitcase opens a pocket dimension that provides an almost infinite space for Scamander to take care of his charges, but Craig says tackling the design was difficult because "there were no rules, no precedents."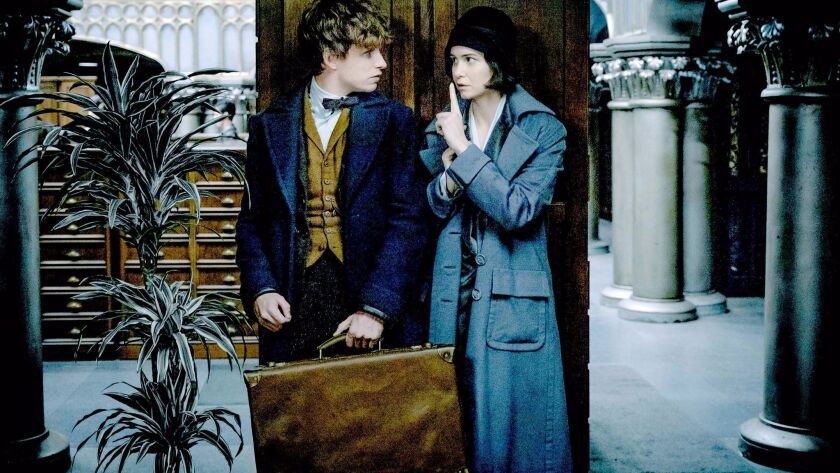 "One of our early decisions was to give Newt a shed in this magical space. He lands down below and in that shed is his workshop. He's more comfortable there than with his fellow human beings," Craig says. "From there on each [beast] had a required environment. It may be an Arizona desert, it may be a snowy arctic landscape, an abandoned forest. Each one of those were taken separately and each world around it designed by concept artists. Some of the landscapes were painted backings. Some were taken further and given a three-dimensional physical reality. The shed was the key and then taking each piece and designing and treating it separately and then making them all compressed into this one big magical space."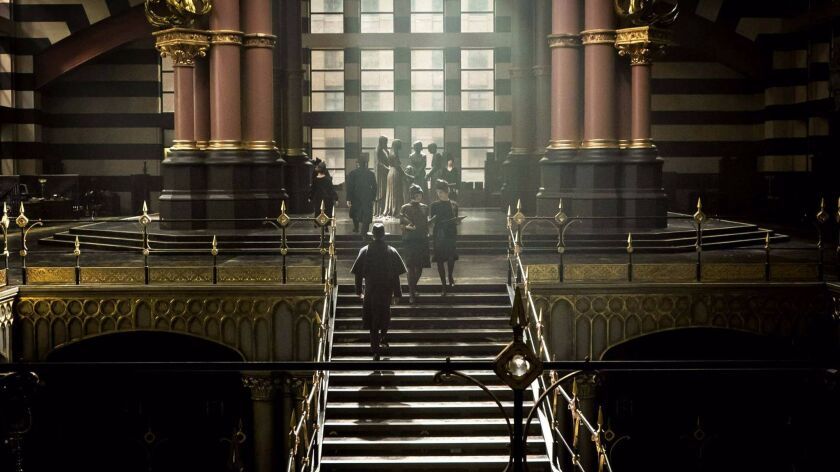 As for Craig's favorite contribution to the production, it's a prop that appears on screen only for a few moments.
"When you come up the stairs on the main concourse of MACUSA there is a wand polisher that operates like a shoe shine except he's not shining shoes, he's shining wands," Craig says. " There is a buffing wheel that does the basic cleaning and polishing, and then there is a big fluffy wheel of ostrich feathers that finishes it off. It's a pleasing little thing and I like that rather a lot."
See the most read stories this hour »
ALSO:
'The Martian,' 'Star Wars: The Force Awakens' among nominees for production design awards
J.K. Rowling drops hints about Newt's scarf and the future for 'Fantastic Beasts'
Dan Fogler on finding the 'sad clown' in the new 'Harry Potter' world of 'Fantastic Beasts'
Oscar-winning costume designer Colleen Atwood works her magic for 'Fantastic Beasts,' the latest J.K. Rowling adventure
---
From the Emmys to the Oscars.
Get our revamped Envelope newsletter for exclusive awards season coverage, behind-the-scenes insights and columnist Glenn Whipp's commentary.
You may occasionally receive promotional content from the Los Angeles Times.