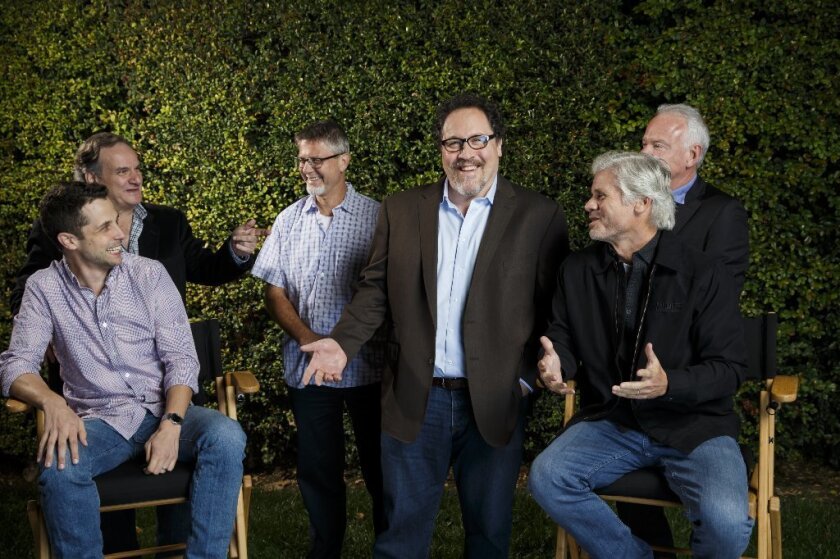 Perhaps the most surprising tidbit about this year's live-action "The Jungle Book," with its talking animals, lush Indian flora, rushing rivers and forest fires is its end-credits announcement: "Filmed in Downtown Los Angeles." Several of the filmmakers behind its creation gathered recently for a chat at Walt Disney Studios to explain how the technical marvel and critically acclaimed film (L.A. Times movie critic Kenneth Turan called it "by turns sweetly amusing and surprisingly unnerving, crammed with story, song and computer-generated visual splendors") came together.
Jon Favreau (director): It was never going to be animated. But the idea of going to the jungle with a kid and no real animals and all the environments we'd have to replace, seemed like it was going to be scary. [Disney Chairman] Alan Horn started talking about films like "Life of Pi" and "Avatar" … the idea of building a whole world with this new technology, having seen films like "Gravity" and "Planet of the Apes," got me excited.
Brigham Taylor (producer): We knew how difficult it was to render one key character [in "Life of Pi"] or a handful of characters in "Apes"; it was going to have to go to another level. It wasn't only the cast; it was the environments. It was daunting. But we knew it was possible.
Watch the trailer for "The Jungle Book"
Rob Legato (visual effects supervisor): I always thought we could make it convincing if we used all the tools that make a live-action movie a live-action movie and not an animated one. If the creatures did what they normally would do when you had a real camera [the production made extensive use of virtual cameras] and photographed them against a real background, you would be kind of there. So we just let them behave the way they behave, not give them superhuman powers. That was one of Jon's sensibilities: "Don't go over the top, go under the top." So people would be like, "Well, if you had a computer, you would have done it this way, so you must not have used a computer." And that's part of the magician's trick of it.
When the shot's not quite perfect to start, all those things are sense memory that reinforce that it must be real. Sometimes we'd start a shot, for six frames it's out of focus; a focus puller would probably miss it for six frames. Very subtle, but you've seen it a million times. There's that thing in every action movie where the camera's down here and the thing that's coming close would probably shake the camera. We have no camera, but Shere Khan gets hit by the cattle, we shake the ground, dirt hits the "lens."
Christopher Boyes (supervising sound editor and sound re-recording mixer): Any time an animal spoke, a big thing for Jon was to take the animal voice and the human voice and merge them so there would be this handover between the human and the animalistic sound that would be organic and sounded real. I spent months on the very first shot, Bagheera jumping out of the trees, where he's this ferocious leopard [the black panther is a melanistic Indian leopard] and suddenly he's speaking to Mowgli. Once I got that transition, I sort of figured out how to get that hand-off. It's every breath, every growl.
Justin Marks (screenwriter): Typically, when you see animals talking in movies, they're given human traits. We said, "Why don't we do it the way [Rudyard] Kipling did it [in the two books]?" Take every animal with its own behavioral traits and use that to build its personality, not have those kinds of human jokes and humor.
Favreau: We kept to naturalism — the thought was we would get greater emotion. We really tried to double down on the human element. Part of that was the music with John Debney: "Let's keep it classic, with human performers." Even with the accent pieces, the flutes from that part of the world, you can hear the breath of a human.
Jon Favreau on keeping his photorealistic 'Jungle Book' out of the uncanny valley.
John Debney (composer): One of the first things you said to me, Jon, was, "Swing for the fences," which a director never says. The other thing you told me was, "Let's always make sure if Walt were in the room, he'd appreciate the score." You're right, it oozed out of every pore of me.
Jon called me and said, "Do you think Dick Sherman [co-composer of many of the original's songs] might be interested in coming in and, um …" And after that, Dick called me like an 8-year-old kid: "We're going to go down there and meet Jon Favreau!"
Favreau: Justin and I had changed King Louie to a Gigantopithecus [a now-extinct ape] and we wanted it reflected in the lyrics … [Sherman] loved the word, 'Gigantopithecus' – "Stop right there! That's a great word! You mind if I put that in there?" He's the guy who loved "supercalifragilisticexpialidocious." I go into the scoring stage sometimes and they tap their music stands. When he walked in, they ripped into an ovation. They had so much respect for this guy.
Debney: It was very emotional.
Favreau: At the end of a movie, when you're recording music, you usually have this older version of the film; it's terrible, it's video. And you have early sound mixes when you're approving final shots. So I see this beautiful movie that sounds terrible or I hear this beautiful mix but it looks terrible. But then you marry them together. It's like when you pull the string on the ship in the bottle. I had a bunch of ships in bottles around our offices to remind everyone it doesn't look like anything till it's done. It looks terrible until it looks beautiful.
See the most read stories this hour »
---