Costuming Meryl Streep's socialite-turned-executive at the speed of light for 'The Post'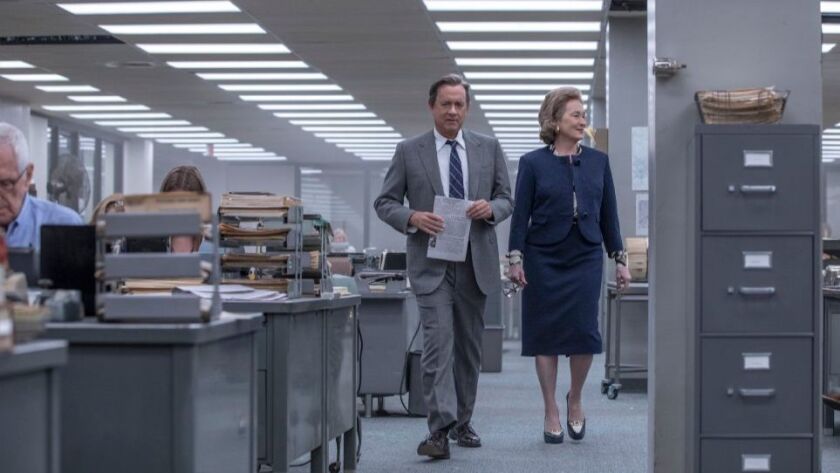 Costume designer Ann Roth is legendary in the film industry for her successful and long association with Meryl Streep, who stars in "The Post" as Katharine Graham, the first female publisher of the Washington Post.
Equal parts intellectual and artist, Roth is known to build wardrobes with a precision and passion that come from her keen observation and intense research — like an investigative reporter of cloth.
"The Post" represented a departure for Roth, if only because it was her first collaboration with director Steven Spielberg. The film centers on Graham's growing command of the paper as it published the Pentagon Papers, secret documents that exposed decades of lies and coverups about the Vietnam War. It also shows how a sheltered woman learns to harness her power and become a respected leader. The film also stars Tom Hanks as editor Ben Bradlee, Bob Odenkirk as journalist Ben Bagdikian, Matthew Rhys as Daniel Ellsberg and Tracy Letts as Fritz Beebe.
Between preparing sketches for a new musical, Roth discussed her working process on "The Post."
You had to dress Meryl Streep as Katharine Graham in a range of roles — executive, social hostess, mother. What did you learn about Graham to guide your costume selections?
She was an executive woman but, for instance, in one of the scripts, there were dinner parties and she [sometimes] went directly from work. What she wore to work were basically shirtwaist dresses. Some of them were Halstons. She had all of these roles, but she was raised in such a way … to be very classic. You could really draw from her real life.
How was it working with Spielberg for the first time?
I had never even met him before — how about that? I don't generally work with somebody new. But sometime, I think it was in April, I got asked to do this picture, sight unseen. The director had never laid eyes on me. I didn't know anything about him, except his movies. We met, and it was a very good meeting. A great meeting. I liked the fact that he told me a bit about his personal life. I guess I went on and on about my grandchildren.
Spielberg rather remarkably made this film in a few months. Filming began just weeks after he hired you, and it premiered in mid-December. How did you manage?
I considered it not a big project — until I started reading it. It was very big. It was huge. It was done in a hell of a hurry. We worked late at night, flying around, getting it together. During the course of it, I said to him, "We haven't had time to plot the color and character. If there is anything I do, it's that character plotting. You must tell me immediately if you hate it. I will not burst into tears." In a sense, I was winging it.
How would you know when you had a costume right?
He would come up to me, "Oh, I love that tie." I would say, 'That tie was given to me from Walter Cronkite.' That's true. Tom wore five Walter Cronkite ties that were given to me after he died.
How did you distinguish between the ranks of the men in the newsroom? Did all of the executives get long sleeves and great ties and the reporters wear short-sleeve shirts?
I made a chart where they all went to middle school. Let's say there was a group of guys who went to St. Mark's in New England, and from there either Yale or Harvard, or the Navy. A lot of them, JFK and Bradlee, went to the South Pacific. It became a little civilization of people who then gravitated to Washington or New York. These were the guys who wore ties to dinner. This is a huge subject and if you have nothing to do in your life, you should dig into it, because it is so utterly fascinating.
WATCH: Video Q&A's from this season's hottest contenders »
---
From the Emmys to the Oscars.
Get our revamped Envelope newsletter, sent twice a week, for exclusive awards season coverage, behind-the-scenes insights and columnist Glenn Whipp's commentary.
You may occasionally receive promotional content from the Los Angeles Times.