Director Denis Villeneuve embraces the unknown with 'Arrival'
"At one point in my life I had to choose between mathematics and cinema," says "Arrival" director Denis Villeneuve, who sees a similarity in the two disciplines: problem-solving. "There's pleasure in the complexity. When I'm talking to my editor, I start to draw equations, trying to understand the most pure way to express an idea."
It's an approach that's resulted in the French Canadian's first Oscar nomination, one of eight for "Arrival" and its tender, enigmatic vision of alien visitation. On a recent busy weekend during a break from editing the hotly anticipated "Blade Runner" sequel, Villeneuve sat down to talk about a handful of mysteries: the vagaries of Oscar recognition, movie manipulation and the ways the real world re-contextualizes your film for you.
Talk about receiving the news that you'd been nominated for a director Oscar.
It was a very strange morning. The mythology of the Academy Awards is so strong, and with all those nominations it was a big celebration. But there was that shadow.
You're referring to Amy Adams not being recognized for her lead performance?
She was the soul, the muse of the movie. And Amy is the most graceful, grounded, beautiful human being. She just said, "Please! Celebrate! It's fantastic. Eight nominations is a celebration." But I can honestly say I was very disappointed.
So much of her performance is in her expressive face. How important was that to making "Arrival" work?
It's everything. When you cast someone, you cast the skills of the actor, [but] also a planet, someone with her own inner world. There's something about Amy, I don't need a word to feel what she feels and thinks. It was very simple: My aliens will be alive if they are alive in her eyes. Everything came to life because of her eyes.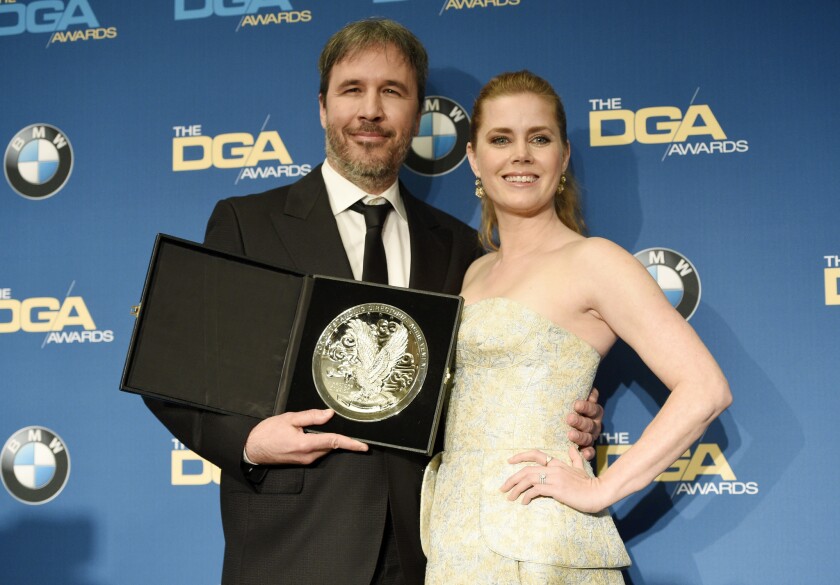 Your actors were on a real set too, not a green-screen spaceship.
Because it has impact on the actors, for the cinematographer, and for me. We found a warehouse in Montreal that was a gigantic train factory, and I put most of the art department budget on the spaceship. Tons of shots came out of that set that were not planned, because we were inspired.
That had to have been fun, to manipulate scale and perception.
The way [production designer] Patrice [Vermette] and I designed the interior, you lost sense of what is up, what is down and distance to the screen. It was a big gift that I was allowed to play with that room. It would have been totally different if it had been pure CGI.
At the heart of Louise's journey is addressing the unknown, and figuring out whether to fear it or embrace it, which is a common theme in science fiction.
I was traumatized by "2001." I'm still trying to understand that movie! Most of the time, we lack humility as humans. We think we control everything. Me, I think this relationship with the unknown, the mystery of life, is so powerful and beautiful.
But "Arrival" also upends the audience's notion of linear storytelling. How difficult was that to massage in piecing together the film?
It's like the movie is fighting against the power of the language of cinema. The audience is convinced what they saw was flashbacks, that she's affected by the loss of her child, which is what we were trying to achieve. And to reverse engineer that thought, it took us a lot of time in the editing room to find the right equilibrium because I didn't want to spoon feed the audience.
Your movie is emotional, but it can be also read politically, as a call for openness instead of hostility toward otherness.
As we were making the movie, times changed. We were editing, and Russia was invading Ukraine, and it was making our film more and more relevant. It's this idea to go beyond differences and to build bridges. If you are afraid of an image that shows the worst thing about a country, go there, have a coffee and you will see regular human beings who have fear and love. It's politics that is [messed] up, not citizens.
Do you always trust your instincts?
My intuition is my only ally. But there are so many traps. As I'm prepping, and it's always a coincidence, I see a bad movie and have a panic attack. When I see a bad movie, I always have empathy. But I see all the work, all the decisions that were sometimes good but obviously wrong, and I always say, "I could have made the same mistake!" And that's the best thing for me, to have a very cold shower. It's not about looking at a masterpiece. It's about looking at something that failed, to go back to humility as a filmmaker.
See the most read stories this hour »
---
From the Emmys to the Oscars.
Get our revamped Envelope newsletter for exclusive awards season coverage, behind-the-scenes insights and columnist Glenn Whipp's commentary.
You may occasionally receive promotional content from the Los Angeles Times.