'Three Billboards'' outraged center was inspired by a two-decades old trip to the U.S.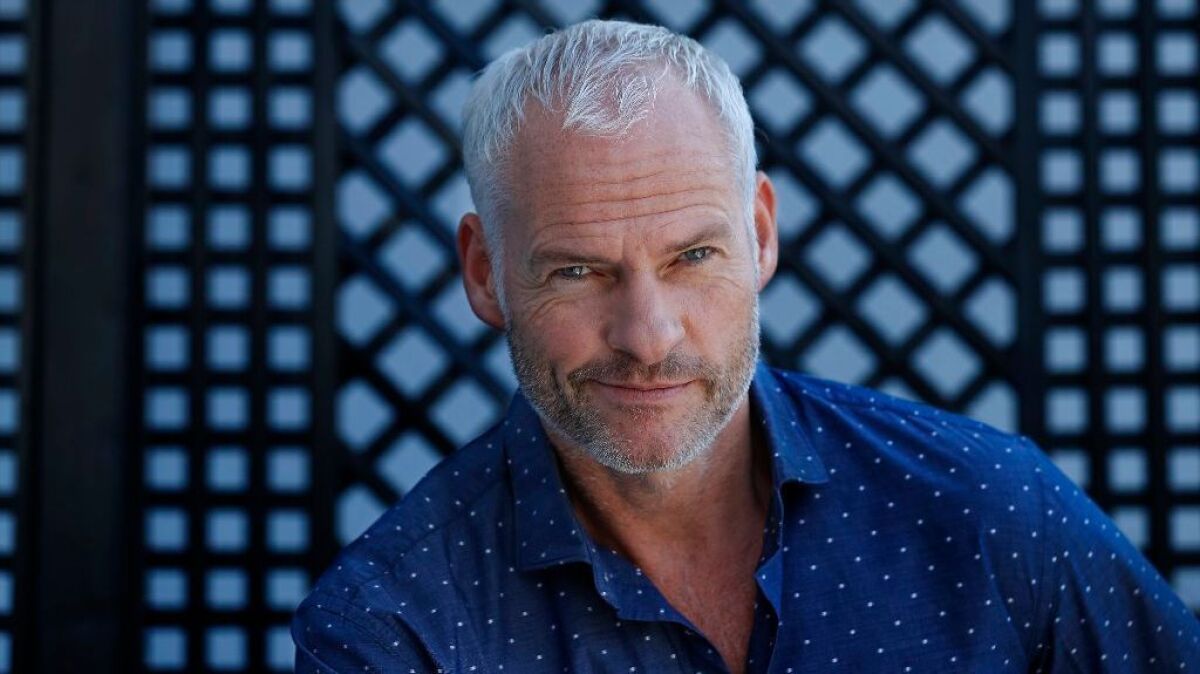 Fresh off the success of his first Broadway hit, British playwright Martin McDonagh got on a Greyhound bus 20 years ago headed for Texas on a getting-to-know-America road trip. Looking out the window somewhere in the Deep South, he spotted a couple of billboards in the middle of a field.
"It was this raging, painful message calling out the cops about a crime," says McDonagh, lounging in the screening room off the lobby of a West Hollywood hotel, dressed all in black, taupe boots with a frosted head of buzz-cut hair. Now a filmmaker with three movies to his name, his latest draws on that experience, casting Frances McDormand as a woman seeking justice for her daughter, who was raped and murdered, in "Three Billboards Outside Ebbing, Missouri."
McDonagh says, "The title came from the concept and the concept came from that image, which stayed in my mind for years: What kind of pain would lead somebody to do that? It takes a lot of guts — and a lot of anger. Once I decided it was a mother who put up the billboards, the character of Mildred just sprang forth and the story kind of wrote itself," McDonagh says and laughs. "I just sat there and listened."
Actor Sam Rockwell and writer-director Martin McDonagh sat down with the L.A. Times to discuss "Three Billboards Outside Ebbing, Missouri" at the Toronto International Film Festival. The quirky drama, which takes a look at contemporary life in Ameri
WATCH: Video Q&A's with this season's hottest contenders »
Born in London to Irish parents, he obsessed over Robert De Niro and Martin Scorsese films as a 12-year-old, quit school at 16 and eventually found his voice as a playwright, authoring "The Beauty Queen of Leenane" and five other acclaimed stage works. He became enamored with McDormand through her performances in the Coen brothers' "Blood Simple" and the 2011 Broadway tragicomedy "Good People."
"Frances was the only woman in my head because I knew she wouldn't sentimentalize Mildred or patronize the working-class aspects of her character," McDonagh says. "I also needed someone who has dexterity with humor. She knows how to play it deadpan and let the comedy take care of itself. Also, Frances has this steely determination, both as a person and as an actress."
While the avenging mother drives the story, "Three Billboards" gains dimension through Woody Harrelson's non-villainous portrayal of Sheriff Willoughby, shamed by name in Mildred's billboard. But the film's most surprising character arc comes courtesy of Sam Rockwell as bad cop Dixon. Homophobic, racist and misogynistic, Dixon pivots toward some measure of redemption after throwing a local man from a second-story window. McDonagh says, "I wanted to show all of the character's ignorance and hatred, but it was important to not judge Sam's character. I wanted to say there can be room for change and hope if you look at the humanity rather than the 'ism.'"
In lesser hands, Dixon might feel unconvincing, but McDonagh had complete confidence in Rockwell. "I think Sam is the best actor of his generation and that's why I keep writing for him," he says. "I didn't worry about Sam making the behavior any less ugly. It was more about leaving room for the audience to not hate him completely."
I think Sam [Rockwell] is the best actor of his generation and that's why I keep writing for him.
— Martin McDonagh
The movie's site-specific title notwithstanding, there is no such place as Ebbing. When McDonagh wrote the script eight years ago, he invented the name. "I just liked those two syllables," he says. Filmmakers found a small town in North Carolina to serve as the fictional setting and when McDormand showed up on set in May 2016, she didn't require much in the way of actor-whispering from McDonagh to get into Molotov cocktail-throwing mode.
"Both Frances and I were determined to not make Mildred more palatable to an audience, despite some of her behavior. We figured male antiheroes are allowed to get away with that, so why not female ones?"
In a nod to Hollywood's golden age of female-driven drama, McDonagh named McDormand's character after Joan Crawford's 1945 movie "Mildred Pierce." He says, "The name's old school, but in some ways the whole film feels like it could be set 20, 30 years ago." As timing would have it, "Three Billboards Outside Ebbing, Missouri" hit theaters Nov. 10 amid unprecedented outrage over sexual violence against women.
"Honestly, this film would have been the same if we had made it eight years ago or eight years hence," McDonough notes. "But putting out a film right now with a strong, smart, determined and outraged woman character in the lead role — that feels right to me."
---
Get our L.A. Goes Out newsletter, with the week's best events, to help you explore and experience our city.
You may occasionally receive promotional content from the Los Angeles Times.