For 'La La Land's' music, it's all about the characters and themes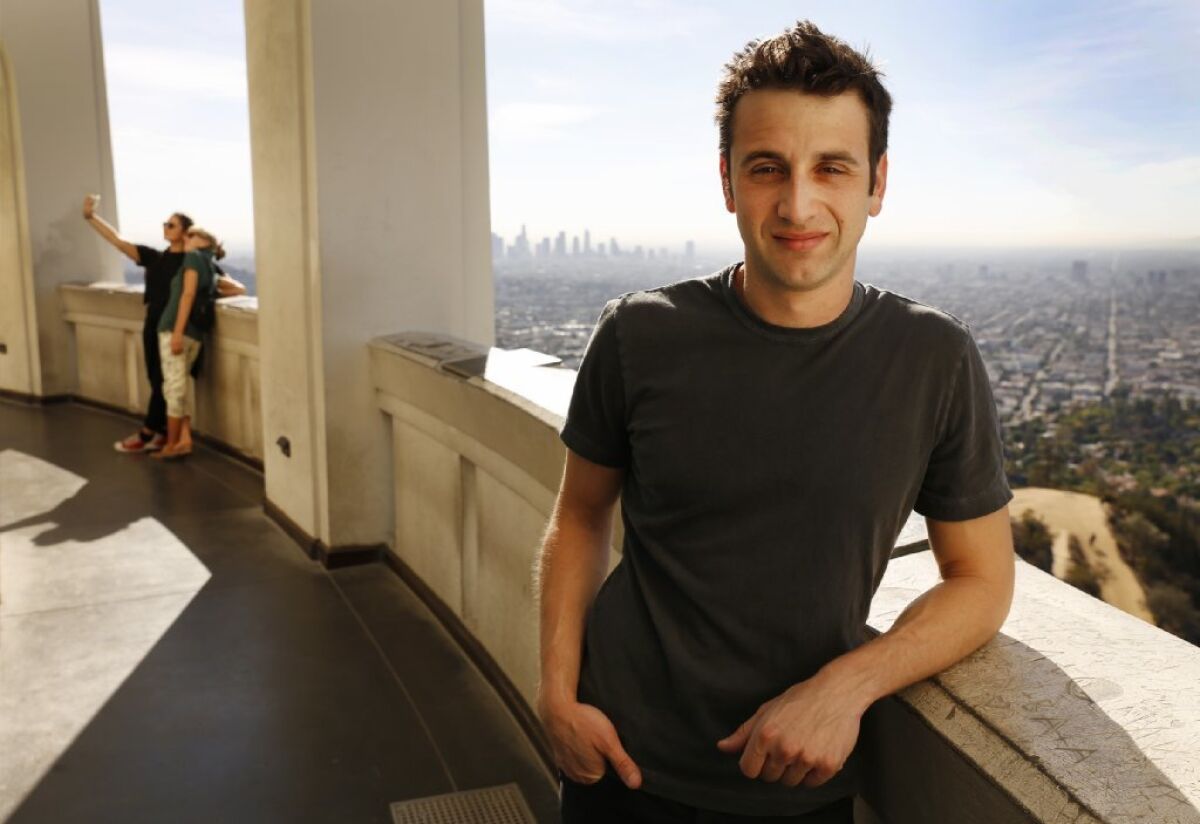 Damien Chazelle's "La La Land" took almost six years to get to the screen and found the filmmaker sidetracked into making the short and feature-length versions of "Whiplash," an Oscar winner that finally got the industry to take his aforementioned movie musical seriously.
All of which could be considered a piece of cake by composer Justin Hurwitz's standards. Hurwitz, who has known Chazelle from his days as an undergraduate at Harvard (they're both just 31), is the man behind the music behind the musical.
"'La La Land' was two-and-a-half years of nonstop work, going to bed into the wee hours of the night — 1,900 piano demos. Orchestrating every note myself. An unbelievable amount of work and an unbelievable amount of passion," Hurwitz says. "I had to be so passionate about it to keep up with it. I got sick because I wasn't sleeping enough."
But don't interpret Hurwitz's remarks as though he regrets the process. In his eyes, Chazelle's perfectionism assured the loving film festival reaction to Hurwitz's score and songs, including "City of Stars," "Someone in the Crowd" and "Audition (The Fools Who Dream)." The 1,900 demos are the direct result of the duo simply asking themselves whether the music would resonate with audiences.
Hurwitz notes, "Am I going to remember this melody after I've left the movie theater? That's something that's important to us for scores, not just for songs, for actual score cues. That's an approach that's particularly old school."
Before even considering any of the movie's songs, Hurwitz tackled the main theme and then moved on to the subsequent themes for each character. This was doubly important because arguably the most important sequence of the film, the end one, is fashioned from all of the earlier musical themes. "We wanted to know what are the themes that belong to the different characters, the different times in their love story," Hurwitz says. "Then some of those themes we turned into songs. Other songs we just thought of as songs in the first place, but we come from a place of melody and theme first, before we think about songs really."
After "dating" a number of songwriters, Hurwitz and Chazelle settled on the team of Benj Pasek and Justin Paul (a.k.a. Pasek and Paul), whose acclaimed musical "Dear Evan Hansen" opened on Broadway this fall, to write the lyrics for the songs that they'd composed. The duo got the gig after pitching them opening lyrics to "City of Stars": "City of Stars, are you shining just for me? / City of Stars, there's so much that I can't see."
Hurwitz recalls it being a revelation, "Damien and I didn't know what the song was going to be about. We didn't know what the words were with the lyrical hook. We didn't have a title, just a melody. Just the way those words flowed over that melody, it was perfect."
As a composer, Hurwitz is most proud of "Audition," a song that gives star Emma Stone a dramatic spotlight at a pivotal moment in the picture. "The way the narrative grows and unfolds, it's 'through composed' — meaning it never quite circles back on itself. It just keeps unfolding, and it came from a really emotionally honest place. Pasek and Paul hadn't written the lyrics yet, but I knew it was about dreaming," he says.
Hurwitz scored Chazelle's first two independent films, "Guy and Madeline on a Park Bench" and "Whiplash," but found an unexpected means to sustain himself before "La La Land" became his first studio gig. After arriving in Los Angeles, an alumni connection opened the door to pitching comedy ideas and scripts on shows such as "The League." It became a part-time night job that Hurwitz says allowed him to use a different side of his brain and not dilute his energies on the musical front. It also has led to something unique, an offer to be a producer on the long-awaited ninth season of "Curb Your Enthusiasm."
"After 'La La Land' I thought I wouldn't write any more comedy. I thought I would be busy enough doing music going forward," Hurwitz says. "But, on the second to last day of the dub on 'La La Land' I got a call from Jeff Schaffer who runs 'Curb Your Enthusiasm,' saying, 'The show is coming back, are you available?' Just the idea of getting to work with Larry [David] would be a lifetime highlight of mine. I was just delighted to do it."
But he's already eager for his next composing project, which he expects to be completely different than "La La Land." "I think at some point I'll do another musical. [But] most likely I just see myself scoring movies. A movie that needs a dramatic score, that's what I hope to do."
See the most read stories this hour »
ALSO:
'La La Land' director Damien Chazelle writes about his favorite musicals
New York Film Critics Circle gives best picture to 'La La Land'
For composer Carter Burwell, the film score drives the subtext
Oscar predictions for animated feature, song and score -- with a nod to a possible EGOT addition
---
From the Oscars to the Emmys.
Get the Envelope newsletter for exclusive awards season coverage, behind-the-scenes stories from the Envelope podcast and columnist Glenn Whipp's must-read analysis.
You may occasionally receive promotional content from the Los Angeles Times.