Through 'Hacksaw' and 'Silence,' Andrew Garfield searches: 'I want to know how to live'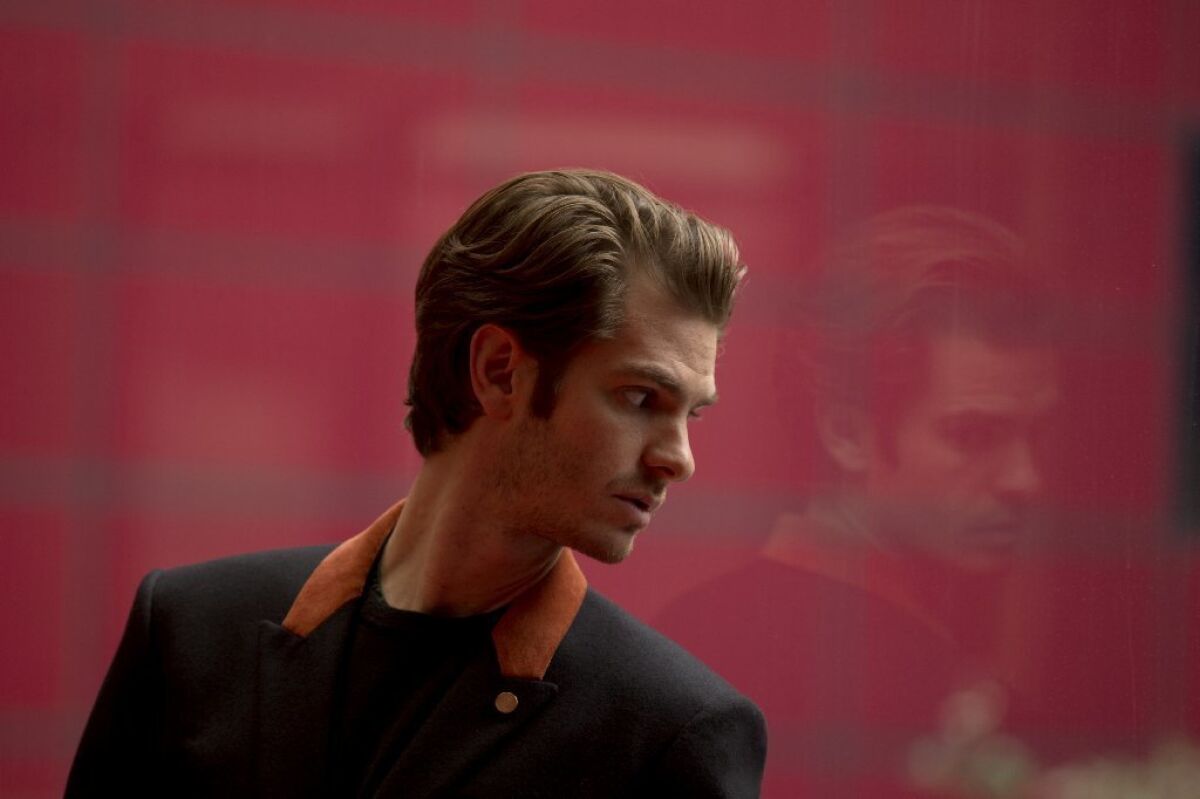 Andrew Garfield holds a go-to spot in his mind when he needs to recover from, say, feeling like a cog in a corporate studio movie like "The Amazing Spider-Man" or spending more than a year immersed in the intellectual and spiritual demands required by Martin Scorsese's powerful new film, "Silence."
"Big Sur is my favorite place in the world, one of those places that vibrates," Garfield says. "I love the hiking and the walking and the Henry Miller Library. But I can just be there. I don't have to do anything. I can just sit."
"I remember sitting in the hot springs at Esalen one night under the stars and somebody told me about the Esalen tribe, that there's about 70 of them left, and how they believe that Big Sur is the window of souls, meaning it's where all souls travel to enter the other world. And when I heard that, I got a shiver. It felt true."
Garfield is a young man who feels things. Deeply. During a leisurely conversation at a vegetarian Mexican restaurant in West Hollywood, the 33-year-old British actor speaks often of "welling up." It happened recently, he says, at the first public screening of "Silence" when during a Q&A Scorsese recalled telling Pope Francis that Garfield spent so much time preparing to play a Jesuit priest that he could easily be ordained. ("It just brought back the sincere feeling of 'Maybe I could do this,'" Garfield says. "Hearing Marty say that opened something up in me.")
And it happened early this year when he watched Mel Gibson, who directed Garfield in the war drama "Hacksaw Ridge," counter a jab from Ricky Gervais onstage at the Golden Globes. Responding to Gervais' question about something he said while inebriated, Gibson said, "I don't know. Ask the guy who said it. It wasn't me."
"That's a man seven years sober that knows himself and knows there's a demon there," Garfield says. "I just burst into tears when he said that."
Andrew Garfield talks about Desmond Doss, the conscientious objector he portrays in "Hacksaw Ridge."
That kind of deep-seated empathy is plainly evident in Garfield's work in both "Hacksaw," in which he plays Desmond Doss, a conscientious objector awarded the Medal of Honor for bravery in combat as a medic during World War II, as well as "Silence." In Scorsese's film, a gaunt Garfield portrays a priest grappling with a flagging faith while on a mission in 17th century feudal Japan.
Both roles, Garfield says, deal with men in touch with the self-sacrificing Jesus Christ archetype that "lives within each of us." Preparing for "Silence," Garfield communed with that symbol of Jesus by asking himself — and Jesus — probing questions while going through a 30-day structured retreat called the Spiritual Exercises. The meditative course had Garfield contemplating every aspect of Jesus' life, from birth to resurrection, asking questions, waiting for answers, entering into conversation. Garfield filled up five journals with his findings. (The actor doesn't align himself with a particular faith.)
"All the mystics know it's all inside you," Garfield says. "You go back to Rumi, it's all there. It's what Cat Stevens is singing about. You look at [John] Lennon. He's singing, 'I don't believe in Jesus, God, tarot … I just believe in me.' I've been fascinated with that."
It's worth noting here that Garfield went on to finish singing Lennon's song, "God," laughing with pleasure as he came to the couplet, "Yoko and me / That's reality." For all his earnest purposefulness — and there's more, we'll get to that — Garfield loves a good joke, particularly one at his own expense, and lists Judd Apatow as a director he'd love to work with someday. (He has an actual list. Scorsese and Gibson were both on it.)
Andrew Garfield, Adam Driver, Tadanobu Asano, Ciarán Hinds and Liam Neeson star in Martin Scorsese's "Silence."
But he's also a big-picture guy whose favorite movie is "It's a Wonderful Life," Frank Capra's dark fable about disappointment, community and second chances. It's a film he watches this time every year — in a proper theater, mind you, usually the Everyman in London's Hampstead neighborhood — because its story asks the one question Garfield regularly asks himself: How do you live a full life of joy within the hand you've been dealt?
"That's what I want to know," Garfield says. "I want to know how to live."
Scorsese says Garfield's searching nature was one primary reason he cast him for "Silence." "Any number of actors might have done well with the part. Maybe," Scorsese says. "But Andrew brought a passion and a commitment to the role that makes it difficult for me to see anyone else doing it."
Gibson saw it too. "The man inhabits the character in a way that's extraordinary and a way I never worked as an actor. He's there all the time."
Garfield is currently in a very different professional head space, shooting the neo-noir crime thriller "Under the Silver Lake" with "It Follows" director David Robert Mitchell. He describes the Hollywood-set film as "all shadow work, paranoia, fear, conspiracy, manipulation and poison."
"It's, like, the opposite of 'La La Land,'" Garfield says, laughing. "It's, like: If you have dreams, you're screwed.
"But it does speak to that prevailing toxicity that is seeping in right now and numbing us all and making us lose our minds ever so slowly to the point where we elect a reality TV star to be the president," he adds.
That state of affairs, as described by Garfield, makes it easy to understand why he wanted to hold on to the feelings he had while making "Silence" and why he stopped off in Big Sur on the way home from making the movie in Taiwan and why, upon eventually returning to London, he took his mother on a walking poetry retreat in England's Lake District.
"There were a lot of things I needed to do to hold on to the stuff that I had been touched by while making 'Silence,'" Garfield says. "Making that movie, there was something soothing about letting go of all things worldly, the commodification of everything, the cultural sickness we're all in. Sometimes I get a glimpse back into that serenity of forsaking all things worldly in the service of your fellow man and some higher power. It's a very glorious place to inhabit for a period of time.
"But the psyche needs balance," he adds, "which is why I'm hanging out with those darker impulses in David Robert Mitchell's world. It's important for us to know all our selves. Otherwise we turn into the future president of the United States, wandering around unconscious and out of touch with his own soul."
Twitter: @glennwhipp
ALSO:
'Silence' is the movie Martin Scorsese has waited a lifetime to make
With the success of 'Hacksaw Ridge,' is it time for Hollywood to 'get over' Mel Gibson's past?
Andrew Garfield dedicates his 'Hacksaw Ridge' nomination to Desmond Doss, the real-life veteran behind his character
---
From the Oscars to the Emmys.
Get the Envelope newsletter for exclusive awards season coverage, behind-the-scenes stories from the Envelope podcast and columnist Glenn Whipp's must-read analysis.
You may occasionally receive promotional content from the Los Angeles Times.