Alex Wolff dives into the intensity of 'Hereditary's' broken family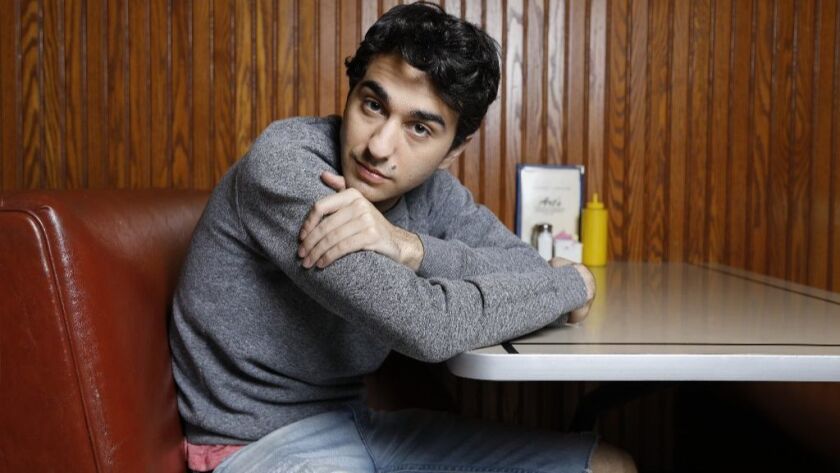 Alex Wolff slides into a booth at his favorite Studio City deli, sets down his black-framed glasses and within minutes casually quotes Irish poet William Butler Yeats, whose "Cat and the Moon" provides the title for the 20-year-old actor's recently wrapped directorial debut. He's not your typical Valley dude.
Wolff grew up in New York City, where he learned to play drums as a toddler by imitating Ringo Starr in the Beatles' "Help" movie. At age 6, he starred with his brother Nat in the Nickelodeon series "The Naked Brothers Band," created by their actress mom Polly Draper of "Thirtysomething" fame and featuring songs written by the two boys. More recently, he portrayed Boston bomber Dzhokhar Tsarnaev in the Mark Wahlberg film "Patriot's Day" and played a serial killer's high school mate in "My Friend Dahmer." "They love putting me through the wringer," Wolff half-jokes.
Taking a break in L.A. before returning east to finish "Bad Education" opposite Hugh Jackman, the bicoastal Wolff cheerfully revisited the making of writer-director Ari Aster's angst-ridden horror film "Hereditary." In the summer release, Wolff played tormented teenager Peter, mired in a supernaturally charged family tragedy involving his ferociously unforgiving mother (Toni Collette), grieving father (Gabriel Byrne) and peculiar sister (Milly Shapiro).
What was it like reading the "Hereditary" script for the first time?
The first 10-15 pages I'm thinking, "This script is well written, I love the way the characters are — Oh, my God, what the … is going on!" Because you don't see it coming, at all. I remember at the end, when all that crazy is going down, my mom walked into my room and I shrieked out loud because I was so overtaken by the intensity of the script.
In character, you broke down sobbing at your audition, got the gig, shot your mom's movie, "Stella's Last Weekend," then landed in Park City for "Hereditary." Did you go Method on set?
I'm always a little wary of branding it as Method but for "Hereditary," yeah, I maybe didn't feel I was strong enough to totally break character and I wanted to be completely involved in what was going on with Peter's angst. I think Ari as the director also stayed in character to a degree. Making this movie, we were both broken, man, broken in a good way.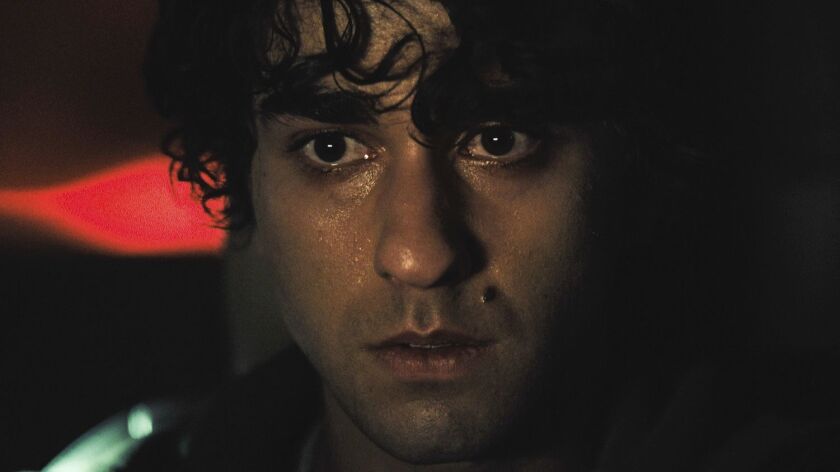 Toni Collette plays your mother Annie with such frightening intensity, especially when she's screaming at you. How did that feel?
It was a blast. The whole movie is a game of chicken where she's daring me to explode, both of us are daring each other, like in the dinner scene where I go, "Is there something you want to say, Mom?" And throughout, Ari's basically going "OK, explode. OK, explode. Tear yourself open and I'll figure it out later." That can be scary unless you're ready to throw out your sanity. But it's also really fun.
Before you started filming, were you familiar with the world of séances and demonology?
I've been studying hell ever since I was a baby. [laughs] No. I knew nothing about it.
So how did you research the occult aspects of the story?
I saw a documentary about this girl who'd been kidnapped by a satanic cult and watched this woman talking about how Paimon [a king of the underworld] was like a mischievous, nervous teenager. It fit in perfectly with what family means, what anxiety means, what tragedy means.
Was it tough to do all those gut-wrenching scenes?
Sometimes. When [my character] Peter has his panic attack under the bleachers, I was already turned inside out when I came to the set and we did the first take. Ari was like, "Can you do another one?" I go "Yeah." For the second take, which was used in the film, I had a true panic attack. Then Ari goes 'Can you do one more?' And I'm shivering, and I'm someone who really has had panic attacks, so I worked myself up and did a third take. And then Ari's like "OK, we can't do anymore."
What was your personal entry point for telling the "Hereditary" story?
I think what makes Hereditary sing is sadness, even more than the scary [stuff]. To me, it's about a boy who wants his mom to love him after he messes up, but there's a faulty screw in the relationship. That's what makes it so heartbreaking.
---
From the Emmys to the Oscars.
Get our revamped Envelope newsletter, sent twice a week, for exclusive awards season coverage, behind-the-scenes insights and columnist Glenn Whipp's commentary.
You may occasionally receive promotional content from the Los Angeles Times.