In the 'Apes' trilogy, actor Andy Serkis finally found a heroic character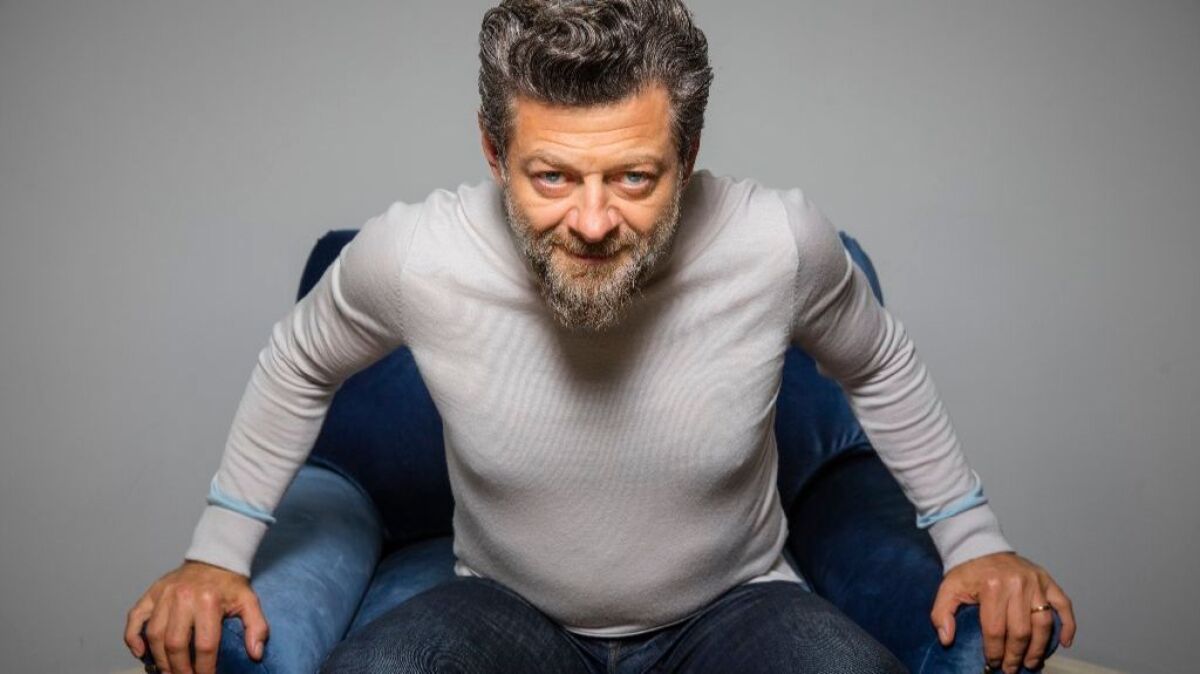 Andy Serkis is a testament to evolution.
This year, cinema's preeminent performance-capture star finished his trilogy of turns as ape-civilization founder Caesar in Matt Reeves' enthusiastically received "War for the Planet of the Apes." He played the character from toddler to elder and through every stage in between. He released his first feature as director, the period polio drama "Breathe," starring Andrew Garfield and Claire Foy.
He's continuing post-production on his other directorial effort, a performance-capture "Jungle Book" with luminaries such as Cate Blanchett and Benedict Cumberbatch. He appears as Supreme Leader Snoke in the upcoming "Star Wars: The Last Jedi." The first time in a while audiences will get an idea of what he actually looks like will be in next spring's "Black Panther," as one-armed villain Ulysses Klaue.
All this from a fellow who studied visual arts at university. While at school, however, he played Edgar in "King Lear" – the good son who transforms into Poor Tom – and a chameleon was hatched.
"I suppose physicality has always been the route in for me," says the gentlemanly Serkis, soft-spoken and engaging, and always happy to talk about acting. "My first job was working in a stock company; I did 14 plays back to back. By definition, you had to find a physical difference all the time; the same audience were going to be watching all these plays."
WATCH: Video Q&A's from this season's hottest contenders »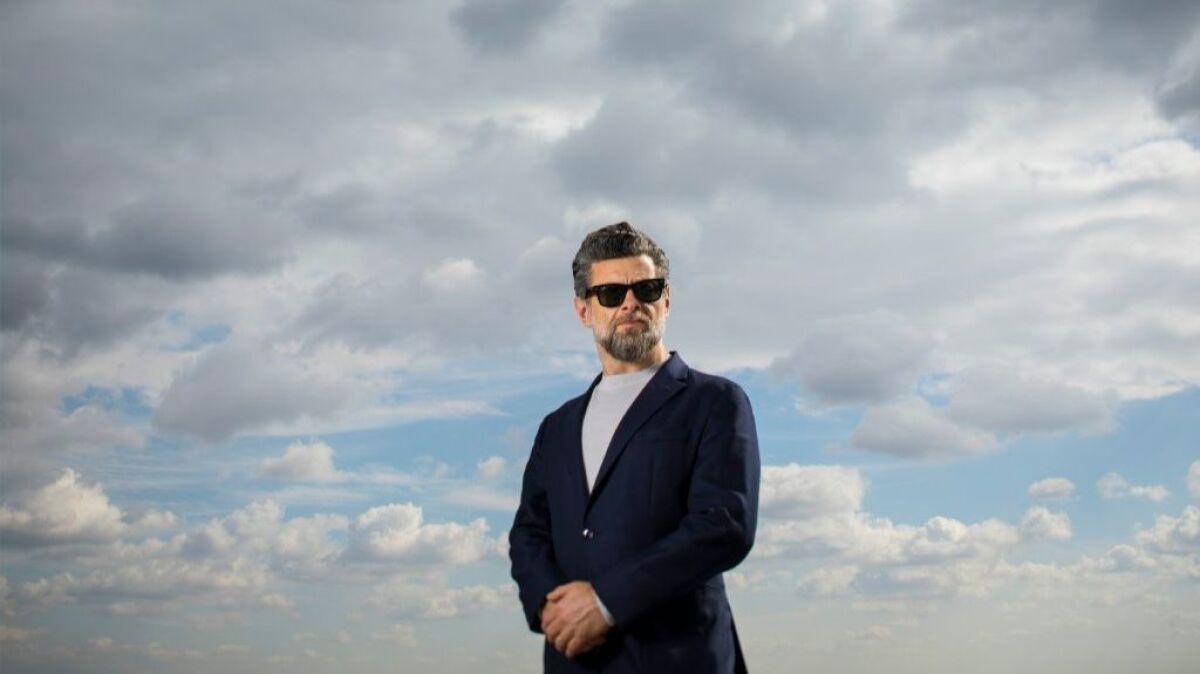 The Academy of Motion Picture Arts and Sciences has yet to nominate performance-capture work. Serkis' complex, detailed swan song as Caesar might be a good place to start.
"The three films required different things of me as an actor," says Serkis. "Rise of the Planet of the Apes" was "very much about researching chimpanzees. Caesar was based on a real chimpanzee named Oliver and people called him the 'Humanzee' … he stood, he had very human facial expressions. A cross between that and a very gifted child; those were my stimuli for that role."
"Rise" traces Caesar's personal awakening – including his rejection of his status as a kind of pet. The key moment when he refuses to get in the back of a car, insisting on riding as a passenger, was improvised, says Serkis.
In "Dawn of the Planet of the Apes," "he became the leader of a society, he built tenets of belief for that society, found a common language between all the disparate groups." Serkis has cited Nelson Mandela as a model.
In "War," Caesar suffers a terrible personal loss that could shape how his growing society approaches the future – if he allows it to do so.
"Caesar loses his family," says the actor. "I put myself in his position: Would I ever be able to forgive? Would I be empathetic towards the perpetrator? Because of the extreme personal nature of Caesar's journey, I very much based all the experience on me."
None of which would have mattered if the artistry and technology of performance capture hadn't advanced dramatically since his first turn as Gollum 17 years ago in "The Lord of the Rings." Serkis cites how performances used to be "captured" twice – once on set with the other actors, then again, repeated in a "volume," a soundstage.
"The big change was moving all that technology actually onto live sets, which enabled us to play scenes just once. The connectivity is absolutely that moment, and that moment only."
The advances in photo-realistic rendering make "the fidelity [to the original performance] second to none now. There are a lot of close-ups in 'War.' Matt wanted to get right inside Caesar's head."
All these external improvements have allowed the actor to go further inward.
"That moment at the end with Woody [Harrelson, as the film's human antagonist], when he has to decide whether to carry out his revenge or not … That torment, that inner turmoil."
The actor says he went through a kind of mourning after "War."
"It is this thing of having lived a life; it makes me reflect on mortality. It is a loss for me.
"I've also never really played a truly heroic figure. Most of the figures I play are outsiders with axes to grind. I suppose Albert Einstein [in the BBC's 'Albert and Eddington']. But I really think Caesar's a great individual. A well-meaning, big-thinking, big-hearted, empathetic creature. And I've never played anything like that before."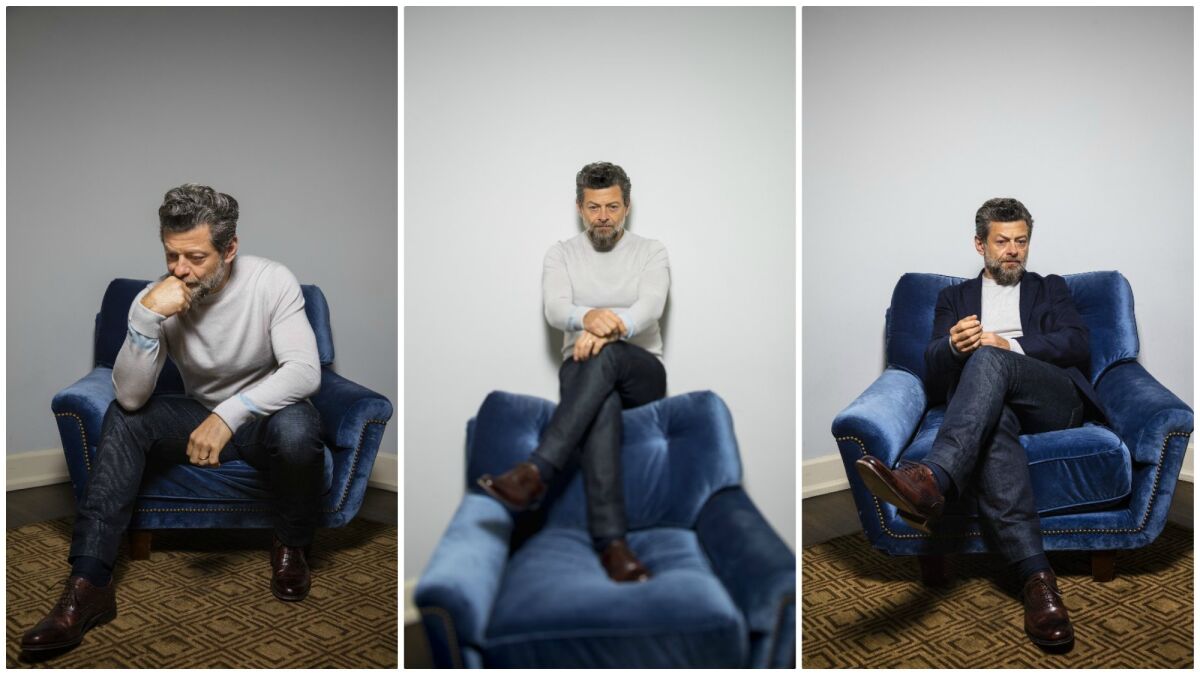 From the Oscars to the Emmys.
Get the Envelope newsletter for exclusive awards season coverage, behind-the-scenes stories from the Envelope podcast and columnist Glenn Whipp's must-read analysis.
You may occasionally receive promotional content from the Los Angeles Times.