Brian Tyree Henry may find the time to savor his career rise, but for now he's far too busy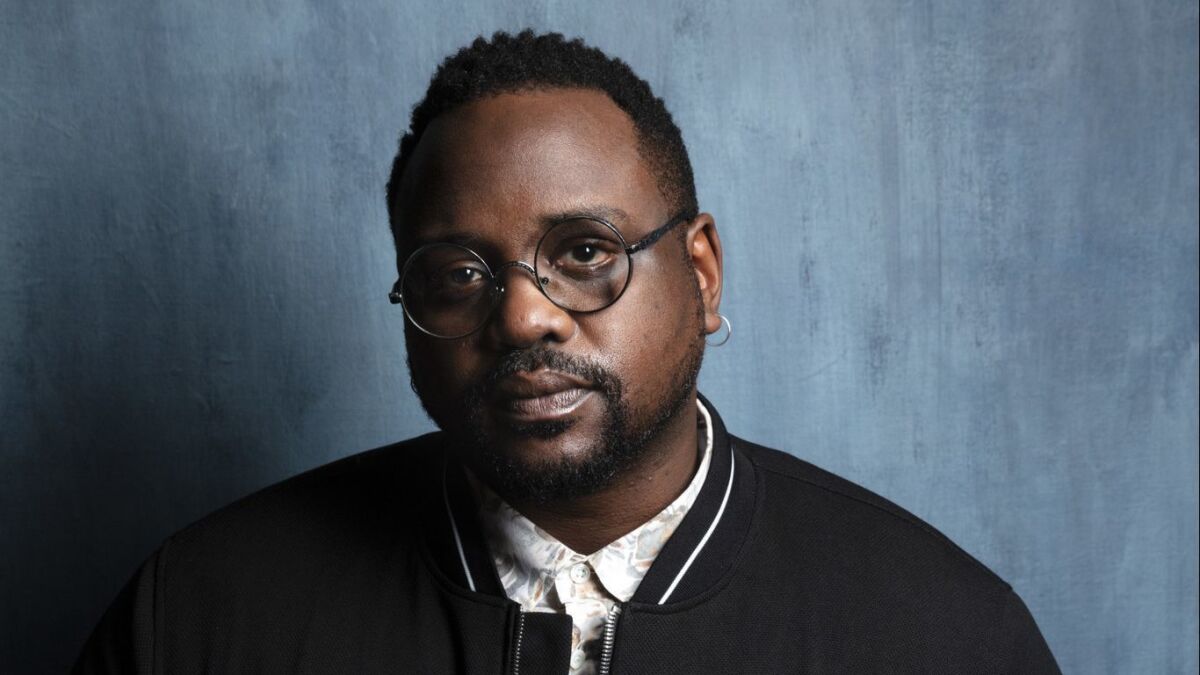 Brian Tyree Henry doesn't spend much time processing his standing as an actor on the rise. But he'll tell you, somewhat sheepishly, that a glimpse of the kitchen counter in his Harlem apartment sometimes makes it hard to ignore. Through neglect brought on by a busy schedule, it's become a gathering point for photographs and scripts and articles from his adventures on the big and small screen — and the stage — in recent months.
"I'm never there anymore," Henry says during a recent trip to Los Angeles. "I went home the other day and saw my life staring at me, and I haven't had a chance to really feel it. It's weird — I'm outside of that apartment door living my life and then coming home to see it sit there and gather dust in my kitchen. I'm trying to figure out exactly how to document and keep it precious instead of just having it stack up. And how to take it in. Because I want to take it all in."
With good reason.
Already claiming a standout role playing breakthrough rapper Alfred "Paper Boi" Miles in FX's critically acclaimed "Atlanta" and receiving a Tony nomination for supporting actor in the play "Lobby Hero," the 36-year-old has been steadily building his film résumé. He was in five movies in 2018, including two in the fall that have generated awards buzz: "Widows," a female-driven heist movie from Steve McQueen, and "If Beale Street Could Talk," the adaptation of James Baldwin's 1974 novel from Barry Jenkins.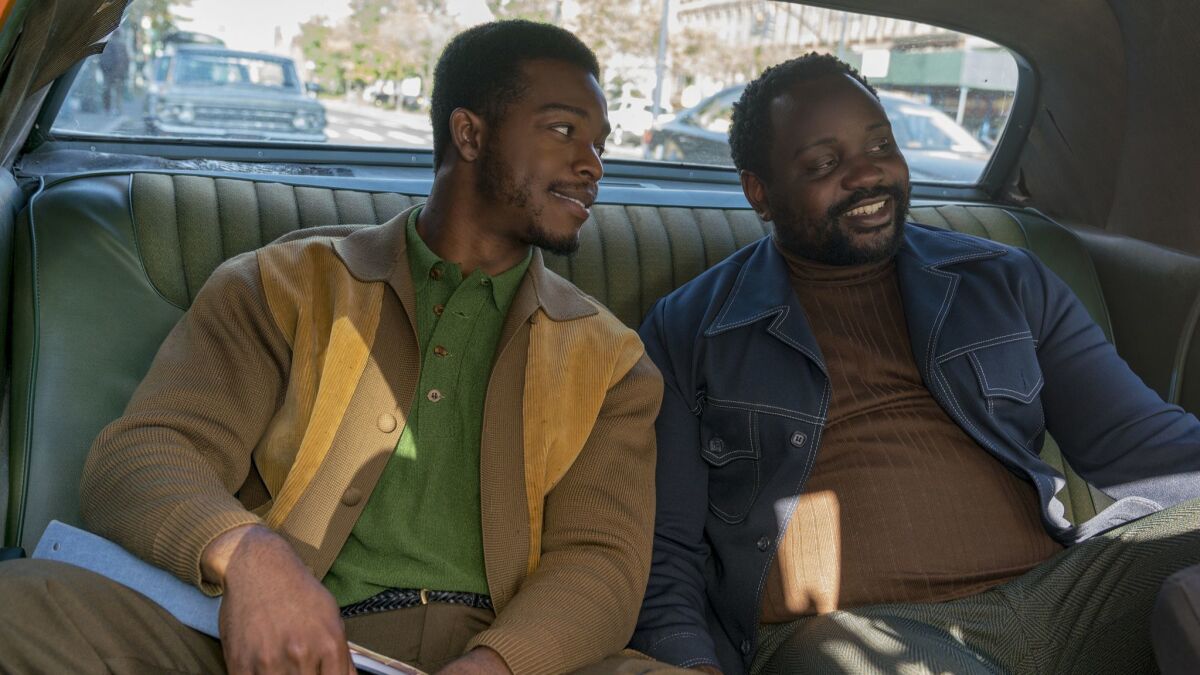 I can't really take that moment to shrink up because I'm in the room with such and such actor or being directed by such and such filmmaker. I have to step up.
— Brian Tyree Henry
The new year doesn't have him slowing down either — he'll appear in the reboot of the 1980s horror classic, "Child's Play" and has a role in the Amy Adams-led thriller "The Woman in the Window."
The movie roles, so far, have been small, in terms of lines or screen time, but Henry has established himself as the sort of actor whose performance makes a big impression — whether as a drug dealer-turned-aspiring politician threatening Viola Davis' character in "Widows" or as a recently freed man delivering a sobering account of the horrors he witnessed in prison in "Beale Street."
"I can't really take that moment to shrink up because I'm in the room with such and such actor or being directed by such and such filmmaker," he says. "I have to step up. I was doing a movie with Gary Oldman, and I went home after eight hours of rehearsal, and it hit me: Yo, I was just rehearsing with Gary Oldman. And I was like, All right. Whatever. OK. Cool. At some point, you have to stop pinching yourself and just go about what you're called to do."
Sitting at a table in an empty hotel enclave with his trusty portable fan blowing ("The California heat, man") on a recent Saturday afternoon, Henry is in town for the Hollywood premiere of the animated superhero movie "Spider-Man: Into the Spider-Verse," in which he lends his voice to the role of Spider-Man's dad. Just a couple of days prior, he wrapped production on the indie film "The Outside Story."
How's that for this kid from Fayetteville, N.C.? The one that hadn't considered himself a full-fledged actor until the first season of "Atlanta" aired two years ago.
During his college years at Morehouse, Henry spent time in the theater program at its sister school, Spellman. He went on to graduate from Yale School of Drama and had a three-year run in the original Broadway production of "The Book of Mormon." When he left the show, the roles he found in TV and film were infrequent and lacked depth (and lines). "You have a moment when you're busing these tables, and you're looking in the classifieds, and you're trying to figure out how to put money on your metro card," Henry says.
"I owed it to myself to go as far as I possibly can with this thing that I wake up thinking about [and] that I go to bed thinking about," Henry says. "That joy I get when I see a new poster for a movie on the side of a bus or the side of a park bench, it won't shut up. It just won't stop. So, therefore, I really have to continue to go as far as I can, because I'll never be able to live with myself if I go to the movies again and see that trailer of this movie that I'm just like, 'Oh.' You get concerned whether you can make it in this business or not. And there were never any examples saying that this little kid from Fayetteville could aspire and grow up to be on one of the biggest shows, or work with Oscar-winning directors. But nothing told me that I couldn't, either."
Now Henry, who once had a non-speaking role on the Viola Davis-led ABC drama "How to Get Away With Murder," is going toe-to-toe with her.
FULL COVERAGE: Get the latest on awards season from The Envelope »
"I always laugh because a few months before we shot 'Widows,' I did a guest spot on her show," Henry says. "I had no lines. And I remember I'm just sitting there, I'm looking. And all I could think was: This can't be it. This can't be as close as I get to Viola Davis. There's something else that has to come from this. And then I got the call from Steve McQueen. How do you prepare for that?"
It gets him talking about "Beale Street" and the black experience in this country, particularly for men, and systemic oppression. In the film, where his part plays out in a brief 12 minutes, he plays Daniel, the friend of protagonist Fonny (Stephan James), who was recently incarcerated for a crime he didn't commit.
"I live in Harlem," Henry says. "So, I see the Daniels on my corner. I'm a Daniel. I have lived next to Daniels. My nephews, my cousins are Daniels. I think the statistic is one in three black men, at some point in their life, will be incarcerated. It's something that if you constantly wake up with the awareness of that it could completely crack you down. It could bend you at the knees and make you surrender in a way that you don't don't want to walk out of your room. I feel like I needed to tell that story…. I feel a responsibility to make sure that I show every different kind of side of each black man."
Does he see a day where he does so as the lead of a film, complete with a billboard that boasts his name on the side of bus?
"I haven't really thought that far," Henry says. "That has to be the natural progression, I hope. So, yeah, I do see it. It would be a disservice to me if I didn't see it in my future."
Twitter: @villarrealy
---
Get our L.A. Goes Out newsletter, with the week's best events, to help you explore and experience our city.
You may occasionally receive promotional content from the Los Angeles Times.