Christian Bale: Man of a thousand physiques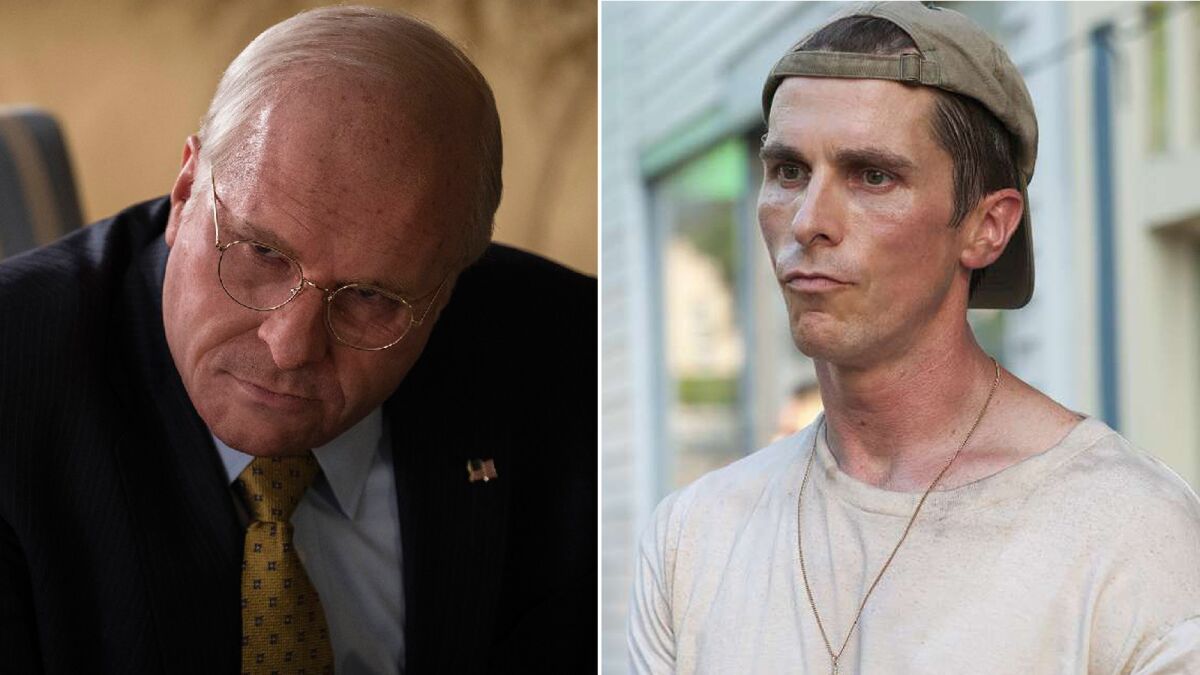 Christian Bale's mother was a circus performer, his grandfather a stand-up comedian and his dad a Royal Air Force pilot, all of which may help explain the chameleon-like actor's talent for high-wire performance. Oscar-nominated for portraying Dick Cheney in Adam McKay's "Vice," in which the actor completely transforms into the former vice president, Bale has proved himself a shape-shifting master of the acting craft, driven by Method-like intensity that convincingly animates even his most extreme physical transformations. Here's a look at six fascinating American characters brought to life by the ever-mutating Welsh-born performer.
Patrick Bateman, "American Psycho" (2000)
Body type: Sleek. Dressed to kill in Valentino Couture designer suits, Bale embodies predatory efficiency as the lean, mean monster misogynist.
Body language: Hyper confident.
Voice work: Standard American accent peppered with profanities.
Trevor Reznik, "The Machinist" (2004)
Body type: Emaciated. Bale quit eating and began running to lose 63 pounds for his role as a paranoid factory worker with bloodshot eyes who hasn't slept for a year and looks it. At the time, Bale told a newspaper, "To me, it's essential that this character look as though he's on the verge of death."
Body language: Furtive.
Voice work: Standard American, spoken with the urgency of a man on the verge of a nervous breakdown.
Dicky Eklund, "The Fighter" (2010)
Body type: Crackhead. To play the drug-addled ex-boxer fitfully trying to train his younger brother (Mark Wahlberg) for a big fight, Bale shed 30 pounds.
Body language: Swimming in baggy cargo shorts and backward baseball cap, Bale's loose-limbed Dicky lurches from disaster to disaster, perpetually pugnacious.
Voice work: Bale mastered the Boston "Southie" accent, passing the regional dialect authenticity litmus test by saying "park the car" with the appropriate broad-A enunciation.
Kudos: Oscar winner for supporting actor.
Irving Rosenfeld, "American Hustle" (2013)
FULL COVERAGE: Get the latest on awards season from The Envelope »
Body type: Schlumpy. The film opens with a shot of the balding Irving's enormous pot belly as he earnestly glues on a toupee. Appearing in full beard and mustache, Bale gained 43 pounds for the role.
Body language: Bale swaggers in a spread collar, ascot and aviator glasses in Act 1 with the edgy confidence befitting a confidence man. By Act 3, Bale's Irving has deteriorated into a nervous wreck.
Voice work: Assertive working-class New Jersey accent.
Kudos: Oscar-nominated for lead actor.
Michael Burry, "The Big Short" (2015)
Body type: Think the Dude. The 6-foot-2 actor performs at his roughly normal 185-pound weight with his full head of brown hair intact, but takes office casual to a new level.
Body language: Fidgety and averse to making eye contact, Bale mimics the behavioral tics exhibited by a real-life financial genius known for limited social skills and unlimited mental acuity. Bale also learned to play drums for the role and performed heavy metal music with thunderous commitment even after injuring his knee just before filming started.
Voice work: Exhibiting a California dude variation on the hard-R American accent, Bale stammers, mumbles, sputters, punctuating his arcane stock market analyses with exasperated gasps.
Kudos: Oscar-nominated for supporting actor.
Dick Cheney, "Vice" (2018)
Body type: Chubby. Bale's Cheney starts the picture as a relatively slim 21-year-old, then gains girth progressively to embody the politician in his 40s, 60s, and, finally, as a nearly bald 71-year-old. Bale packed on more than 40 pounds and shaved his head to accommodate the Oscar-nominated prosthetics, hair and makeup teams.
Body language: Studying every Cheney video he could find, Bale internalized the former vice president's gait, posture and near-permanent sneer.
Voice work: Bale delivers the Nebraska native's Midwestern accent in a gravelly rumble that betrays no trace of uncertainty.
---
Get our L.A. Goes Out newsletter, with the week's best events, to help you explore and experience our city.
You may occasionally receive promotional content from the Los Angeles Times.