Christopher Plummer jumps into 'All the Money' and finds it 'fun and risky,' but not without doubt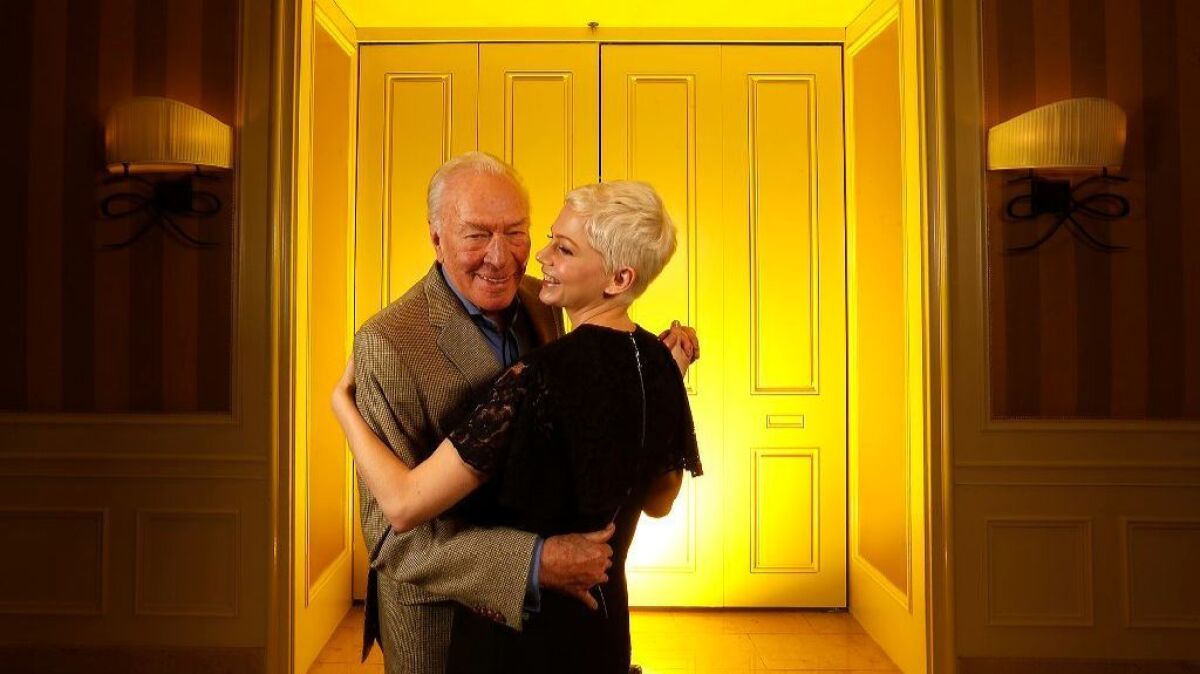 Three months ago Christopher Plummer was not being discussed as a potential Oscar nominee. Even eight weeks ago that would have seemed a longshot. Today, critics are celebrating his performance in "All the Money in the World," a role he was completely unaware of until the beginning of November, when he heard Ridley Scott wanted to speak to him about replacing Kevin Spacey in the period drama.
"I was ready to go to Florida and lie down in the sun, and they interrupted me," Plummer says with a sparkle in his eye. "How dare they?"
Scott had decided that it was impossible for his thriller about the notorious abduction and ransom of John Paul Getty III in 1973 to be viewed in a objective light after multiple allegations of sexual harassment were levied against Spacey, who had already filmed his role as Getty III's billionaire grandfather, J. Paul Getty.
WATCH: Video Q&A's from this season's hottest contenders »
Much to Plummer's surprise, Scott's office called out of the blue informing him that the director wanted to meet with him in person. Scott flew from London to New York to pitch him on a gutsy and almost improbable plan to re-shoot all of the J. Paul Getty scenes with Plummer in the role — and still make the film's scheduled late December release date.
"We spoke for about half an hour. I liked him instantly because he's very funny and he's got a great sense of humor," Plummer recalls. The actor read the script the next day "and three days later was in London shooting."
With costars Michelle Williams and Mark Wahlberg taking time out from their Thanksgiving holiday plans, Scott reassembled his crew and filmed for nine straight days in London and Rome. Plummer was nervous but relished the challenge.
"It was very exciting, too exciting sometimes, fun and risky," the 88-year-old actor says. "And I love taking risks and so does he."
I always feel that if someone is very slow and meticulous and does a lot of takes, I begin to get mechanical and my performance goes down the toilet.
— Christopher Plummer
Because of the short turnaround there was little time for Plummer to research Getty and, frankly, there wasn't much available to reference on him even if he'd had a month or two to properly prepare.
"There are recordings of his voice, but the voice doesn't mean anything. There's no point in trying to imitate that," Plummer says. "No, [I went] with my instincts and I followed the writer, [David Scarpa], who had given him a few terrific colors. He wasn't just a monotonous, old businessman. There were ups and downs. There was lots of opportunity to give him variety. You know?"
Still, there was a lot of dialogue to get down.
"Some of the long monologues were difficult because I was trying things, and when you're trying things and still don't know the lines very well, it's a monster of a problem," Plummer says. "And you think, 'Well, wait a minute. My desires have exceeded my ability.'
"But I picked the one scene that I felt was the most revealing and showed his vulnerability — the one in which he discusses the fact that things are more pure and beautiful than people. And I thought that was an opening to show that he did have some humanity in him."
As audiences will clearly recognize, Getty is a much bigger fixture in the film than you'd assume after hearing of Scott's ambitious re-shoot plans. And as much as he loved the risk, Plummer had his moments of doubt. Scott's insistence on just doing a few takes helped alleviate some of those nerves.
"I always feel that if someone is very slow and meticulous and does a lot of takes, I begin to get mechanical and my performance goes down the toilet," the actor says. "Just play the sucker! And he can't bear that either, so we have a nice bond there."
Plummer has been busier than one might expect for this stage of his career. He participated in three films this calendar year, has another three in post-production set for 2018 and plans to restage his one-man show, "A Word or Two," again in the new year.
"My career's always been up and down. I've made some money because I did some real … ," Plummer says bluntly of his lesser films. "But I think you have to do that. You can't be too snobbish. But scripts are coming my way now that weren't before. Christ, it's amazing. I'm 88 and offers keep coming in.
From the Oscars to the Emmys.
Get the Envelope newsletter for exclusive awards season coverage, behind-the-scenes stories from the Envelope podcast and columnist Glenn Whipp's must-read analysis.
You may occasionally receive promotional content from the Los Angeles Times.