'Greatest Showman' costumes go for a timeless but historic look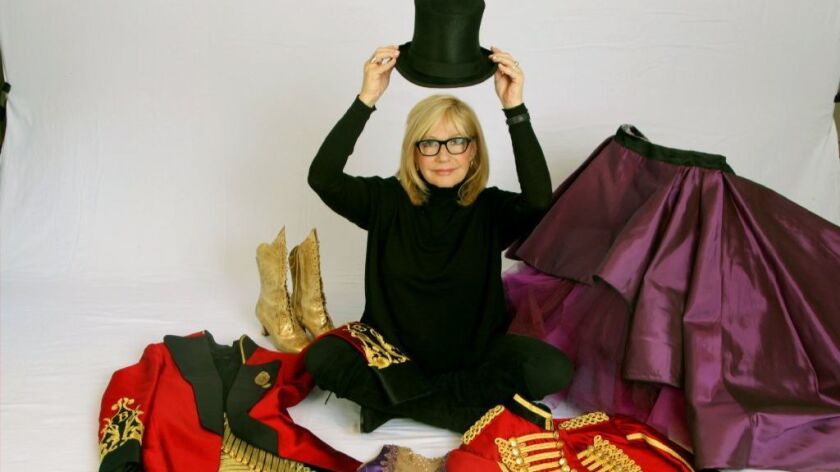 In the new musical "The Greatest Showman," the story of P.T. Barnum and the rise of mass entertainment has a modern message not just in its themes but also its clothes.
Hugh Jackman stars as the original ringmaster, Zac Efron as his business partner and a pink-haired Zendaya as a Swarovski-crystal-encrusted trapeze artist in this fable about the value of family, risk-taking and social acceptance. And, not incidentally, the value of a great wardrobe.
To create a timeless but historic look, veteran costume designer Ellen Mirojnick applied her experience as a menswear expert (she dressed Michael Douglas for "Wall Street," "Basic Instinct" and "Behind the Candelabra") and as a canny period interpreter ("The Knick" and "Chaplin").
In a recent Beverly Hills interview, Mirojnick talked about the whirlwind production, her inspiration and about that vivid red and gold ringmaster's coat.
You won great acclaim and awards for another great showman, Liberace, who was the subject of "Behind the Candelabra." Was this showman similar?
It's kind of funny. Maybe it's my fate in life to work only with the greatest showmen. But I have dreamed about this since I was 5 years old and taken to the theater in New York. I have always loved musicals; and my biggest hopes, wishes and dreams were always to do a musical. I've done a few of them, but this experience was like no other. I would say it changed my life.
What were director Michael Gracey's instructions to you?
He said, 'I would not like it to be period-centric, but I would like it to feel as if it were ripped from a fashion editorial in Vogue.'
How did you settle on a time period?
We decided that it takes place "a long time ago." The period detail from 1845 to 1870 isn't 100% accurate. There is no hoop skirt. No corseted tops. Why? Because we suspended disbelief. We made it romantic. We made it classic. And we made it beautiful. And with that, it was very freeing to create a story filled with these wonderful characters that were not limited by a boundary of time.
The range of this film is enormous — from the post-Civil War streets of New York to Queen Victoria's court, through a world tour and then behind the scenes of Barnum's burgeoning circus world. Can you break the task into numbers?
I designed 321 principal costumes over a 16-week shoot that would dress a huge range of characters, including a circus audience of 400; 22 acrobat performers; children, who grew during production; hundreds of tattered townspeople; and a large array of royal guards. What's more, the characters included a three-legged man, a 7-foot-5-inch giant, a 4-foot-2 Napoleon, and a ringmaster with 25 complete suit ensembles.
All of Barnum's clothes are incredibly elegant — luscious cashmere coats, rich velvet suits and perfect silk ascots. But his red ringmaster's jacket is a showstopper. What's the story on that?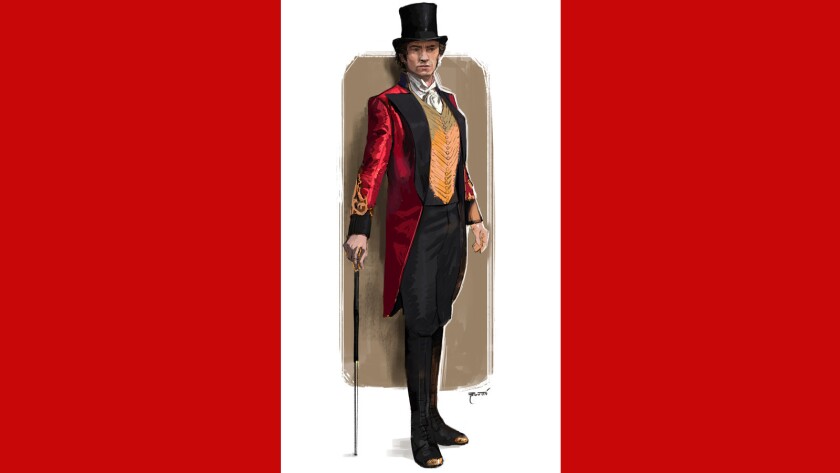 All of his ringmaster ensembles were made in New York by an amazing man I've worked with 25 years — Barak Stribling. It's the most magnificent coat in the entire world. In wool and silk, with custom-made buttons, gold bullion trim and embroidered with the B monogram. It's cut for his body and designed to allow him to move in any way possible. I've seen a lot of actors become the essence of the character [in the costume fitting]. But Hugh transformed in a way I have never, ever seen. He slowly put on the pieces, and when he put the red coat on, P.T. Barnum was born.
Michelle Williams as Barnum's first wife, Charity, has a timelessness about her wardrobe, which could fit into any number of golden age or modern movies. What were you aiming to show in her clothes?
I thought that Charity was a fairy tale princess but living a real life. Michelle is so delicate, feminine and beautiful that there is not a fussiness about her. It was all delicate colors, delicate fabrics, very soft, flowing shapes. She was pure sweetness, but touchable.
You speak of this film, and the making of these costumes, as something quite extraordinary for you. How so?
When I say it changed my life, it did. I've been doing this a long time. I've done a lot of different types of genres and shows. This changed my life because my intuition had to stay at its highest. Because of the immediacy, and the shortness of time, I could not second-guess myself. It was truly an experience of living and creating in the moment. There was no thinking. It was just pure creating.
WATCH: Video Q&A's from this season's hottest contenders »
---
From the Emmys to the Oscars.
Get our revamped Envelope newsletter for exclusive awards season coverage, behind-the-scenes insights and columnist Glenn Whipp's commentary.
You may occasionally receive promotional content from the Los Angeles Times.