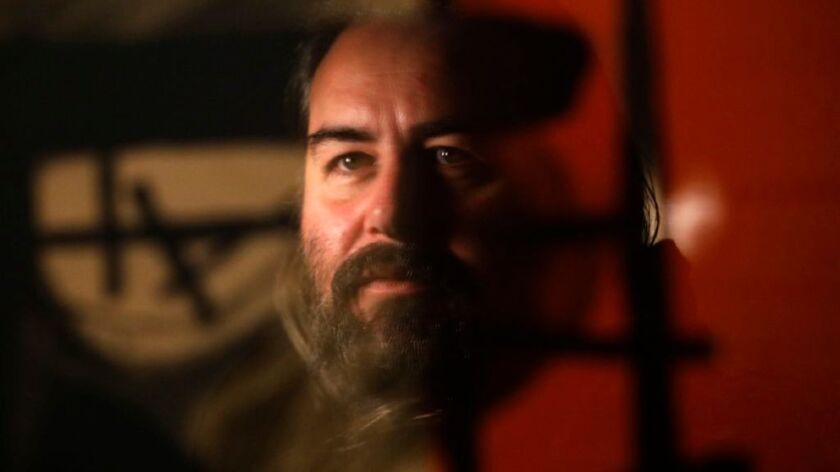 In "Dunkirk," the camera is everything. Light on dialogue and largely devoid of back story and character development, Christopher Nolan's dramatization of the famous evacuation of Allied soldiers at the outset of World War II — told in three timelines from the land, sea and air — throws its audience into the rattling cockpits and sinking hulls for a uniquely gut-level experience.
Nolan's right-hand man was Hoyte van Hoytema. The Dutch-Swedish director of photography previously accompanied Nolan into the future farmlands and boundless cosmos of "Interstellar," replacing his longtime collaborator, Wally Pfister.
"After 'Interstellar,' we knew we wanted to continue shooting big-format," Van Hoytema said. "Chris really wanted this to be a very cinematic experience. He really wanted to do justice to the big, big Imax screen. He wanted this to be very visceral."
Christopher Nolan's "Dunkirk" stars Tom Hardy, Cillian Murphy and Mark Rylance.
WATCH: Video Q&A's from this season's hottest contenders »
The question they asked themselves was: "How can we really get the audience to feel as if they're there and live with the story and experience everything firsthand — the way that the soldiers would have?"
The pair's use of the cumbersome, loud, 60-pound Imax camera on "Interstellar" was highly innovative. Van Hoytema engineered special rigs to make it a more fluid, handheld tool.
"The preciousness around it disappeared," he said. "We realized if we cannot throw it around and walk around and apply it to very normal situations, it's not good enough."
On "Dunkirk" they wanted to push it even further: into cockpits with actors, underwater, running along the beach with soldiers as bombs rain down.
"The camera wants to follow the action," Van Hoytema said. "Our actors are kind of pulling the camera wherever the camera needs to be. It's a very reactive way of filming. You could compare it with doing a documentary, where you're always a little bit behind the action. You're not waiting there for the bomb to hit — you pan onto it as it happens. We tried, as much as possible, to give that firsthand experience."
Working with Panavision's engineers, Van Hoytema developed new lenses that would pan and tilt, snorkel lenses to get into tight spaces and extra-light-sensitive lenses that would allow for tight close-ups. He also helped engineer a rig for strapping an Imax camera to the wing of a custom-built Spitfire for unprecedented shots of aerial dogfighting.
"Chris took us out on the flying Spitfires to understand not only the confinement of the space, but also the perspective — the physics of actually flying and maneuvering in a three-dimensional space," Van Hoytema said. "We learned very quickly that you never really see that that same way in films. The physics are never really right."
So they built a mock-up Imax camera, an aluminum shell filled with sandbags, and rigged it to the plane to test the aerodynamics of drag and vibration. Then they sent a real camera up.
"We were just so stoked when we saw the rushes," Van Hoytema said, "because you've never sat on the wing of an airplane, watching into the depth and seeing other planes lining up. It was really incredible."
We wanted to take the audience to the cinema and then witness something and experience something that was fairly similar to the experience of the soldiers.
Hoyte van Hoytema
Nolan's preference for old-school filmmaking is well known, and "Dunkirk" mostly eschewed computers — from the lack of CGI effects to using 65-millimeter film stock and analog printing. Rather than impose a color palette or "look" during post-production, as most modern movies do, Van Hoytema found his aesthetic in the fray.
"We wanted to capture the weather as truthfully as we could," he said. "We wanted to capture the water color as truthful — but also the uniforms and the skin tones on the men and so on. We did our best to get it as right as we could and then register it in the purest form that we could come up with, which is effectively the biggest negative that we could get our hands on."
Most of the film was naturally lighted — with the exception of the few scenes, like those with soldiers inside sinking boats, shot on a soundstage. But even there, Van Hoytema favored practical light sources.
"We wanted to be very pure," he said. "We didn't want to be sentimental at all about it. We just wanted to take the audience to the cinema and then witness something and experience something that was fairly similar to the experience of the soldiers. It becomes so much more about reacting than interpreting."
---