The Envelope: Oscars 2016: 'Youth' composer David Lang helped inform the creation of Michael Caine's character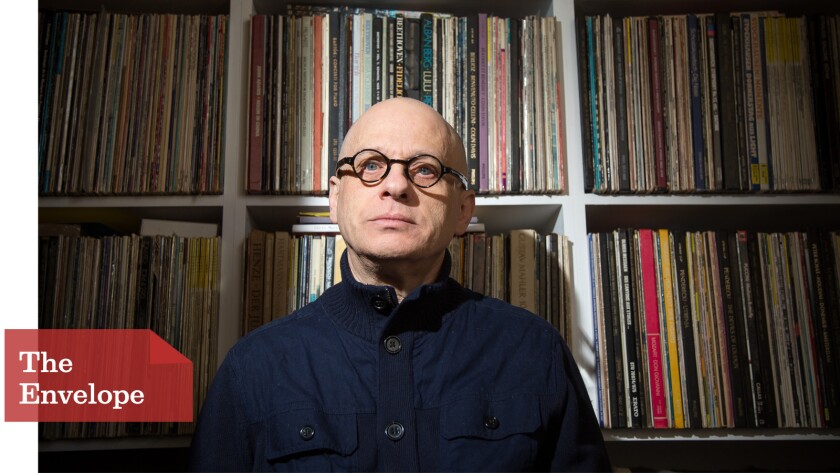 One of this year's Oscar nominees for original song stands in stark contrast to the others, which include a Lady Gaga anthem, a sexy soul groove and a Bond song. Pulitzer-winning concert composer David Lang wrote a classical aria that plays a crucial role in "Youth," Italian director Paolo Sorrentino's film about an aging composer, played by Michael Caine, which frequently refers to and culminates in an onscreen performance of the fictional character's "Simple Song #3."
"I had very little to go on," says Lang, 59, who wrote the song before the script was even finished. "All I had were these deep philosophical conversations with Paolo."
Oscars 2016: Full Coverage | Complete list | Snubs, surprises and reactions | Top nominee photos | Oscars are so white, again
But the song was only part of Lang's outsized influence on Sorrentino's film (which he also scored).
Just how early did you become involved with "Youth"?
Paolo had [licensed some of] my music in "The Great Beauty" [2013]. When it premiered at the Toronto film festival I flew up and met him and he said, "I'm just starting to think about how my next film is going to be about a composer, and I wonder if you want to talk to me about what composers do, and who they are, and if you want to write the music of the composer in the movie?" Of course I said yes — I probably screamed yes. It was a great role for me because I was helping shape the emotional life of this person that didn't really exist in the script yet. The fact that Paolo was asking me these questions was really beautiful because I felt like, as an advocate, I could influence the way the character of a composer was presented in public. So the millions of people who see this film won't think that those of us who do it for real are so weird.
How much were you pulling from your own feelings and experience to help shape this character?
I think a lot. I just thought, from what I read in the script, that he's sort of emotionally closed off, that his relationships are about words and social conventions and obligations, and all of those things inhibit him. The only place where he's able to actually be honest with himself is in his own music. And that's something that I think about all the time.
See more of Entertainment's top stories on Facebook >>
So without the film or even a finished script, what was your key into what this "Simple Song" needed to be?
I would ask Paolo, "Do you want him to feel tragic because his friend has just died and his wife is ill? Or do you want it to feel triumphant because he's doing his concert in front of the queen?" He said, "Oh, I don't care. You work it out." That gave me the room to make it feel more like a real emotion. The number of times I've been able to have an emotion which is pure — like pure greatness, or pure misery, or pure satisfaction — are very, very rare. Usually, they're complicated. Because [Paolo] didn't want to pin me down, I was able to do something that was more complicated, more like a real emotion. At that moment at the end of the movie, I don't know what [Caine's character is] supposed to feel. And because of that, I think you can read it lots of different ways.
This is a song that encapsulates his life's work, which everyone keeps praising and that the queen herself wants to hear. That seems like a heavy burden to take on as a starting point for writing a piece of music.
I think maybe that's one of the reasons why Paolo wanted it to be done before he did his job. Maybe because I finished first, he was able to deal with it as if it was concrete. It's so rare that somebody sees a composer on screen and it was so important to me that they see him as a living and breathing and complete person, and passionate about his music — and that when you heard the music, it didn't suck. It's very easy to have an opera singer and some strings, and everybody goes, "Oh yeah, that's a stereotype, textbook version of classical music." It was important that he be seen as someone who was capable of doing something artistic, and that when you got that experience, you really got that for real.
---
From the Oscars to the Emmys.
Get the Envelope newsletter for exclusive awards season coverage, behind-the-scenes stories from the Envelope podcast and columnist Glenn Whipp's must-read analysis.
You may occasionally receive promotional content from the Los Angeles Times.