Q&A: Elvis Costello on movies, music and why you won't ever see him slapping his knee in concert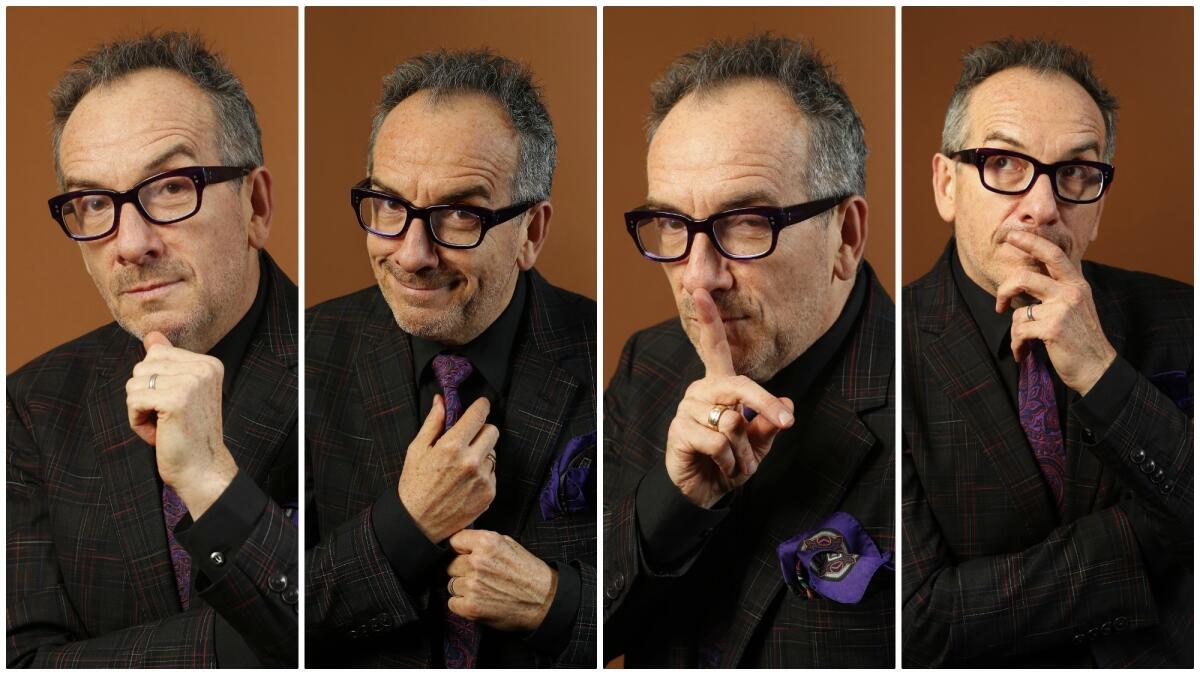 Elvis Costello knows his way around Hollywood Boulevard. The versatile singer-songwriter played a couple of dates over the years at the Hollywood Roosevelt Hotel's fabled Cinegrill nightclub, the place where Marilyn Monroe met Arthur Miller, and Michelle Pfeiffer slithered across a piano in "The Fabulous Baker Boys." And nearly three decades ago, he caught "The Godfather Part III" at the Chinese Theatre, just to see how Francis Ford Coppola used his song, "Miracle Man."
Costello returned to the Roosevelt last month to perform a brief set following the AFI Fest premiere of "Film Stars Don't Die in Liverpool," the story of the romance between a young British actor and Hollywood legend Gloria Grahame in the last years of her life.
WATCH: Video Q&A's from this season's hottest contenders »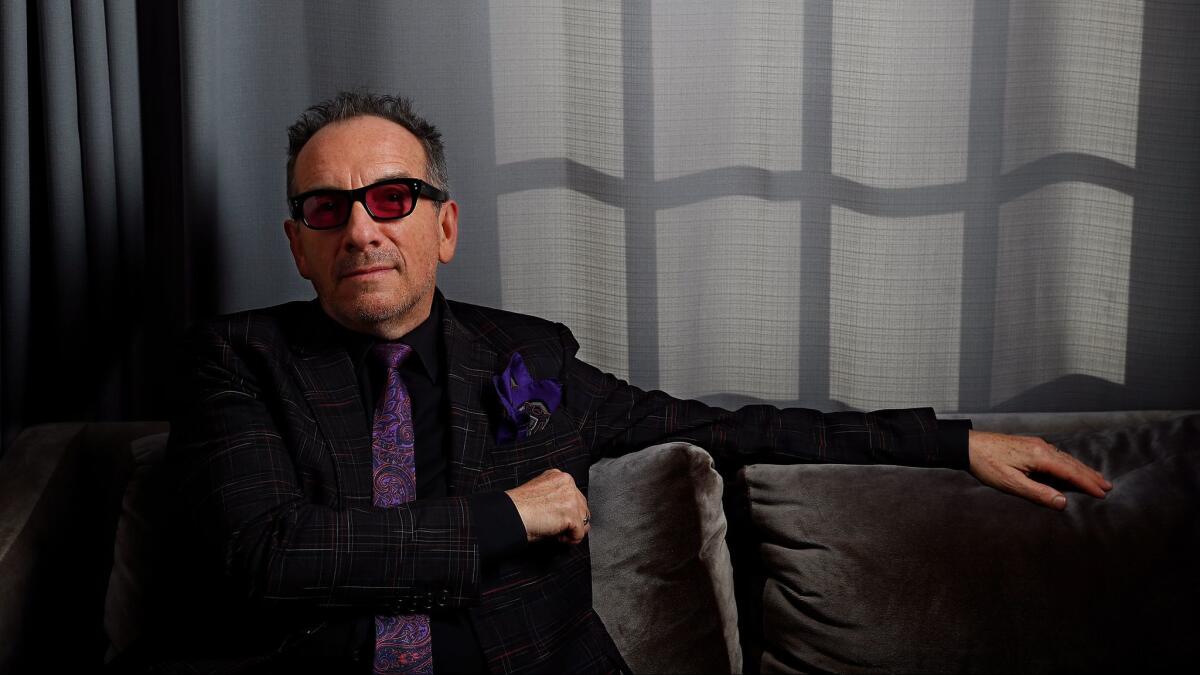 Inside the hotel's intimate lounge, Costello sang, "You Shouldn't Look at Me That Way," a lushly orchestrated, bittersweet love song he wrote for the movie, paying particular attention to the film's star, Annette Bening, in the audience. He also performed his old standby "Alison" and a song he has written for a musical adaptation of Budd Schulberg's "A Face in the Crowd," a project that will be going into its third workshop soon.
The following day, Costello, 63, wearing a sharp suit accented with a matching purple paisley tie and pocket square, sat down to talk about movies and music and how the two have intersected during his long career.
My introduction to Gloria Grahame came when I saw "Oklahoma!" when I was 7 or 8 ...
I never saw "Oklahoma!" Who wrote that?
Really? Rodgers & Hammerstein.
I was always more of a Rodgers & Hart. I know the songs. "Surrey With the Fringe on Top" I know from Sonny Rollins.
I'm not that big on gingham. Also, I don't like this. [Costello enthusiastically slaps his knee.] That move always put me off. People ask me, 'Why haven't you written a musical until now?' It's because of the knee slapping. That should be in the music, not an emphatic gesture before the music. [Pause] I'm joking.
Mostly.
So you don't know Ado Annie. I'm guessing you knew Gloria Grahame then through "In a Lonely Place" or "The Bad and the Beautiful."
You want to hear a strange coincidence? Paul McGuigan [director of "Film Stars Don't Die] and [producer] Barbara Broccoli came to the London Palladium last summer to talk to me about this movie. I was doing a four-night stand there. Twenty minutes into the show, I'm introducing a song called "Church Underground," which is about a girl who dreams of being famous but instead finds salvation in the music coming up from an underground dive. And as a visual cue, I used a picture of Gloria Grahame. I always liked her self-possession. Anyway, when they saw that, they just jumped out of their skins.
My favorite musical is 'My Fair Lady,' by a long way. My role model, Stanley Holloway. Fashion tips? Stanley Holloway. Always.

— Elvis Costello
What intrigued you about the movie?
Conflicts and contradictions. Those are gifts to songwriters. Gloria is vain, but also vulnerable. She takes quick offense when the difference in their ages is pointed out, but you later come to understand that and why it's poignant. I won't say writing the song was easy. But all the cues were there.
Your performance of the song is quite moving. It's not something you probably could have sung as well 20 years ago.
I've never been bothered about remaining some facsimile of how I looked as a kid. I like actors with interesting faces. I like singers with character in their voices. Quirks occur. Jimmy Durante singing "September Song." You can't be 25 and sing that song. Or "A Very Good Year" by Sinatra later on. I'm not there yet, necessarily.
You don't want to be the face of the AARP tomorrow?
Truth is, I was writing those songs 20 years ago. I wrote a song called "I Want to Vanish," which I always imagined I wanted Judy Garland to record.
I remember taking my mother to see Bob Dylan in Liverpool when she turned 70. And I remember being struck, sitting with my mother when she was 70, younger than Bob is now, by how many images of mortality were within his lyrics.
And now he's singing the Great American Songbook.
I love his performances of those songs. It's utterly sincere and presented with fine drama. I saw him do a show at Albert Hall 18 months ago and it was one of the best shows I've ever seen.
Do you spend any time on music streaming services like Spotify?
I don't know anything about them.
Could you guess what's your most popular song by far on Spotify?
Yes. It has more than twice as many hits as your next song, "Alison."
That song is a calling card. An international passport. There are countries I never would have visited without it. Korea. Macau.
["Notting Hill" writer] Richard Curtis said he was going to ruin my reputation with that song. But I told him, "Go ahead and try." Because I had been doing ballads from the very start.
So when Richard asked me to cut "She," I thought, "What the hell." Charles Aznavour is a great songwriter. If the composer can play against type and contrast a harsher emotion with a beautiful melody, I sure as hell could sing it.
In the movie "High Fidelity," John Cusack's record store owner loves to makes music lists. For "Top Five Angry Songs About Women," he says, "You kind of have to start with Elvis Costello, but where?" Did you appreciate that line?
I don't get that myself. I think it's in the eye of the beholder. "Alison" … It's "I know the world is killing you," not "I am killing you." I'm not being pedantic here. It says, "my aim is true." I am responsible. It's not like I want to kill you, but this love that we're in isn't going to work out.
There's a lot of songs that are like that. People want to hear them as angry. I've even seen the "m-word" attached to my name lots of times. Misogynist.
I think the songs are more about being a young man trying to work out what those feelings are supposed to be about. I'm not always writing the idyllic love song because maybe somebody does that better than me. Some of it's from real life. I've lived parts of those songs. But I don't think they're misogynistic. I wonder if the people who think that are the ones with the problem.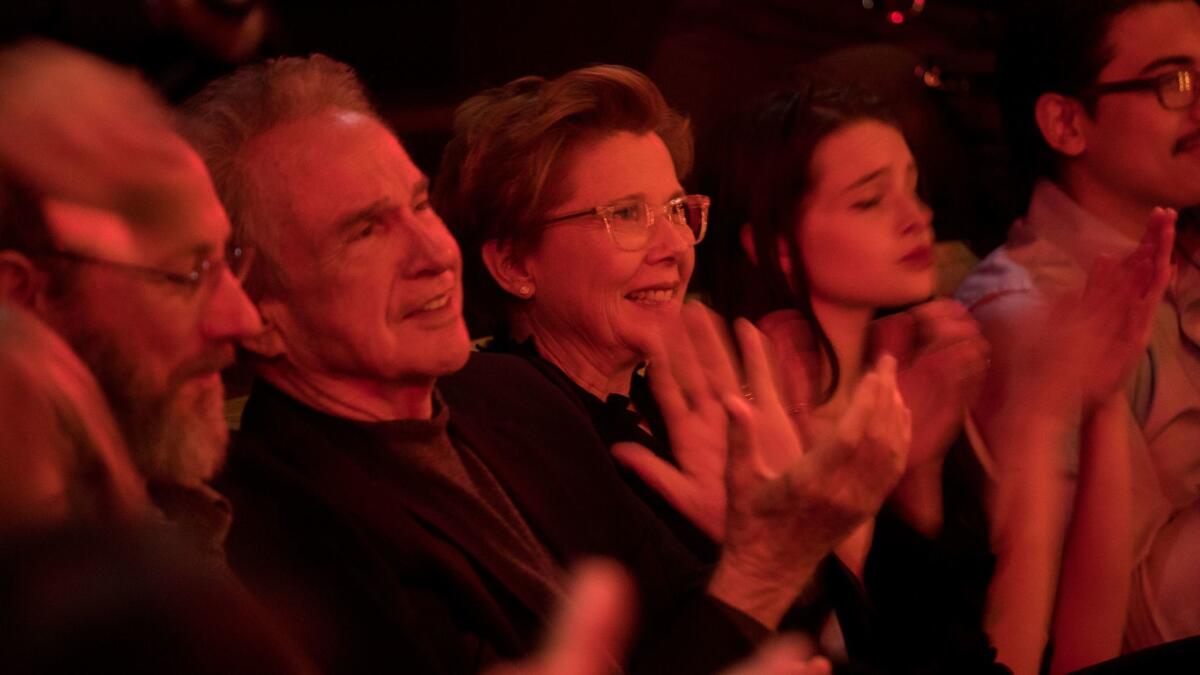 "Accidents Will Happen" plays for a few seconds in "E.T." I read somewhere that you're still getting nice royalty checks for that. True or Internet?
I wish that were true. I remember going to see the movie, not knowing the context it was going to be used. And if you weren't looking for it, you'd miss it.
What do you remember about playing "Scarlet Tide" at the Oscars, the song you wrote with T-Bone Burnett for "Cold Mountain."
They wanted the visual of T-Bone and I playing in the band with Alison [Krauss]. And I decided because it was an old-sounding song that I would play my oldest guitar, a 1910 Gibson.
And my memory of it is, Alison finished this beautiful performance and, as we hit the last chord, I decided I would contribute and put the guitar up to the microphone and play the final button of the song. And as I did it, the bridge of my guitar collapsed. The last chord was a complete discord on global television. Fortunately, the lights dimmed and no one noticed my clunker of a contribution. Perhaps that's why I don't get invited to awards shows.
From the Oscars to the Emmys.
Get the Envelope newsletter for exclusive awards season coverage, behind-the-scenes stories from the Envelope podcast and columnist Glenn Whipp's must-read analysis.
You may occasionally receive promotional content from the Los Angeles Times.