Filmmakers Agnes Varda and JR turn to the common man to find heroes in 'Faces Places'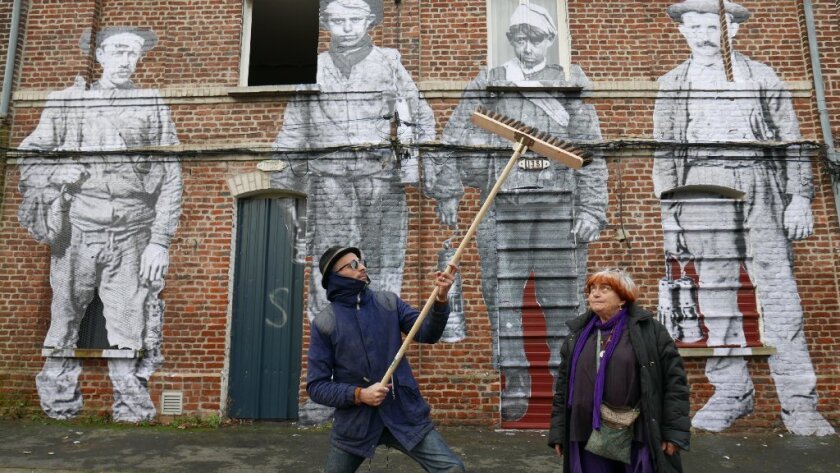 Roaming the French countryside, neither stays a stranger among strangers. They are quick to break the ice: JR, the pseudonymous French photographer and street artist, and Agnès Varda, a founding spirit of the French new wave and a visionary creator of films fictional, nonfictional and somewhere in between.
Traveling back roads in JR's uniquely customized camera-truck one week a month for more than a year, the pair did together what they've made careers of doing separately all around the world: celebrating the lives of the common people they meet. This creative partnership comes to sparkling life in "Faces Places," a seemingly lighthearted travelogue that prizes unexpected turns and arrives at destinations both poignant and profound.
"We're the Odd Couple," said JR, the 34-year-old artist who is never seen in public without his trademark hat and sunglasses, and made the news most recently by installing a 70-foot image of a baby peering over the far side of the U.S.-Mexico border wall in Tecate, Calif. "A lot of people are wondering what are we doing together, and that starts a conversation."
At 89, the Belgian-born Varda cuts a likewise distinctive figure with her bowl-cut hair in shades of silver and auburn. She's made more than 20 features since her 1955 debut "La Pointe Courte," with forays into television and the art world, notable both for art house hits ("One Sings, the Other Doesn't," "Vagabond") and exquisite cinematic memoirs ("The Beaches of Agnès"). "I made films," Varda said, "about the gleaners, about squatters, about fishermen, about the people of my street."
Once the filmmaker begins talking about her work with JR, it's clear that odd couple or not, they are kindred souls.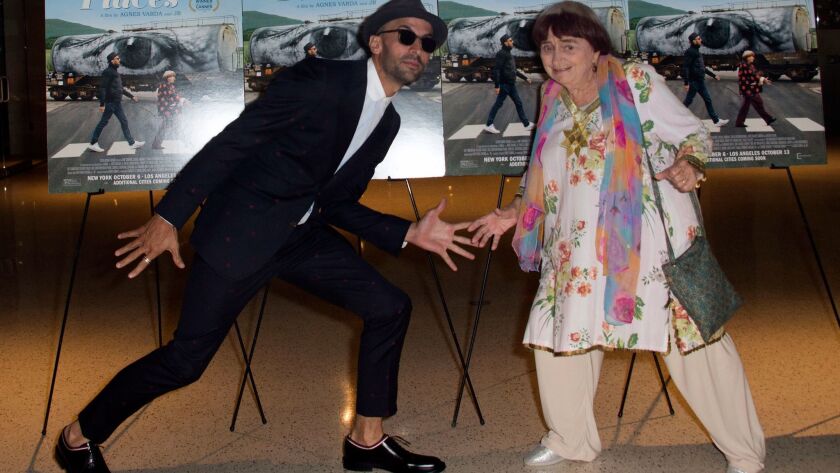 "We have the same empathy for people," said Varda, who joined JR on a recent promotional visit to Los Angeles. "We like to make them be big." In the film, which opened in theaters last month, that means covering the brick walls of rural villages with looming photographs of farmers, factory workers and homemakers who are by turns amused and moved to tears by the artists' gesture. In the film's most dramatic sequence, portraits of dockworkers' wives are pasted high over stacks of shipping containers in Le Havre. Another episode illustrates Varda's diminishing vision by creating a human ophthalmology chart, with volunteers hoisting big letters for her to decipher.
Varda said the film was guided by a simple premise: "To be able to be honest, to be open, so we could [take] these people having no power, normal people, put light on them and put importance on them ... and by listening to them make them become the heroes of everyday life."
JR noted that both he and Varda have been equally nomadic in their work, often having traveled to the same places. "Except that while she saw Fidel Castro take over the island of Cuba," he said, "I only went there in 2011, you know?"
Although she is acclaimed as an abiding and influential figure in documentary, Varda has never been nominated for an Academy Award. Hollywood is about to change that. She will receive an honorary Oscar at the academy's annual Governors Awards ceremony on Saturday, along with actor Donald Sutherland, director Charles Burnett ("To Sleep with Anger") and cinematographer Owen Roizman ("The Exorcist").
Varda had previously said that "The Beaches of Agnès," from 2008, was her last film. "Because opening a film in theaters is a big job," she explained. "But then my daughter said if you do a documentary only for TV you will be disappointed because one day it will disappear."
Whether or not she makes another theatrical film, Varda remains active. "[I'm] still putting very much effort to remain an artist in connection with the world," she said. "But not accepting it as it is. It's very bad. The world is a mess. So we have to add to the mess."
She was doing exactly that during her visit, in tandem with JR. "The movie continues today," he said. "We didn't stop filming just because we already shot the movie. We keep filming everyday and creating, as we are talking right now we are pasting a [large-scale photograph of a] goat and a few fish in Los Angeles … and one of Agnès."
Those attentive to social media can keep tabs on their further adventures, JR said. "We're basically continuing our little journey."
See the most read stories this hour »
ALSO
WATCH: Video Q&A's from this season's hottest contenders
'The Final Year' captures the closing stretch of Obama's presidency — and the rise of a new order
The return of Jane Goodall, climate change and Syria among Oscar documentary hopefuls
'Strong Island' tackles crime, justice and racism with a personal — and cinematic — touch
---
From the Emmys to the Oscars.
Get our revamped Envelope newsletter for exclusive awards season coverage, behind-the-scenes insights and columnist Glenn Whipp's commentary.
You may occasionally receive promotional content from the Los Angeles Times.