The return of Jane Goodall, climate change and Syria among Oscar documentary hopefuls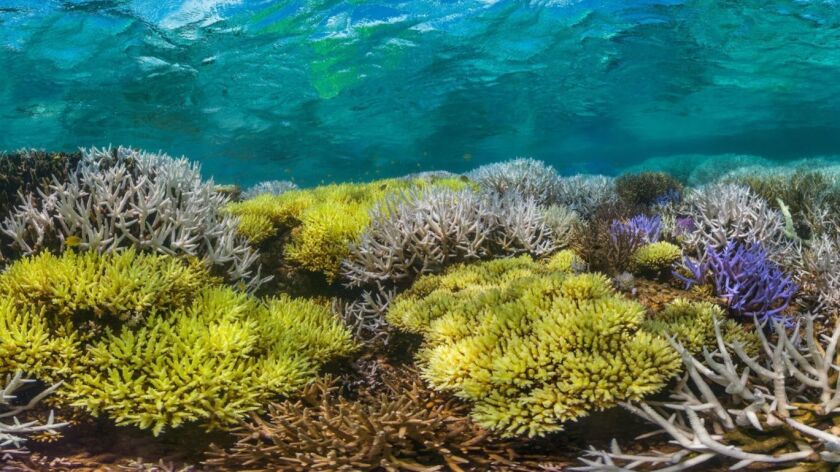 With more than 150 qualifying films, the competition in the Academy Awards' documentary feature category is more crowded than ever. By December, voters will narrow the field to a 15-title shortlist. Here are a few strong contenders to make that first cut.
"Chasing Coral"
In 2012, "Chasing Ice" followed environmental photographer James Balog as he charted the devastating effects of climate change on glaciers in Greenland and Alaska, using time-lapse imagery to drive an urgent ecological message.
Five years later, "Ice" director Jeff Orlowski returns with "Chasing Coral." The companion movie, which won an audience prize at this year's Sundance Film Festival, likewise turns a time-lapse frame on the planet's imperiled coral reefs. The underwater scenery of healthy phosphorescent reefs and ghostly dying coral is unarguably mesmerizing and aims to sway global-warming skeptics, although the filmmaker is reluctant to call the documentary a sequel.
"We were really trying to avoid the 'Chasing' title," Orlowski said, "but the spirit of the film is very similar."
He was led back to the theme by one of the new movie's subjects, Richard Vevers, an advertising executive turned ecological activist who saw "Chasing Ice" and contacted Orlowski to propose the coral project. Along with another activist, Zack Rago, the men spark an adventurous undersea endeavor to for the first time photograph a coral reef in the act of bleaching — a dramatic prelude to its death.
The two, activists rather than men of science, help bring a necessary human dimension to the story. "Scientists are trained to be objective and not show emotion," Orlowski said, "which makes it difficult to get audiences to relate emotionally."
Technical issues were an entirely different challenge. To get the footage he needed, Orlowski couldn't use automated cameras. Instead, his team set up camp on an island for four months and logged more than 200 hours underwater. "It became this self-imposed burden," he said. "The tediousness would pay off because this has never been seen before. It shows the world a very, very different story of what's happening on our planet."
"City of Ghosts"
Conflict in Syria was the impetus for several important documentaries this year, including "Last Men in Aleppo" and "Hell on Earth: The Fall of Syria and the Rise of ISIS." The ravaging of Raqqa, which Islamic State, or ISIS, claimed as its capital, and the underground network of Syrian journalists who bear witness, is the focus in "City of Ghosts."
The picture, which won the top prize for U.S. documentary at the Sundance Film Festival, is director Matthew Heineman's follow-up to the Academy Award-nominated "Cartel Land," which plunged the filmmaker into the lethal terrain of the Mexican drug cartels.
This time, Heineman wasn't dodging gunfire. He filmed the Syrian activists of the organization Raqqa Is Being Slaughtered Silently, who work remotely in undisclosed European locations to document atrocities secretly filmed by colleagues back home.
"I would have been killed instantly if I went to Raqqa," said Heineman, who was drawn to the subject by what he called a "propaganda war" between the activists and Islamic State, savvy in its use of viral media to promote its cause. Those often disturbing images made for a balancing act in the edit room. "I didn't want to shy away from that," he said. "At the same time, I didn't want people to run out of movie theaters because it's so gruesome."
The circumstances of his subjects' lives become the film's heart, however, as the camera offers an intimate portrait of immigrants cloistered in safe houses and often on the move, mourning the deaths of friends and family while wary of threats both from Islamic State and European nationalists.
"For the most part, it's guys hiding out in smoky rooms, and so how to find the drama in that and humanize that experience was one of my largest challenges," said Heineman, whose film empathizes with "the fear and anguish these guys live in every single day."
"Jane"
Three great love stories come full circle in "Jane," which revisits the historic encounters between primatologist Jane Goodall and the chimpanzees of Gombe, Tanzania, in the early 1960s.
There's the affection between Goodall, now 83, and the primates with whom she bonded and did groundbreaking research, and the romance with Dutch filmmaker Hugo van Lawick, sent by National Geographic to Gombe in 1962 to document Goodall's work.
But, ultimately, said director Brett Morgen, the film is a love story "between a woman and her vocation."
Morgen, who has crafted nonfiction portraits of such pop culture figures as Robert Evans and Kurt Cobain, was commissioned by National Geographic Documentary Films to make a new movie from a rediscovered bounty of unseen 16mm footage made by Van Lawick, to whom Goodall was married from 1964 to 1974.
"The historical value of Hugo's footage is second only to me to the NASA moon landing," said Morgen, noting Goodall's observation of the chimpanzees' use of tools, among other breakthroughs in her intimate studies. "What he was able to capture was something that had never happened before in the history of civilization, and it would never happen again, and it was also captured in such an artful and cinematic way."
The vibrant scenes are intercut with Morgen's own conversation with Goodall, filmed by cinematographer Ellen Kuras. Like the filmmaker, the anthropologist was at first reluctant to engage in the project. "She made me work for it," Morgen said. He made progress in their interview once he showed Goodall a sequence of herself and Van Lawick falling in love, which she had not seen before. Then, he recalled, "We had this wonderful day."
Although "Jane" flashes back more than 50 years, Morgen suggests that its subject has never been more relevant.
"We were at the Hollywood Bowl the other night in the shadows of [Hollywood producer] Harvey Weinstein's scandals," Morgen said. "And I see Jane walking down the carpet with a little girl dressed up as her, and the contrast was just too much."
"Whose Streets?"
Sabaah Folayan first went to Ferguson, Mo., a month after the Aug. 9, 2014, police killing of Michael Brown Jr., an unarmed black teenager, set off waves of protest in the St. Louis suburb.
She had to discard her plan to write about the long-term traumatic effects of such events on protesters and police. "It was so chaotic and so fight-or-flight," Folayan said, that the only way to keep up was to start filming. "Whose Streets?" which takes its name from a popular chant, became an inside-out look at Ferguson through the lives of several key activists, confronting institutional racism and police crackdowns.
It was a dramatic introduction to filmmaking for Folayan, who also worked closely with Damon Davis, a St. Louis-based multimedia artist, who co-directed. "Through the documentary community, I got a boot camp for a first-time filmmaker as we were making the film," she said.
To give punch and immediacy, the filmmaker used extensive footage that had been taken on cellphone cameras and posted on social media, drawing on the example of Jehane Noujaim's Egyptian revolution documentary "The Square." That also gave editor Christopher McNabb a Herculean task.
"We had joked back when we were still in production that he was going to have to edit a movie made completely out of Vine clips," Folayan said. Significantly, McNabb was able to create a consistent perspective from the vantage point of the protesters. One rule she adhered to was to never use the protests as fodder for a B roll, which is common in televised reports. "Our biggest asset was our unique perspective and the powers and experiences we were bringing into the situation," she said. "We leaned into that trusting that it was going to turn out well.'
"The Work"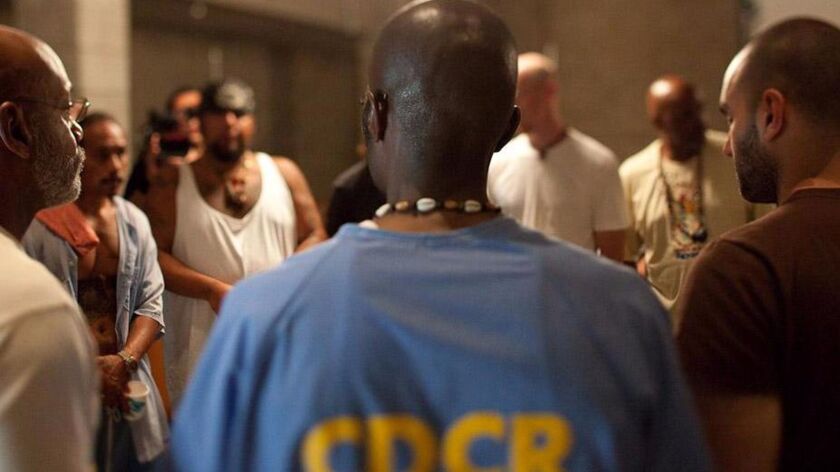 Locked away inside the maximum-security walls of New Folsom Prison, heavily tattooed men convicted of violent crimes find spiritual release in a group therapy program that brings even the toughest gang member weeping to his knees.
The men are part of a program called the Inside Circle, originated two decades ago by a former Folsom inmate. "The Work," which won the Grand Jury Prize for documentary this year at the South by Southwest Film Festival in Austin, Texas, takes audiences into the volatile core of a four-day session. The film captures one of the two times a year that men from outside the prison are invited to join the inmates' circles, which smartly provides surrogates for the viewer.
"There's a sort of magic that shows up when people start telling the truth authentically," said Eon McLeary, a producer of the film along with his brothers Miles and Jairus, who also directed, with the later addition of co-director Gethin Aldous. The brothers had participated in Inside Circle programs for years before they shot inside Folsom in 2009, connected through their father, James McCleary, chief executive of the foundation and a leader of the sessions.
The bare-bones production languished for years as the brothers sought funding with no strings attached. "It got dire," Miles McLeary said.
But the production lapse had an unexpected benefit. By the film's SXSW premiere, several of its subjects had been paroled and now appear at screenings.
"The program was instrumental in saving my life," said Eldra Jackson III, a former gang member and inmate known in the film as "Vegas," who served 24 years and now is a family man and business owner. "Prior to that, I was a self-styled machine."
Jackson, who plays a key role in the documentary's most quietly intense scene, credited the filmmakers with conveying the essence of the "the work," not only the hyper-masculine tension in the room.
"Can spirit translate in film," he asked, expressing a concern that the movie powerfully satisfies, "or will people outside see this and say, 'Oh my God, it's just a bunch of maniacs in there running around yelling and screaming and hollering for no good reason, that's why they're locked up, keep them in there.'?"
See the most read stories this hour »
ALSO
WATCH: Video Q&A's from this season's hottest contenders
Filmmakers Agnes Varda and JR turn to the common man to find heroes in 'Faces Places'
'The Final Year' captures the closing stretch of Obama's presidency — and the rise of a new order
---
From the Emmys to the Oscars.
Get our revamped Envelope newsletter, sent twice a week, for exclusive awards season coverage, behind-the-scenes insights and columnist Glenn Whipp's commentary.
You may occasionally receive promotional content from the Los Angeles Times.