A welcome wave of prestige gay cinema could wash up on Oscars' shores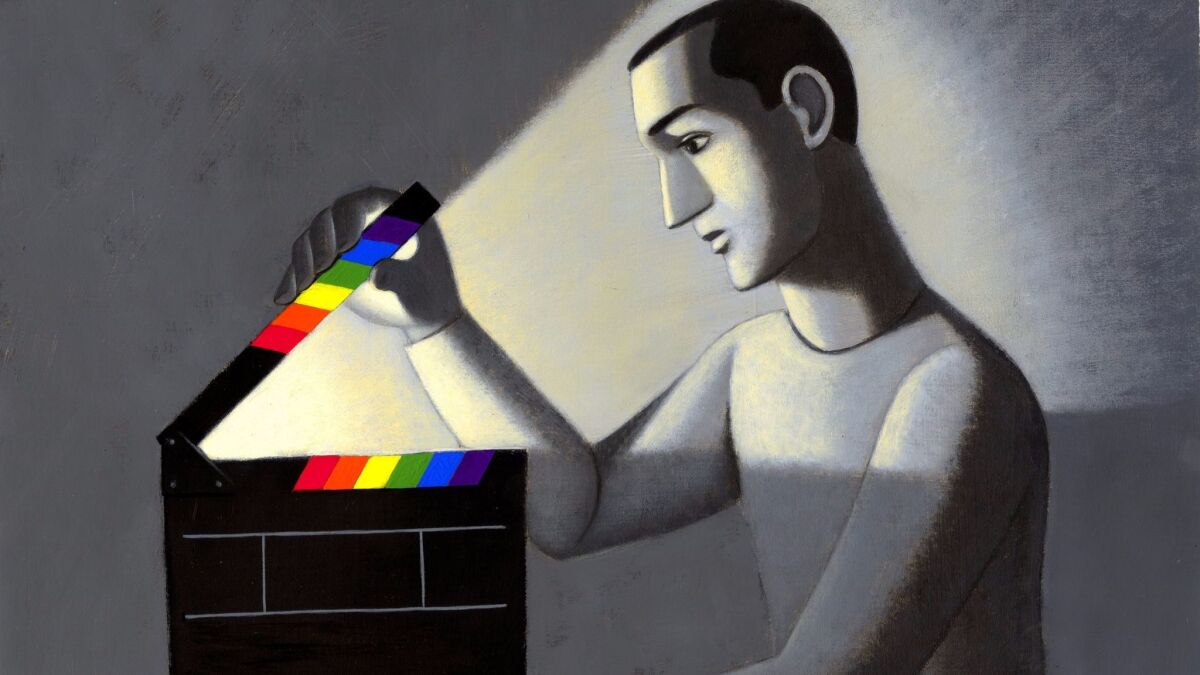 This year marks something of a remarkable comeback for high-profile LGBTQ films. While modern classics of the genre such as "Brokeback Mountain," "Milk" and last season's best picture winner, "Moonlight," have made history at the Oscars, it's almost always been in a singular vacuum. This time around, there are a handful of such narrative movies making their way into the 90th Academy Awards conversation in some form.
For Italian director Luca Guadagnino, a publicly out filmmaker, the seeming deluge in new prestige gay cinema actually began a decade ago with the pioneering effect of "Brokeback Mountain," which he notes, "was impossible to be made until they made it."
"Then I think it's like a wave. It hits the shore and then goes away and then comes back," Guadagnino says. "I also think it's about how TV may have changed our perspective on what is possible to say and what is impossible not to. TV has become very full of daring narratives."
WATCH: Video Q&A's from this season's hottest contenders >>
This year's outpouring of LGBTQ movies began in January at Sundance when Guadagnino's tender coming-of-age drama, "Call Me by Your Name," became the most acclaimed premiere at the festival and Francis Lee's "God's Own Country," a dramatic gay romance, earned its share of critical praise as well. In February, Sebastián Lelio's "A Fantastic Woman," Chile's transgender-themed Oscar entry, won a screenplay prize at the Berlin film festival, and by the end of that month, Barry Jenkins' "Moonlight," the story of a young boy's self-discovery through three phases in his life, had pulled off its surprise — if somewhat confused — best picture triumph. In May, the Cannes film fest saw Robin Campillo's "BPM (Beats Per Minute)" take the second place Grand Prix honor; the period ACT Up drama is now France's official Oscar submission.
The fall festival circuit has brought such newcomers as "Battle of the Sexes," which focuses on a pivotal moment in the life of tennis great Billie Jean King, and Lelio's second film of the year, "Disobedience," about the life-long bond between two women. Tali Shalom-Ezer's "My Days of Mercy," with Ellen Page and Kate Mara, earned strong notices, and Angela Robinson's "Professor Marston and the Wonder Women" tackled the story of one of the most influential and yet little known threesomes in pop culture history. And this is not even taking into account contenders that showcase major gay characters, such as Giles, played by Richard Jenkins, in Guillermo del Toro's December release, "The Shape of Water."
Guadagnino originally came on board "Call Me by Your Name," another December release, as a producer and, with his partners, struggled to find financing for the film about a young gay man. He notes, "It cost $3.5 million, which is nothing, and I try to make it for more. There was someone who was eager to [put more investment] in the movie if we were willing to rewrite the script and make the mother into a villain — because misogyny is another big issue."
While it was a fight to get "Call Me" to the screen, Lelio had a markedly different experience with "A Fantastic Woman," thanks to the success of his previous film, "Gloria." Set in his native Chile, "A Fantastic Woman" centers on a transgender woman, portrayed by newcomer Daniela Vega, who deals with the unexpected prejudice of her lover's family after his death. "Disobedience" takes place in a predominantly Orthodox Jewish neighborhood in London where Rachel Weisz and Rachel McAdams are long-lost lovers reunited during the most trying of times. Bleecker Street acquired "Disobedience" for a 2018 release, while Sony Pictures Classics will open "A Fantastic Woman" in limited release later this month.
Lelio believes that cinema reflects what is going on in the fabric of society and that the interest in these stories could be a reaction to the recent global political surge back "toward the Middle Ages."
"This idea of walls, segregation, labels and 'You against us' and 'We are superior and you are inferior,'" Lelio says. "Which people are legitimate? Which relationships are legitimate or not, who declares that under which authority? These are things that are hugely important [whether or not about LGBTQ subjects]."
One of Del Toro's first professional credits was as executive producer of "Doña Herlinda and Her Son," which arguably featured the first same-sex couple in modern Mexican cinema. That film cost just $5,000 in 1985, and while it's obviously a different economy today, Del Toro believes the volume of new LGBTQ works in the prestige landscape is impressive.
"For the right stories with the right power, it never gets easier, but you really need to stick by them and set the rules to do them the way you want it," Del Toro says. "It's always incredibly important to keep diversity in stories, because I think in the banquet of film, you don't want to cater to only one flavor. You should truly seek stories that matter to you, no matter what the financial hardships may be."
"Professor Marston's" Robinson recalled being on a panel about gay film a few years ago and the discussion centered on "How are we going to move beyond the coming out story?" Her own movie, about the creator of Wonder Woman, along with his wife and live-in girlfriend, admittedly pushes the boundaries of what audiences expect, and she was heartened by the response when they started testing it.
"People were preparing me for there to be push-back just on the content alone. You go through this process of test screening your movie for audiences, and we tested really high," Robinson says. "And that was surprising to me. I tried to tell a pretty straightforward love story about unconventional people, and it's being embraced as such, and that's gratifying."
No matter how LGBTQ films fare during awards season, Guadagnino is hopeful that movies such as "Moonlight" and his own prove that there are other powerful stories about this community that still need to be told.
"What is a gay movie? What isn't a gay movie? Either it's a coming-of-age or a tragedy," Guadagnino says. "If my movie helps to not go in that direction, but actually to make movies about love and desire? If Barry Jenkins' movie helps people think of the landscape of a portion of society through the lens of a very highly beautiful aesthetic, that's great."
See the most read stories this hour »
From the Oscars to the Emmys.
Get the Envelope newsletter for exclusive awards season coverage, behind-the-scenes stories from the Envelope podcast and columnist Glenn Whipp's must-read analysis.
You may occasionally receive promotional content from the Los Angeles Times.