Story issues and scheduling changes were no match for the superheroes of 'Incredibles 2'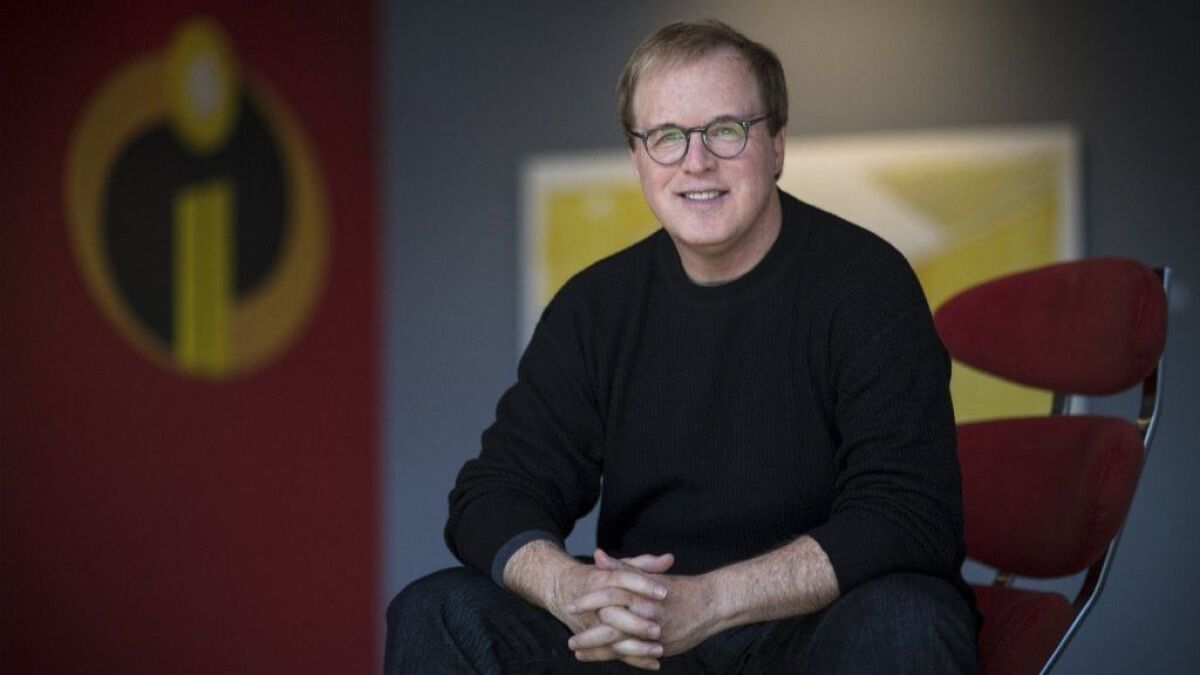 The 2004 Pixar film "The Incredibles" won the Oscar, made a mint and routinely lands on lists of best animated films ever. But the pressure to make a super-family sequel wasn't only from the studio and fans, says writer-director Brad Bird.
Samuel L. Jackson, who voices Incredibles super-ally Frozone "was acting like we were slam-dunk doing a sequel long before I was saying it," says Bird, laughing. "I'd hear about it or run into him at some event, and he'd be like, 'So I'm tellin' people we're doin' it. We're doin' it, right?' "
And of course they did do it, 14 years after the original. Apart from its other considerable bells and whistles, " Incredibles 2" flips the dynamic of the first film to place supermom Helen/Elastigirl (Holly Hunter) front and center. In the process, she emerges as one of the big screen's most hardcore superpeople, easily outdistancing Mr. Fantastic or any other stretchy hero to whom she could be compared.
"A lot of people assume I was responding to what was going on now," says Bird of making a woman the main hero in this age of consciousness-raising movements such as #TimesUp. "No. The role switch, I had that idea when I was pushing the first movie. She's the same character she was when she said, 'Settle down? Why would I settle down? Leave the saving of the world to the men? I don't think so.' She kind of put that [side of herself] to bed for a while when she was taking care of the family. But it's in there; that's her. And in this movie, it gets to come out."
The process of filmmaking is often described as "hurry up and wait." For "Incredibles 2," it was "wait a really long time, then hurry up, hurry up, hurry up!" Why did it take so long to get started, and then get made so (relatively) quickly?
"I'd love to sound like I knew what I was doing," says a now-relaxed Bird, enjoying a sunny afternoon by the pool at a Hollywood hotel. "The truth is, I had two-thirds of it for a long time. I had the role-switch idea and the unexploded bomb of [infant] Jack-Jack, where the audience knew he had multiple powers and the family didn't. But I didn't have the sort of superhero/villain plot. Finally, I pitched it and everyone liked it and we got in gear. … Then they took a year off our production because our idea was a little better formed than [fellow Disney/Pixar production] 'Toy Story 4' at that point. Suddenly, it's looming ahead of us. And then the villain story didn't work; it was too complex and didn't serve the role switch, which was the heart of the movie. I have a release date and a crew going, and all these expectations, and I don't have that part of the story.
"Then it becomes a panic of, 'We've got a year taken off our schedule and it's coming at us like a freight train.' It's not fun to do that, but there is adrenaline going for you."
REVIEW: 'Incredibles 2' is the superhero family saga we need right now »
"Incredibles 2" went on to earn rave reviews (currently 94% on Rotten Tomatoes) and become the highest-grossing animated film in domestic history. With its spectacular, ingenious action, one could argue it takes its place among the best superhero movies — not just animated superhero movies.
Bird points out Elastigirl's inventive heroics are "in service of her solving unique problems. I like it when you see heroes being clever. That's why I like 'Die Hard' — it's a cat-and-mouse game and both sides are really smart.
"Of course, we've got Holly Hunter too, which is our own superpower we like to rely on."
Yet it's not the big set-piece action sequences Bird remembers most fondly; it's quiet, grown-up moments, such as between Helen and superdad Bob/Mr. Incredible (Craig T. Nelson).
"I like the scene with them in bed when they're just talking because you can see what they're thinking," he says. "She's kind of aglow because she's being seen for what she can do again. He wants to be supportive but there's a childish part of him that is competitive and thinks he's always the best guy for the job. He's at war with himself. The fact that all those things are popping under the surface — it's there vocally and it's in the sophisticated animation. It's funny and, I think, kind of real."
FULL COVERAGE: Get the latest on awards season from The Envelope »
From the Oscars to the Emmys.
Get the Envelope newsletter for exclusive awards season coverage, behind-the-scenes stories from the Envelope podcast and columnist Glenn Whipp's must-read analysis.
You may occasionally receive promotional content from the Los Angeles Times.