John Boyega on the realities behind 'Detroit': 'The whole thing was pretty shocking'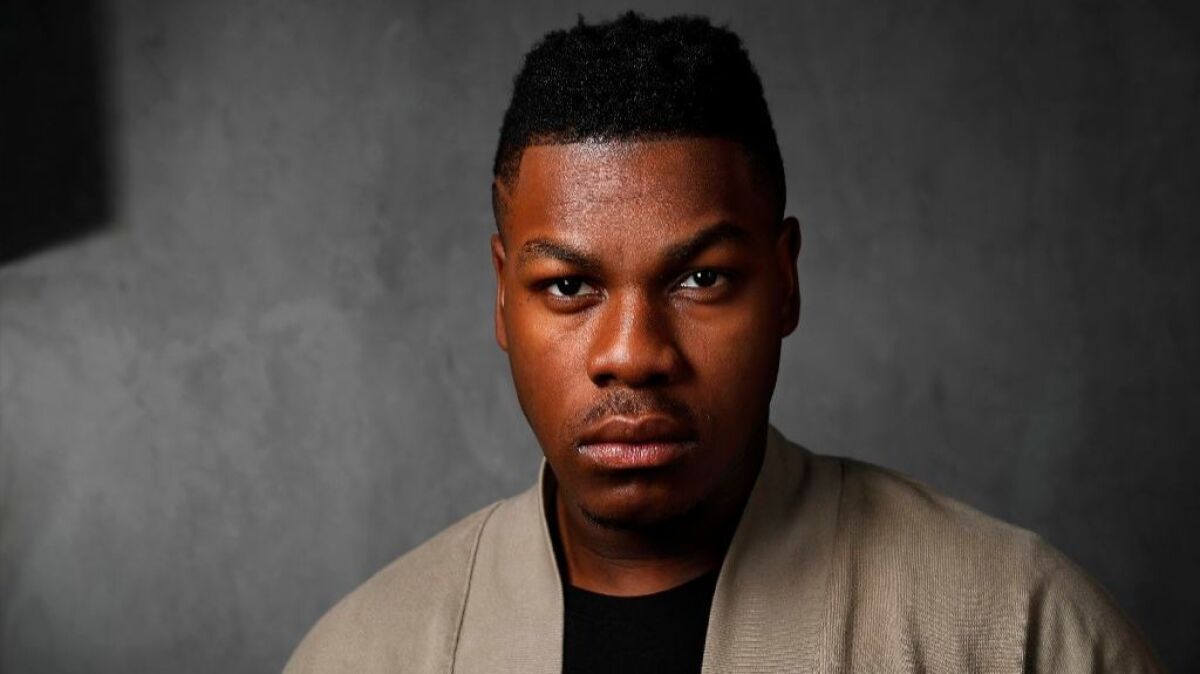 This past March, after shooting "Star Wars: The Last Jedi," "Detroit" and "Pacific Rim: Uprising" almost back-to-back-to-back, John Boyega didn't immediately jump onto the next studio tentpole that came his way or consider taking a vacation. Instead, he went back to his roots to recharge. He starred in a new incarnation of Georg Büchner 's "Woyzeck" in London's West End to "just get warmed up again."
"Theater is a great opportunity where you can mix day-to-day work with the training," Boyega says. "You go back to learning about your voice, about pitch, about diction. You go back to the basics of what an actor is, and the basic training for me was just trying to get both at a time I was really busy."
The 25-year-old actor had just five days off between Rian Johnson's "Star Wars" installment and Kathryn Bigelow's historical drama "Detroit," which came out in August. At no point during our interview did Boyega ever roll his eyes, but when asked if it was hard to transition so quickly between such starkly different projects his answer seemed to convey a similar reaction.
"They are so distinct. It's a no-brainer, really. Space. Detroit," Boyega says with a slight smile. "Some actors make it sound more complicated than it really is, man. You have a set project with two different narratives. The costumes and creative team are different. They are also distinctly professional in their own rights, that makes it an easier transition for you."
WATCH: Video Q&A's from this season's hottest contenders »
In "Detroit," Boyega plays the real-life Melvin Dismukes, a security guard who got caught up in the infamous Algiers Motel incident that took place during the Detroit riots of 1967. Dismukes was asked to assist by Detroit police officers who were investigating what they believed to be shots fired from the motel at police and National Guardsman across the street. Three black men died in the search. Bigelow stages the events with an artful tension, portraying Dismukes as a man caught in the middle of a dangerous situation he cannot stop or escape from.
Boyega wasn't able to meet Dismukes, but they did have a significant phone conversation before filming began. Boyega recalls, "We spoke about loads of things, his childhood, growing up. And then we started getting into the nitty-gritty of what actually happened that night."
The actor came away with a new perspective on the man and his character.
"I think the whole thing was pretty shocking, what he went through," Boyega says. "Especially the backlash after the whole thing was done and him having to move out of Detroit for a short amount of time just to get a breather from all the negativity coming his way. It was sad and unfortunate."
"Detroit" trailer starring John Boyega, Will Poulter, Algee Smith, Jason Mitchell and John Krasinski.
In his relatively short career, Boyega has already worked with the aforementioned Johnson, Joe Cornish ("Attack the Block") and J.J. Abrams. All celebrated filmmakers in one aspect or another. How Bigelow handled her set and her actors, however, was a completely different experience and one that Boyega seemed to relish.
"She's the only director I've worked with that deals with complete freedom for actors," Boyega says. "The technical world doesn't really have any influence over your day to day acting whatsoever. You just be and live in the character and she says the camera will capture you or follow you. You just walk on to a set and you live your life like this character; she just feels you."
Bigelow would let scenes run for pages and then keep the camera running even when the sequence was completed. Boyega says he never recalls hearing her say "cut" and a lot of the time the actors just stopped because it made sense to. He compares the experience to immersive theater. The actors performed the scene in the environment, often with little knowledge of where the cameras were in relation to the scene itself.
Since "Detroit," Boyega has spent more time as a producer for the upcoming "Pacific Rim" sequel, which he also stars in, than he originally foresaw. That is often the reality of forming your own production company to foster new projects. But that's OK, because he sounds like he's constantly in search of doing the unexpected thing with his career anyway.
"I ask [my reps] to look at nothing normal," Boyega says. "Nothing that people would say, 'Yeah, yeah, I'm sure he'd do that after that.'"
Get our L.A. Goes Out newsletter, with the week's best events, to help you explore and experience our city.
You may occasionally receive promotional content from the Los Angeles Times.