John Cho finds the vulnerability in the gripping low-budget thriller 'Searching'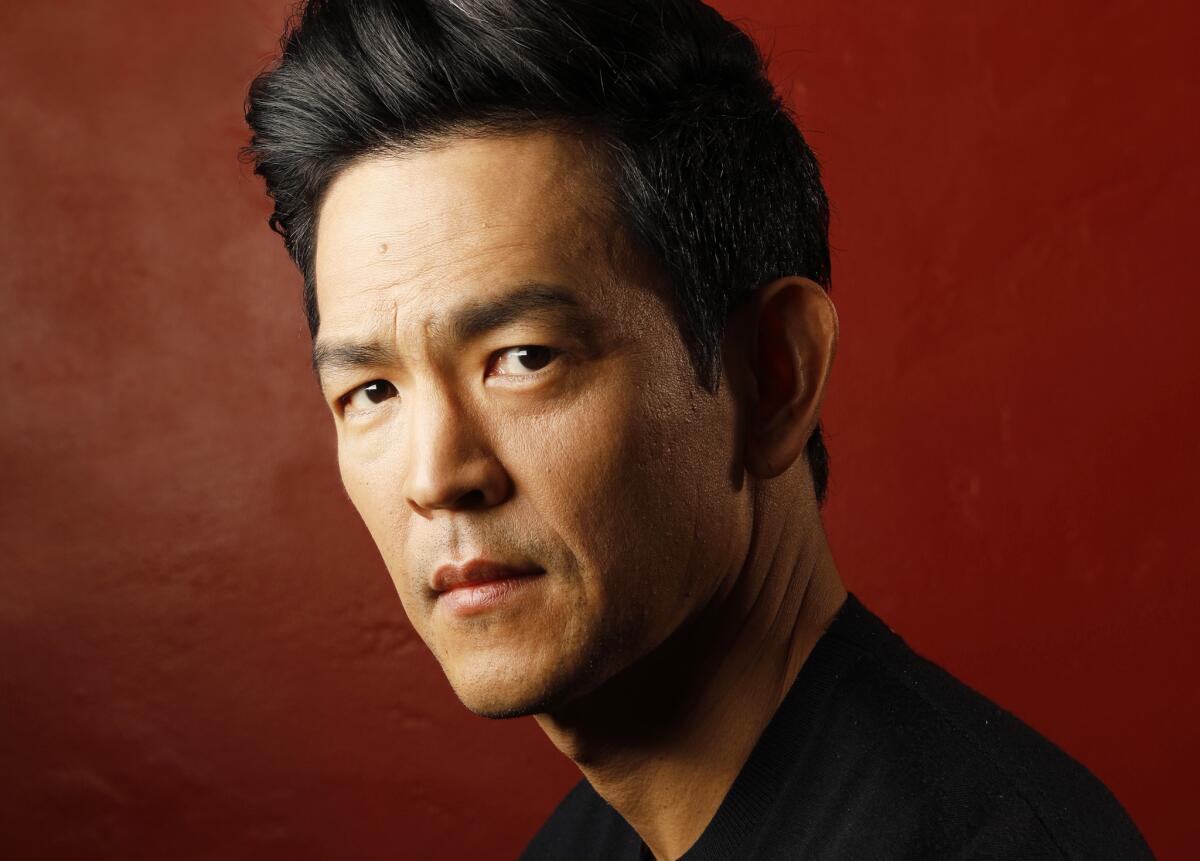 From the outside, it might appear that John Cho planned his career this way, establishing himself as a wry comedic presence in mainstream hits like "American Pie" and "Harold & Kumar Go to White Castle" before seguing into more serious fare with acclaimed recent indies such as last year's "Columbus." But as the 46-year-old actor relaxes at a Beverly Hills restaurant, he explains that the shift wasn't strategic. He was just responding to where he was personally.
"I got married, I had kids," he says simply. "I think I was in a less-light stage of my life. It's funny: When you have kids, along with a sense of life comes an equal understanding of mortality — which sounds heavy and philosophical, but I mean it in the most matter-of-fact way. I'll look at how great this is, and it will end — I know this to be true, and it's terrible. It's bitter because it's so sweet."
That fear of losing loved ones powers "Searching," this summer's gripping low-budget thriller in which Cho plays David, a father who's still mourning his recently deceased wife when his strong-willed teenage daughter (Michelle La) goes missing. "I saw it as a story about two people grieving for the same person in different ways," Cho says. "And, unfortunately, they weren't grieving together. That's the first time he loses his daughter — the second time is when she physically is missing."
The late-summer film earned Cho a nomination last month for the Independent Spirit Awards. But long before the accolades, he had to wrap his head around the movie's daring conceit: First-time feature filmmaker Aneesh Chaganty dramatizes David's anguished search entirely from the perspective of computer screens and FaceTime. Essentially, Cho would have to perform a one-man show as his character trawls the web and social media for clues. Chaganty trained a camera close to Cho's face while he looked at a blank screen, the director telling him what was happening at that moment in David's online investigation.
Cho's performance is arresting and vulnerable, but it was a lonely experience. "It was a bummer to not have eyeballs, a human face, [to work off]," he says. "I just think it's the best way to get to a performance, by looking at a person. I couldn't rely on any bag of tricks. It kept me on my toes." With a good-natured laugh befitting his modest, easygoing manner, he confesses, "I resented it while we were doing it."
Born in Seoul, South Korea, Cho immigrated with his family to the States when he was 6. ("We didn't have a refrigerator," he recalls of his South Korean childhood. "We didn't have a toilet in our house.") Notably, generational conflict underpins both "Searching" and "Columbus," the small-scale 2017 drama that tells the story of a restless young man preparing for his estranged father's imminent death. "They're both at their heart parent-child stories," Cho says.
As for his relationship with his own father, Cho attributes his interest in acting to his dad's profession. "My dad was a preacher," he says, "so there's a performance aspect in what he does. The fun of staying in the world of words maybe is some connection to my father too."
I wanna be around the same people all the time. But in my professional life, I like jumping around. I don't even wanna sign a TV contract.
— John Cho
His family moved several times, and that nomadic lifestyle informed his later calling as well. "I'm so shy and I hated moving," he says. "But I feel like the experience of moving — of migration and the anxiety of that — is a central trauma of my life, and that I have chosen this career to master that anxiety. I'm always in a new situation meeting 100 new people and having to become very intimate very rapidly — which, emotionally, I don't like doing. I wanna be around the same people all the time. But in my professional life, I like jumping around. I don't even wanna sign a TV contract."
2018 has been a banner year for Asian American cinema, with "Crazy Rich Asians" emerging as one of summer's biggest smashes and "Searching" becoming, as Vanity Fair pointed out, "the first mainstream, contemporary thriller headlined by an Asian-American actor." Being a personal trailblazer matters less to Cho than the fact that "Searching" featured a Korean family — a rarity in Hollywood. Even so, he didn't anticipate how moved he'd be at the film's premiere at Sundance, where this scrappy, surprisingly affecting indie was scooped up by Sony.
"I was watching people watch the movie," he recalls. "Obviously, I've seen myself on screen, and I am Asian, but this was a different feeling because it was a [Korean] family. And for some reason, that made a big difference to me, because that family very much resembled my own both physically and how they related to one another."
FULL COVERAGE: Get the latest on awards season from The Envelope »
From the Oscars to the Emmys.
Get the Envelope newsletter for exclusive awards season coverage, behind-the-scenes stories from the Envelope podcast and columnist Glenn Whipp's must-read analysis.
You may occasionally receive promotional content from the Los Angeles Times.