Jonny Greenwood shifts gears from contemporary to 'sincerely romantic' for 'Phantom Thread' score
The first piece of music in Paul Thomas Anderson's "Phantom Thread" is a bed of icy notes, full of friction. Ah, yes, you think — this is a Jonny Greenwood score.
But then a lush, romantic piece for piano and strings flows in like a river of champagne, introducing the glamorous house of couture designer Reynolds Woodcock, and all preconceived ideas about Greenwood fly out the window.
"It was daunting, because I knew that it couldn't be ironic or pastiche," says Greenwood, by phone from Oxford, England. "If I'm presented with an orchestra, I'm always most keen to look at contemporary techniques, and that's obviously not going to work on a film like this. It had to be sincerely romantic, which is as awkward for me to talk about now as it was to actually sit and do."
The score earned Greenwood his first Oscar nomination.
Still best known as lead guitarist for Radiohead, the 46-year-old Brit has carved a distinctive and lauded side career as a film composer since 2007, when he scored Anderson's "There Will Be Blood." The pair followed with "The Master" and "Inherent Vice." In each film, Greenwood has explored the darker side of obsessive men with often tense, eerie, emotionally muddled orchestral writing that complements and complicates Anderson's storytelling.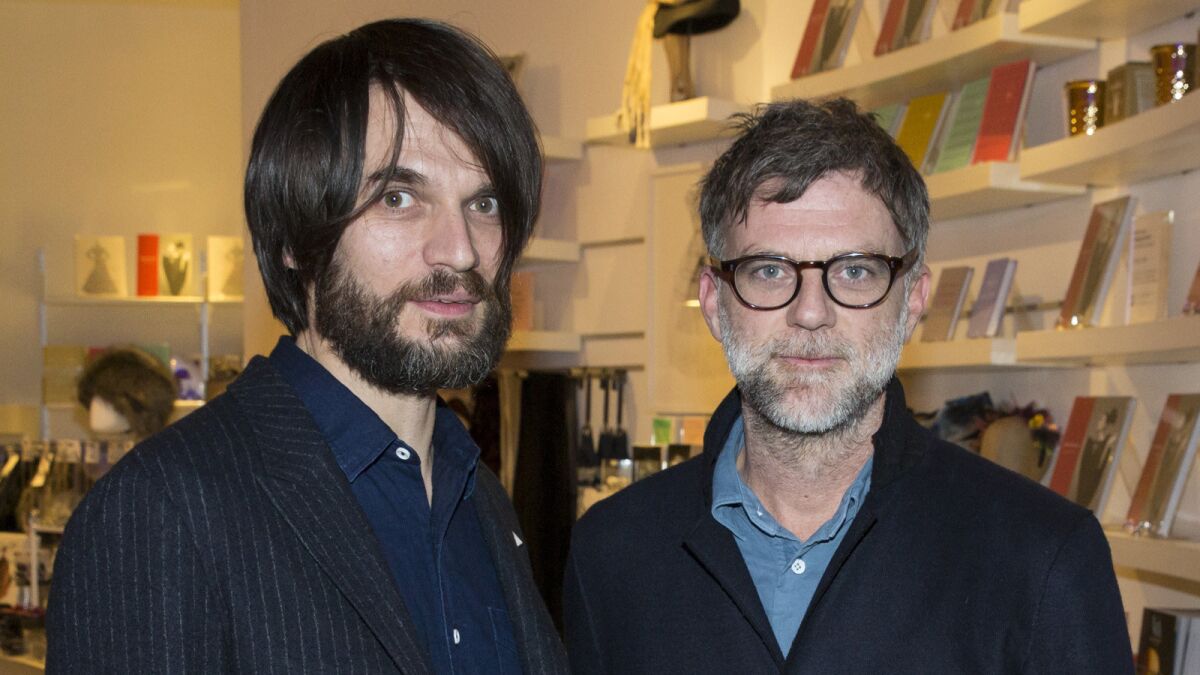 WATCH: Video Q&A's from this season's hottest contenders »
There is emotional complexity in "Phantom Thread," especially as the film progresses, but the director began the process by sending Greenwood elegant pieces by Debussy and Brahms, and jazz standards with silky arrangements by Nelson Riddle, for inspiration. (Many of them remained on the soundtrack alongside Greenwood's score — ironically, "There Will Be Blood" was disqualified from Oscar consideration because it was "diluted by the use of pre-existing music.")
"Obviously, I was familiar with the script and where it was going to go, and my first suggestions of stuff I sent him were all quite Messiaen-like and complicated, and all slightly dark," Greenwood says. "I remember him saying, 'You've got to start the film with some optimism and some beauty in it. It's an amazing house, and there's going be these great dresses.'"
Greenwood has dubbed himself the "arranger" of Radiohead and was already familiar with Riddle's book on the topic.
"Arrangements is what makes this job so interesting," he says, "sitting with paper and thinking about that stuff. It's fun. It's exciting. So I read that book a lot and just tried to think about that mindset of romantic music and how it should sound."
For the main character, played by Daniel Day-Lewis, Greenwood imagined music that Reynolds might listen to himself.
"I just decided it would be Glenn Gould and those old Bach recordings," he says. "I figured if he listened to anything, it wasn't going to be jazz and it wasn't going to be frivolous. It was more likely to be baroque music, so I wrote some really empty piano music for his character."
That theme grows ever more operatic as the film develops in an unexpected and slightly twisted direction.
Paul was always saying, 'Don't forget that this story has got a hint of the vampire to it.'
— Jonny Greenwood
"Paul was always saying, 'Don't forget that this story has got a hint of the vampire to it,' " Greenwood says. "You've got the strange older man living in the big house, luring the girls from the village to come and be with him. It's all quite sinister. There's something otherworldly about it as well. Hence the darker string things that come in later."
For Alma, the deceptively strong-willed waitress-turned-mistress played by Vicky Krieps, Greenwood went full-on amorous.
"I just wanted music that made your heart feel as fluttery as hers," he says. "I'm blushing talking about it, but that was the idea."
The score was recorded in London with a 60-piece string orchestra and with a separate chamber-size ensemble. Greenwood performed much of the piano himself.
"Phantom Thread" continues a special, symbiotic relationship between composer and director. Greenwood wrote half of his score away from the film, based on story themes or scenarios, and the other half more to measure. Anderson frequently edited the film to fit the music, rather than the other way around.
"I get the feeling I'm pretty blessed to be doing it for him and that that's not a very normal way to work," Greenwood says. "But it seems like it should be a good way to work."
---
Get our L.A. Goes Out newsletter, with the week's best events, to help you explore and experience our city.
You may occasionally receive promotional content from the Los Angeles Times.