Maggie Gyllenhaal explores confusion and obsession in 'Kindergarten Teacher'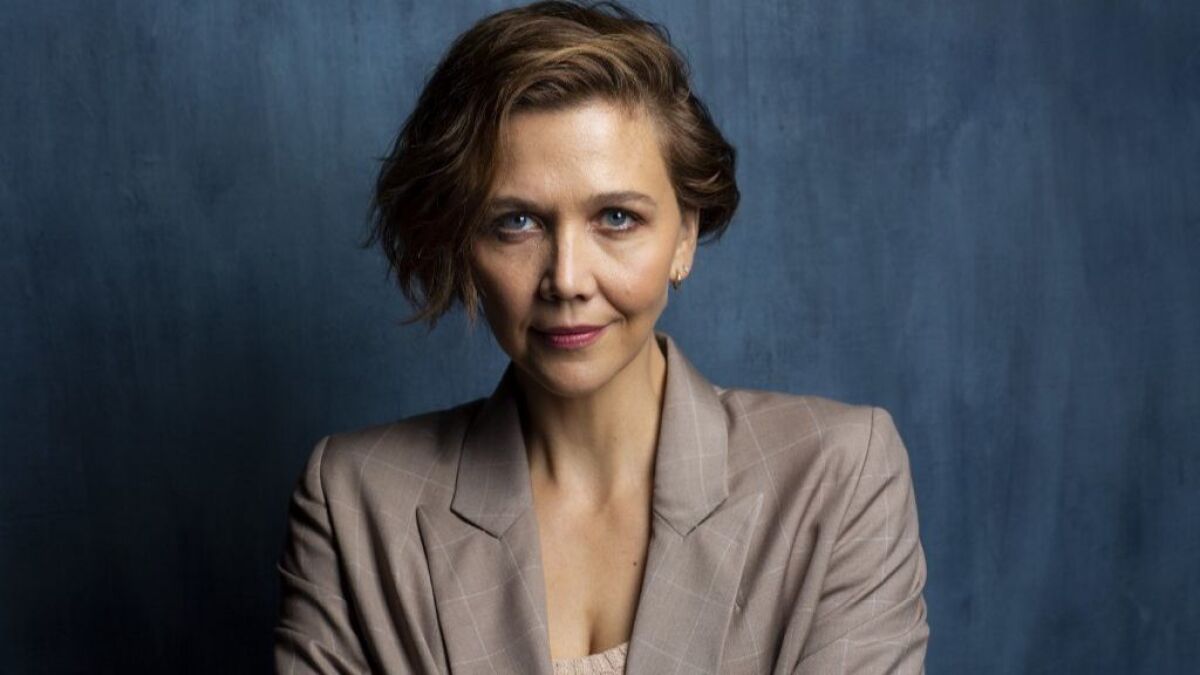 Considering how decidedly "everyday" she appears as Staten Island wife, mom and educator Lisa Spinelli in the offbeat drama "The Kindergarten Teacher," Maggie Gyllenhaal looked every inch the movie star — oversize sunglasses and all — when she walked onto the restaurant patio at the Hotel Bel-Air recently to discuss her complex role in the Netflix release.
But when the glasses came off, revealing her now-familiar blue, saucer eyes and wide, heart-shaped face, Gyllenhaal proved warm, thoughtful and frankly sensible as she ordered a light brunch and explained what drew her to play a kindergarten teacher who becomes obsessed with a gifted, poetry-composing student, Jimmy (Parker Sevak).
"Maybe I was 38 or 39 when I first read [the script] and I was, like, 'That's the 39-year-old version of what I'm interested in.' Of course, what I'm interested in changes all the time," said Gyllenhaal, a supporting actress Oscar nominee for 2009's "Crazy Heart."
FULL COVERAGE: Get the latest on awards season from The Envelope »
She considers Lisa, a stifled intellectual who goes to cringe-worthy lengths in her quest to nurture little Jimmy's artistic talent, perhaps "more extreme" than other people she's played. That's saying a lot for an actress who has portrayed a sexual submissive in "Secretary," a recovering heroin addict in "Sherrybaby" and a sex-worker-turned-porn actress-turned-porn-director on HBO's acclaimed "The Deuce," whose third and final season she begins filming this winter.
"I was always uncomfortable in her skin," Gyllenhaal said of playing Lisa. "It was not a comfortable experience making the movie." Easing that somewhat was the fact that it was "an astoundingly short shoot — 22 or 23 days," the actress recalled. "And in Manhattan! That's intense. That's, like, no joke."
Gyllenhaal, also a producer on the film, was intrigued by the case of Lisa's unraveling: "What does it look like for a regular woman, a woman who could be your friend, your neighbor, your sister, to really fall apart; someone who's not fundamentally mentally ill, but who loses it?" Pausing to butter a croissant, she asked, "Aren't we all at risk of losing it? And also, isn't it, in some way, a necessity of being alive to lose it?"
Still, there was the challenge of making the troubled, increasingly desperate Lisa, who Gyllenhaal calls "a vibrant woman whose mind is starved," accessible and relatable — much less sympathetic — to an audience. This is especially true since the script, adapted by director Sara Colangelo from the 2014 Israeli film of the same name, wittingly eludes easy answers about Lisa's emotional state, past or present.
"Of course, I don't sympathize with any of the things she does that crosses boundaries, but I do sympathize with being deeply confused," Gyllenhaal said. "I do sympathize with being brought up in a culture that fundamentally doesn't embrace some huge aspect of the feminine experience and the ways in which women have twisted ourselves into pretzels to fit into a culture that doesn't totally have space for us."
One aspect of the feminine experience that played a key role for Gyllenhaal in making the movie was motherhood. As the parent of a child who was, at the time of filming, the same age as budding poet Jimmy, the actress was able to draw upon firsthand, up-to-the-minute knowledge: "I think it's hard to remember what it's like to be 5, the degree of vulnerability, the difference in the way a 5-year-old's mind works, unless you're living with a 5-year-old every day — and I was."
Envelope Live screening series: 'The Kindergarten Teacher'
On Now
A deep dive into the poetry of 'The Kindergarten Teacher'
On Now
Maggie Gyllenhaal on how Donald Trump's election influenced 'The Kindergarten Teacher'
On Now
Maggie Gyllenhaal reveals the benefits of releasing 'The Kindergarten Teacher' on Netflix
On Now
Maggie Gyllenhaal on what makes 'The Kindergarten Teacher' 'undefinable'
On Now
Maggie Gyllenhaal reveals 'The Kindergarten Teacher' was shot in just 22 days
On Now
Maggie Gyllenhaal shares the most surprising reactions to 'The Kindergarten Teacher'
Gyllenhaal added, "Our three [other] producers, Sara, me, we're all the mothers of young children, and I think that our sensitivity because of that, to Parker's experience [playing Jimmy], had a huge effect on the way we shot him."
The actress further helped delineate her stunted character through often cautious wardrobe choices that favored flowy skirts and peasant blouses or, what she calls, "those awful clothes."
"I think [Lisa] is someone who wants to look good," Gyllenhaal said. "She's not really, like, hiding her body, but I think she's someone who wasn't able to grow up and blossom. I think they're the same clothes she wore in college; like she couldn't become a woman. She still has a sexuality about her and a sensuality about her, but it's young."
Ever since her fearless portrayal in 2002's "Secretary," Gyllenhaal has maintained a reputation as an actress willing to take serious risks, with her turn as Lisa, which L.A. Times critic Justin Chang called a "brilliantly discomfiting performance," being no exception.
"I do want to 'go there,' " Gyllenhaal said. "I do want to have a challenge; I do want to push the edges of what I know about myself inside my work."
From the Oscars to the Emmys.
Get the Envelope newsletter for exclusive awards season coverage, behind-the-scenes stories from the Envelope podcast and columnist Glenn Whipp's must-read analysis.
You may occasionally receive promotional content from the Los Angeles Times.