'Logan's' Patrick Stewart and James Mangold on challenging the preconceived notions of superhero movies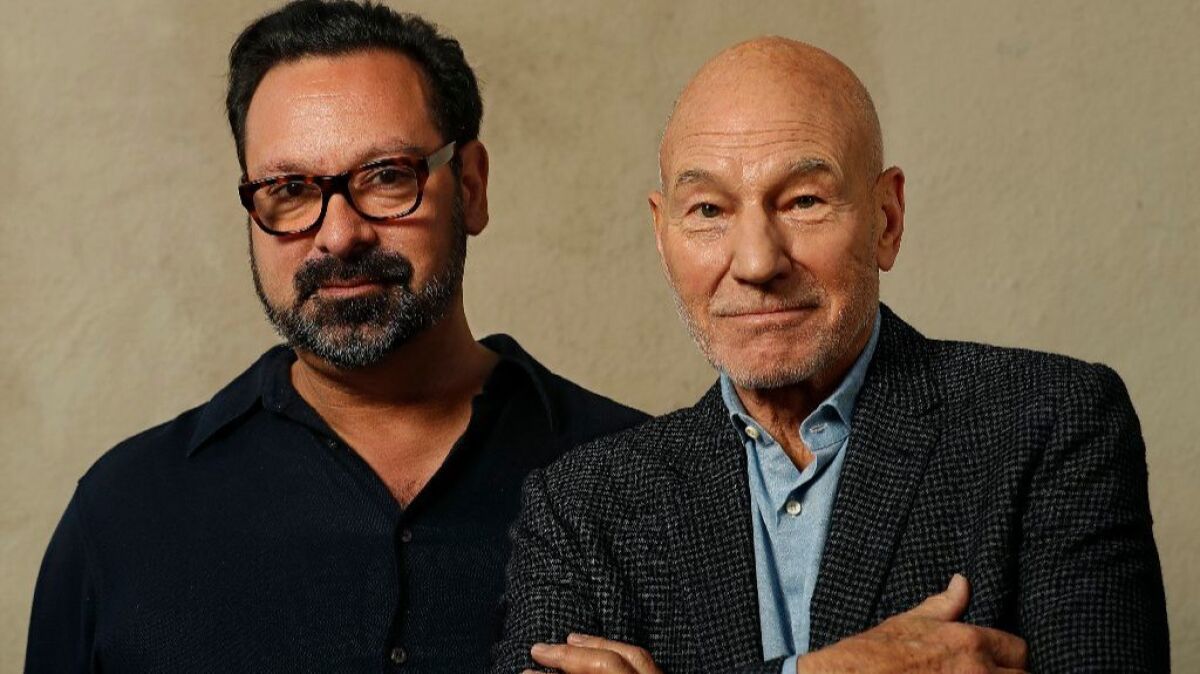 "Even superheroes grow old," says James Mangold, director and co-writer of "Logan." "There's no escaping it, but we've never seen it. It's great unplowed ground."
Mangold is talking about Patrick Stewart's final turn as Charles Xavier, alongside Hugh Jackman's swansong as the X-Man Wolverine. Stewart was so convincing as a 90-something Professor X, plagued by a degenerative brain disease, it's practically a relief to see the vigorous, engaging actor stroll into Mangold's offices on the Fox lot and extend a hand to shake. One remembers, "Oh yes, he was acting."
"I was 75 when I shot my part of the movie," he says, in those famed dulcet tones. "It was fascinating to make that shift to 15 years from now. Where would I be? I have arthritis, I've had various surgeries — just taking those things and pushing them into the future."
WATCH: Video Q&A's from this season's hottest contenders »
Only one movie from comic-book source material has ever been nominated for a top Oscar: "The Dark Knight" won for Heath Ledger's unforgettable supporting performance as the Joker. Yet every year, several of these movies end up among the best-reviewed, as well as ruling the box office. "Logan" is a direct challenge to preconceived notions of what superhero movies have to be, with its depth of characters and relationships, and its stunning finality.
Stewart's complex turn recalibrates audience perceptions of that venerable character: Charles is cranky, he's flummoxed; then he's totally together and wise, the Charles we knew.
"I felt he was playing two characters at the same time," says Mangold. "Not only was he playing the external actions of the scene, he had a whole other layer: keeping his head above the water level of consciousness, sinking down and having to scoop up again."Stewart says, "There's a line in the script that illustrated this. I said to [Logan] while I'm on the floor, 'Who are you?' I mention his name when he puts me on the bed and he says, 'So you know who I am.' And Charles says, 'I always know who you are. Just sometimes I don't recognize you.' "
Our inspirations were movies like 'The Wrestler' and 'Little Miss Sunshine.' I wasn't watching other comic-book movies.
— James Mangold
How is this depth of character exploration possible in a movie taken from comic books? Mangold decries what he calls the "fatigue" he believes the enormously successful genre has generated. Success has bred sameness, he says, drifting into "selling merchandise and happy meals and T-shirts.… Doing that five to 10 times a year has created a kind of exhaustion with third acts that are nothing but CG effects.
"Another exhaustion is with the fact that most of these movies are giant ensembles, so that everyone only gets an arc of six to seven minutes."
Stewart agrees that "Logan's" focus for its first half on the relationship between two once-great, now broken-down superheroes allowed for room that previous, ensemble-oriented "X-Men" movies never had. "There had always been six, seven, eight, 10 of us, sometimes more, sitting in a circle," says Stewart with a laugh. "The dialogue had to be apportioned out. That was part of the formula."
"Logan's" approach, he says, "would appeal to any actor who had spent 15, 16 years creating a character, but only in tiny steps because there wasn't really much room to maneuver.
"Mike Leigh would make this movie."
If that sounds crazy, it's less so on closer inspection. Mangold points out that "superhero movies" have "existed since Hercules and Jesus Christ and Ben-Hur. I think the term 'comic-book movie' has created its own slum. Is it because it actually comes from a comic book that we're biased against it?"
"Our inspirations were movies like 'The Wrestler' and 'Little Miss Sunshine,'" Mangold says. "I wasn't watching other comic-book movies. 'The Gauntlet.' Those kinds of '70s films, road pictures. The studio was, I think, courageous — I got to make one of my movies with these characters."
Watch the trailer for "Logan" starring Hugh Jackman as Wolverine.
Mangold says "Logan's" R rating was key, and not just to satisfy fans who'd always wanted to see Wolverine's dagger-like claws depicted lethally as in the comics.
"Charles' and Logan's first scene is in one space and takes about eight minutes. I could never have done that in a PG-13 movie. An eight-minute scene about illness and long-held grudges and losing one's faculties and regret is not going to hold a 9-year-old. Once your movie is rated R, that entire expectation is gone. You're freed from the duty to be making a film for children."
That kind of space led to such scenes as a dinner the superheroes have with an unsuspecting family on the road, says Mangold. The actors started exploring, and the relationship developed by Jackman and Stewart over 15 years of "X-Men" movies had a chance to shine.
"The young actor playing the teenager of the family improvised something about wanting to drop out of school. Then Patrick very naturally, as Charles, was like, 'Why do you want to do that?' And Hugh chimed in with, 'You better watch out; he used to run a school,' " and the scene was off and running. "It was all improvised, but I knew it was important as it was happening."
---
From the Oscars to the Emmys.
Get the Envelope newsletter for exclusive awards season coverage, behind-the-scenes stories from the Envelope podcast and columnist Glenn Whipp's must-read analysis.
You may occasionally receive promotional content from the Los Angeles Times.