Half a century after his 4-year-old self obsessed over the "Mary Poppins" soundtrack album while lying on his stomach next to the family record player, Marc Shaiman became fixated on writing the music for director Rob Marshall's sequel "Mary Poppins Returns." Competition was stiff, but Shaiman had a leg up because he'd already documented his passion for the original 1964 movie.
"A year before I'd even heard any talk about a sequel, I found a copy of 'Mary Poppins' in a used record store" recalls Shaiman, speaking from the weekend home in upstate New York he shares with husband Louis Mirabal. "I had my friend tape me placing the needle on the record, and the look on my face when I heard that first tremolo chord? You could literally see the music coursing through my blood. I sent the video to Rob, and that was my ace in the hole."
Shaiman earned an Oscar nomination for his "Mary Poppins Returns" score and picked up an original song nod as well for "The Place Where Lost Things Go," written with longtime co-lyricist Scott Wittman. Shaiman's lush arrangements and buoyant melodies, recorded in London by an 82-piece symphony orchestra, unapologetically reanimate vintage 20th century songcraft to suit the Depression-era story.
"Scott and I grew up in the '60s and '70s desperately wanting to know about everything that had come before," says Shaiman. "I am damned proud that we made music in a style that sounds like it belongs in the universe of Mary Poppins."
FULL COVERAGE: Get the latest on awards season from The Envelope »
I learned everything about songwriting and orchestrating from listening to that 'Mary Poppins' record as a toddler.
Marc Shaiman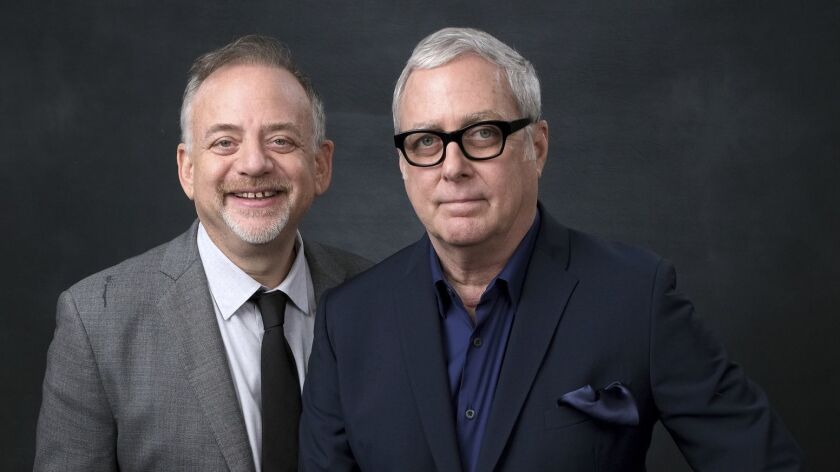 The film's jaunty opening number, "(Underneath the) Lovely London Sky," for example, drew inspiration from Flanagan and Allen, a once-famous British duo that specialized in upbeat songs about the working man. England's music hall tradition also inspired "A Cover Is Not the Book," showcasing Lin-Manuel Miranda's verbal dexterity.
"That style started with Gilbert and Sullivan and evolved into the music hall patter song," Shaiman explains. "When Lin got cast, Scott and I were, like, 'Oh, my God, it's not anachronistic at all for us to create this type of number for him.' But it was daunting, because on one shoulder we've got the Sherman brothers, who in my opinion wrote the greatest song score for a movie ever made, and on the other, we've got the preeminent musical writer of his generation."
The melody for the lullaby "The Place Where Lost Things Go" came easily to Shaiman. The hard part, he says, was figuring out the lyric hook for Emily Blunt's character. "Mary Poppins has to soothe the children and speak about grieving in a way they can understand," he says. "Luckily, Scott remembered one of P.L. Travers' books where Mary Poppins takes the kids on an adventure to visit the man on the moon. He keeps all these trinkets that kids have lost on the dark side of the moon, so we came up with the phrase 'a place where lost things go.' Then I went over to the piano, and the music kind of flowed out."
Shaiman, who earned five Academy Award nominations before "Mary Poppins Returns," developed his skills as a film composer with minimal formal training. "I learned everything about songwriting and orchestrating from listening to that 'Mary Poppins' record as a toddler," he says, citing musical director Irwin Kostal as a formative influence. "I didn't know the difference between a French horn and a trombone. I didn't know what tremolo strings were. All I knew was that these sounds drew me in and made me feel things."
Shaiman started taking piano lessons in first grade. By 12, he'd become suburban New Jersey's community theater wunderkind. When he turned 16, Shaiman got a GED, quit high school and moved to New York. There he teamed up with Bette Midler, launching a career that has encompassed an Emmy-winning collaboration with Billy Crystal for co-writing the 1992 Academy Awards telecast, the Broadway hit "Hairspray" and the NBC musical series "Smash."
But for Shaiman, all roads lead to "Mary Poppins Returns." He says, "One chord runs throughout the first movie, and I've put what I call the Mary Poppins Chord into all these other scores. I'm sure some directors have walked away from recording sessions saying to themselves, 'Why is this schmuck scoring my movie like it's a frigging Mary Poppins movie?' And now, I've actually worked on a film where the director's saying, 'Schmuck, score it like a Mary Poppins movie!' I never dreamed I'd get to put all this stuff where it properly belongs."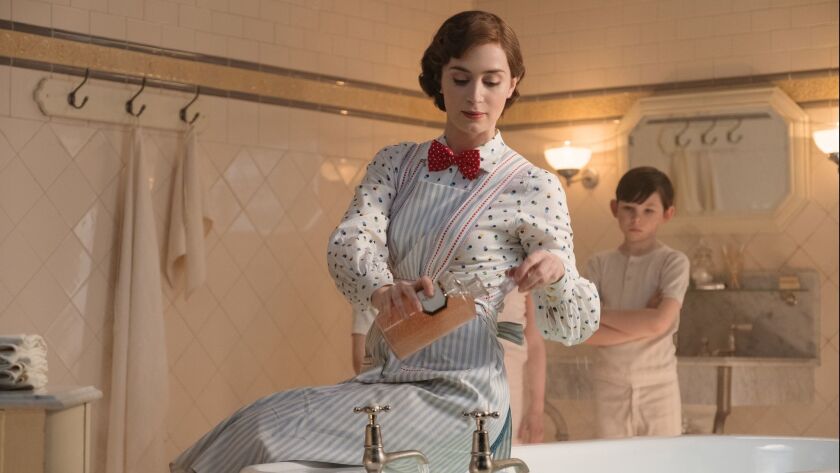 ---