Natalie Portman lets out her inner bad girl in 'Vox Lux'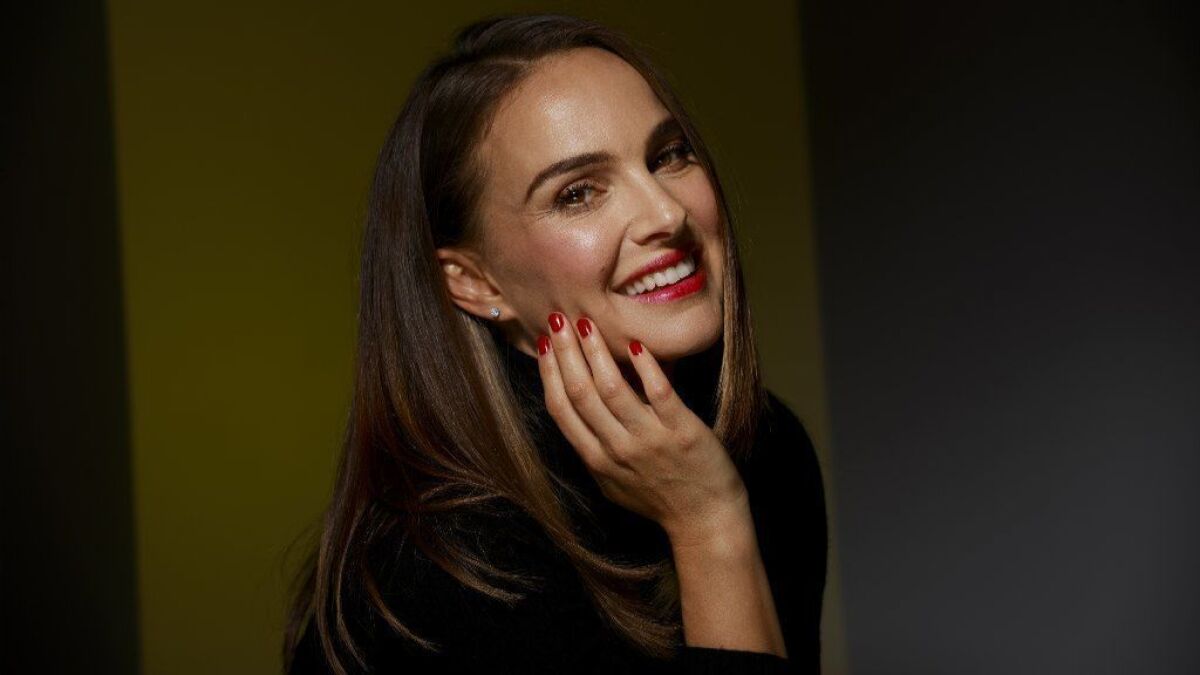 There's a fairly clear divergence point in the career path of one Natalie Portman. Since winning the Oscar as a ballerina pirouetting on the edge of madness in 2010's "Black Swan," she has chosen fewer big studio projects and zeroed in on more idiosyncratic indie fare for directors with distinctive voices. But it wasn't just the Oscar and how "Swan" changed directors' perceptions of her that caused the swerve.
"The other thing was I had my first child after 'Black Swan,' so … it kind of ups the stakes of what you want to do because it's time away from your kid," says the Harvard grad and mother of two. "Now it feels like, I want to be so passionate and committed to what I'm doing; it feels like an incredible use of my time."
She laughs and adds, "You have, obviously, very important people waiting for you at home."
Her 16 features since 2010 include work with Terrence Malick, Pablo Larraín, Alex Garland and Xavier Dolan. And now, currently in that line is Brady Corbet's "Vox Lux."
FULL COVERAGE: Get the latest on awards season from The Envelope »
In the new film, Portman plays Celeste, a Madonna-ish pop star whose life and career are marked by two horrific acts of violence. In the film's first half, young Raffey Cassidy portrays her during her formative years. By the time Portman takes over in the story, the hardened Celeste bears little resemblance to that girl. The actress is delighted that the careening, loose-cannon character also bears little resemblance to herself.
"I don't want to go to work and play, like, a harried mom," she says. "I am a harried mom. It's fun to get to go to work and be a pop star. Or an astronaut, which I just did. Or a military operative in a science-fiction landscape, like in 'Annihilation.' It feels like getting to lead another life. A little Superman action: One thing by day, one thing by night."
Celeste in "Vox Lux" seems both Superman and Bizarro. Portman gets to be rude and extreme as someone who has grown up in the public eye and has become expert at presenting public and private faces. Portman's first day of shooting captured what she calls the character's "drug meltdown." The actress also sings and dances in an extended performance sequence and doesn't worry about Celeste being likable.
"She definitely does things that are monstrous," Portman says with that frequent laugh. "I think that's part of what's reflective of our moment in time: that someone who can say awful things and do awful things can also be charismatic and alluring. It's all in one package, and it's hard to take out.
Natalie Portman and Jude Law star in a portrait of a pop star, "Vox Lux."
WATCH: Video Q&A's from this season's hottest contenders »
"Brady said, 'Sometimes she says total nonsense. Sometimes she's saying really horrible things. Sometimes she's saying really interesting things. And sometimes she's a good person.' It's so much more interesting and real that someone is different in different scenarios."
Writer-director Corbet has said the film isn't meant to comment on the issue of gun control, though two murderous shootings do shape its themes.
"It's not a message movie; he calls it a 'portrait' of the time we live in," Portman says. "He was like, 'What are the big, violent conflicts of our time? This is our civil war.' Currently, it's school shootings and terrorism — one is the domestic conflict, and one is the international conflict.
"It's the violence we live in right now and how we react to it, and kind of seeing this relationship between the treatment of media, journalism, news culture and audience attention — that the audience for news and the audience for a pop show are becoming one, and the more attention that you give is what gives it power."
In researching pop stars, Portman's takeaway was that being adored by millions is very hard work.
"It's crazy. They're in a different city every night and constantly flying and away from their homes. It's like a marathon when you're on tour," she says, noting just how much of a physical feat she found the stage show to be. "And then the people who work with them become like this little family. So you're also dealing with everyone around you — their dramas and conflicts and personalities."
She saw a divide between the pop-music stardom such as Celeste gains at about 13 and the acting fame Portman has known since she debuted in "Léon: The Professional," also at about 13.
"The part that [actors display] in the public eye — our creative work — is a character that's not us, whereas for a pop star, you're expected to be in your private life the same persona as what people see you as in performance. So I think that's a trickier thing. If you project, like, this punk persona on stage and you're walking down the street in no makeup and a frilly dress, you will lose your street cred, whereas as an actress, you're applauded for that — playing a character totally different from yourself," she says with a laugh.
---
Get our L.A. Goes Out newsletter, with the week's best events, to help you explore and experience our city.
You may occasionally receive promotional content from the Los Angeles Times.