For Salma Hayek, 'Beatriz at Dinner' considers personal gain versus caring for the whole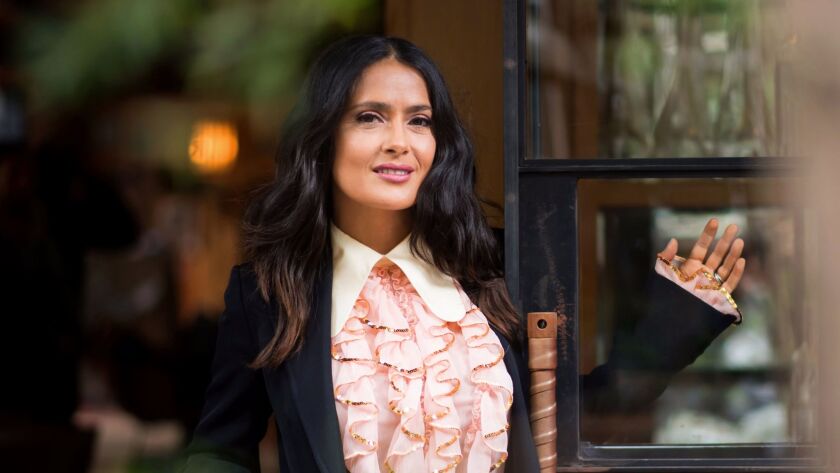 In town for both a quick respite and to talk about her lauded, summer-released film, "Beatriz at Dinner," actress Salma Hayek is dressed in a chic black pantsuit, an apricot-pink ruffled blouse and killer high black platform shoes (to help offset her height, 5 feet, 2 inches). Mexican-born and married to multibillionaire French businessman Francois-Henri Pinault, the multi-homed thespian (she lives in London, with homes in Los Angeles, Paris and an animal-rescuing ranch in Washington State, "Yes, I'm a gypsy,") clearly enjoys working.
On a bright orange velvet banquette inside Sunset Boulevard's Estrella restaurant, Hayek discusses her film, with legs tucked beneath her. The film, written by Mike White, tells the story of a Mexican activist who by happenstance ends up at a dinner party with a group of wealthy, white businessmen, one of whom, a character played by John Lithgow, is a hunter and developer — and perhaps the man who destroyed Beatriz's home village.
Can you tell us how the project started?
Mike came to me and said, "I have an idea for a movie I'd like to do." "Ok, what is it?" "It's a dinner." "OK. What do I play?" "It's just a dinner." And no matter what I said, the answer was, "It's a dinner." So, I said, "Absolutely." He went home and wrote it in a couple weeks' time. It was around the time of [the killing of] Cecil the Lion.
Salma Hayek, John Lithgow and Connie Britton star in "Beatriz at Dinner."
WATCH: Video Q&A's from this season's hottest contenders »
You've mentioned that for you this film is about "spiritual inequality." Can you explain?
I don't remember those exact words, but to me it's about the inequality between a commitment to the planet and other people or not. Beatriz has it and John [as businessman Doug Strutt] doesn't. That's how I see it. Seeking survival as a race and as the caretakers of the planet versus personal survival.
That's the tension between those two characters and between those two opposing views. They were also the only two people who were not hypocrites. Would you agree?
What I found out through doing the film and which I'm grateful for the film teaching me is how both sides of that equation have a very strong place. They're both looking and have a nostalgia about a place where things are good and pure and safe. She thinks it's her home; going back to being a little girl and nature and home. He looks for it in hunting. It's almost a spiritual thing for him, it's so primal. Listen to how he speaks about it.
As disconnected as Strutt was, in a way he understood your character, or at least tried to.
He had a clear point of view about life and was ready to defend it. My character just couldn't find things to respect him by and so I think he was kind of attracted to that because he was used to charming himself into things. Narcissism and self-centeredness is dangerous and a big challenge. As we can currently see.
About the ending, without giving things away, I thought when Beatriz realized she had the killer in her, she needed to cleanse herself in the ocean. Others have a different interpretation. What was your intent as you played it?
That was my intent because we were working off the water as being much more symbolic. But it's important for the filmmakers that it's left open for everyone. And even if you're disappointed with the end -- some people love it, some people hate it, there are so many interpretations -- we did our job right. If we pretended we know how to fix this separation between the two ideologies that we are living daily in this country that would be pretentious. And not as interesting. What would make me the happiest is if you walk out of the theater wanting to solve it, that it provokes you to think, not just like you always think but maybe now with a consideration for the other part.
It's a thinker's film versus simply an eye candy movie …
And, by the way, I was really happy not to be the eye candy this time. (Laughs)
I was really happy not to be the eye candy this time.
Salma Hayek
And knowing how you like fashion, how did you feel about a film where all the action is in one day and you have only one costume the entire movie?
I loved it. You don't have to worry or think about it, you don't have to go put the makeup on, you don't have to look good. I just became the part very soon and I never thought about it again.
You've been inside Hollywood for a long time. With all the sexual harassment issues coming out right now, do you have any thoughts on what's going on?
I do, but I don't really know how to answer you because I have so many I've tried to write something for a month, and it's so disturbing I can't even write it. I don't know if I can use words when I'm still trying to figure out how to express all the things I think about what is happening. All I can say is it's part of a bigger problem, and that is the devaluation of women in the industry and this is why we fight for equality.
---
From the Emmys to the Oscars.
Get our revamped Envelope newsletter for exclusive awards season coverage, behind-the-scenes insights and columnist Glenn Whipp's commentary.
You may occasionally receive promotional content from the Los Angeles Times.