'Science Fair' celebrates the 'nerds,' the kids looking ahead to solve global problems
On the surface, "Science Fair" looks like it'll be just as earnest and straightforward as its title, focusing on the bright students of today as they compete in the annual International Science and Engineering Fair. But the entertaining, heartfelt National Geographic documentary from journalists Darren Foster and Cristina Costantini has taken on a life of its own since winning Sundance's 2018 inaugural festival-wide audience award and now has a good chance at Academy Award attention. The filmmakers spoke with The Envelope about the film, its unexpected politicization and why science nerds are our real superheroes.
I'm kind of assuming, but which of you is the actual science nerd here?
Cristina Costantini: I was a science-fair kid; I competed for two years, and it totally changed my life and made me who I am. I'm from a sports-obsessed high school, and it validated me during those very dark years. This is kind of a love letter, a thank-you note to this quirky little world.
Darren Foster: I did more of the baking-soda science-fair kind of thing — but I went to college thinking I was going to become a doctor. I changed everything when I discovered writing.
I imagine you were influenced by the breakout 2002 documentary "Spellbound," about competitive spelling bees. There are quite a few parallels.
Foster: We really studied all those films — "Spellbound," "Mad Hot Ballroom" (2005), "King of Kong: A Fistful of Quarters" (2007) because we love them; those were touchstones. The characters we found for our film were unique to this world in many ways, and it also has a backdrop that's different — it has themes that are resonant with immigration. One of our main characters is a Muslim girl.
Costantini: We're investigative journalists, and I don't think we could have done this story without talking about the contribution of immigrants, women and Muslims.
You also clearly delineate the way our schools spend resources and school spirit to boost sports teams while ignoring totally the one girl who is chosen to go to the national science fair.
Foster: After WWII, we went through the space race, and it was a time when the U.S. was facing global challenges — and we turned to scientists to help meet those challenges. Scientists were heroes. Today, especially from national leadership, that message isn't as clear as it once was. These kids are showing how we should be confronting big challenges, and it's not by burying our head in the sand; it's by doing rigorous science and experimenting.
Costantini: We are living in a time when so many adults are acting like children, and here are kids acting like adults, putting in the hard work, looking at global challenges and trying to fix them. I've always taken issue with the fact that nerds are not celebrated — or weren't celebrated when I was in high school. We throw huge parties and homecoming celebrations for football players, but they're not going to change the world. Science-fair kids are.
How surprised are you both that this has vaulted from a nice TV documentary to possible Oscar contention?
Foster: Once National Geographic got involved, they were amazing: They put us in theaters across the country and also this amazing educational campaign. A couple of weeks ago they said they'd give the screener to any school that wanted the film, so we've signed up 3,000 schools, and now all those schools are tagging us on Twitter.
Costantini: There are all these auditoriums with ninth-graders watching the movie, and it plays different with different people. We didn't conceive of it as a kids movie, but kids are really responding to it in a fun way.
Documentaries do have a way of taking on a life of their own. You're both journalists by profession — so what do you see as the purpose of documentaries as an art form?
Costantini: It's a great way to foster understanding between people who are dissimilar. Creating empathy is one of the most important things that we as documentarians can do.
Foster: The reason the camera exists is to bring you into a world, and for me it's all about building bridges. I do think the camera is an empathy machine. If you get it right, you can walk in somebody's shoes for an hour and maybe get a sense of what life is like for someone else who is different.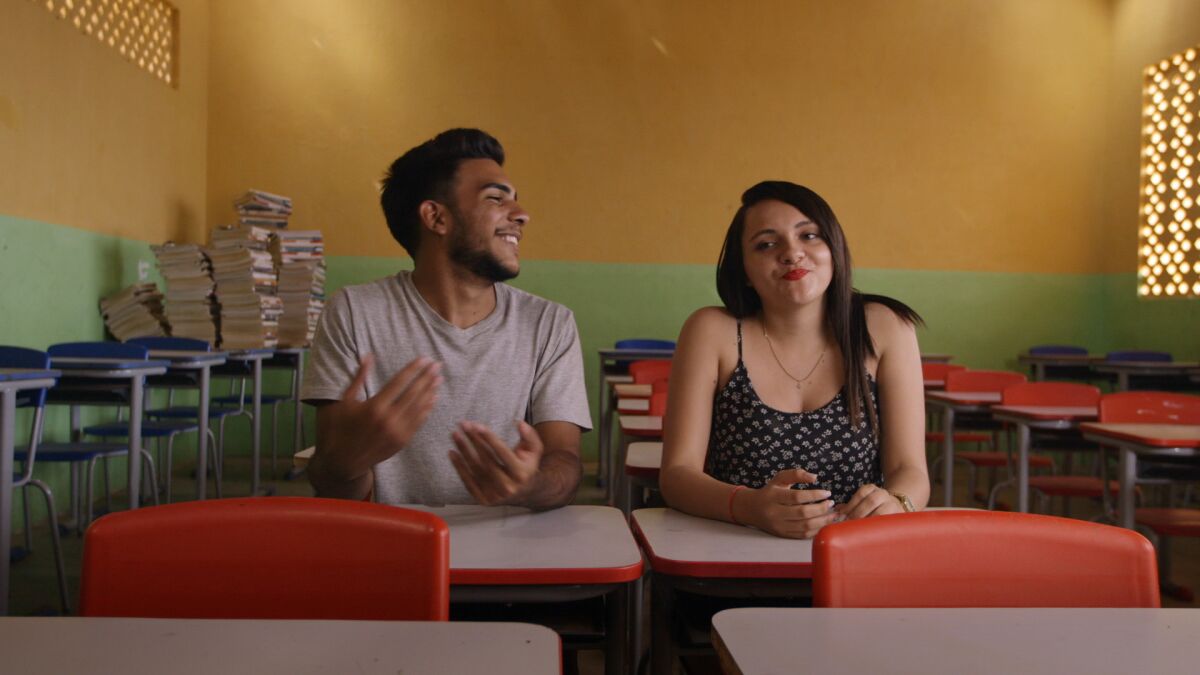 FULL COVERAGE: Get the latest on awards season from The Envelope »
From the Oscars to the Emmys.
Get the Envelope newsletter for exclusive awards season coverage, behind-the-scenes stories from the Envelope podcast and columnist Glenn Whipp's must-read analysis.
You may occasionally receive promotional content from the Los Angeles Times.