Original film songs stir up a wide variety of emotions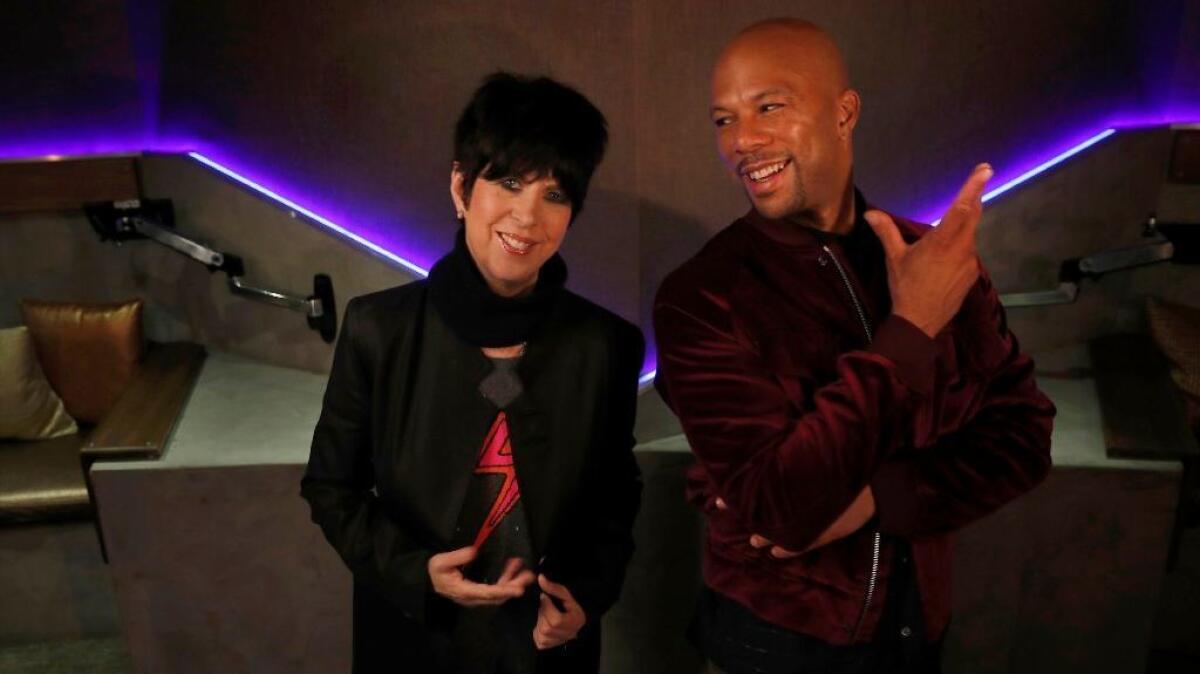 The Oscar race for original song has opened into a wide, varied and competitive field. Memorable empowerment anthems ("This Is Me," "Jump," "If I Dare") run side-by-side with rousing calls to action ("Stand Up for Something," "It Ain't Fair") and a departed rock hero's keening tribute to those lost in genocide. There's a layered love song with multiple meanings ("Remember Me") and a Bacharach-esque, aching longing for days gone by ("You Shouldn't Look at Me That Way"). And that's without considering the several films that make up the best argument in years for the academy to hand out its long-dormant original musical trophy.
Together, they make up a remarkable bounty for fans of songs written for movies. Here's a look at a few of them:
"Stand Up for Something"
From "Marshall"
When Diane Warren started writing "Stand Up for Something" for a film about a key case early in future Supreme Court Justice Thurgood Marshall's society-changing career, she didn't aim small.
"I wanted to write a song that could have been Aretha or Sam Cooke," says the eight-time Oscar nominee, beside her collaborator, Oscar-winning rapper Common, on a couch in her new Hollywood studios. "I listened to 'A Change Is Gonna Come' over and over. 'I want something that stands up to that!' "
Common says, " 'Change Is Gonna Come' was written at a critical time in the world. We are living in a critical time in the world."
Warren is right on top of that: "Our rights are under attack. Civil rights. Women's rights. Gay rights. Free speech. Animal rights."
"The environment," interjects Common, nodding along with the list.
"We can't passively sit here," she says. "This song is like a battle cry."
The storied songwriter says when she read the script of "Marshall," she wrote down the line that became the backbone of the song: "It all means nothing / if you don't stand up for something." She says she had Andra Day in mind to sing it ("There's not one note of her singing you don't believe"), unaware she was already cast in the 1940s-set movie as a jazz singer. Day then delivered a spot-on 1960s R&B vocal for the song, reminiscent of Etta James.
"What's the biggest message I want people to stand up for?," Common asks. "That's love. 'Let the ways of love be the ways of man.' It's that type of love that will make people do something for someone else," he says.
"Remember Me"
From "Coco"
The animated "Coco" is a trip through the "other side" of Dia de los Muertos as a living boy finds himself in the land of the dead and must make his way back. In keeping with that duality, themes of remembrance and the importance of music, the Oscar-winning writers of "Let It Go" were challenged to craft a bombastic, delicate, self-aggrandizing, humble, Swiss Army knife of a song: "Remember Me."
Kristen Anderson-Lopez says director Lee Unkrich "asked us two things: Can you write a song that means two totally different things, based on the arrangement; and could a version of a song be taking attention, and that same song also be a gift?"
"Remember Me" is actually given three distinct performances, each carrying different emotion and meaning. They patterned the base style after Mexican crooners of the early 20th century such as Jorge Negrete. With the help of composer Germaine Franco, they made one version a spectacular paean of self-glorification. The same song, played quietly on one guitar, becomes heartbreakingly tender.
Anderson-Lopez says, "And in the melody, it was," she sings, starting low and climbing higher and higher, " 'Until you're in my arms again …' " She sings again, this time the "showboating" version by a self-satisfied man turns as comforting as a nightlight for a lullaby approach.
Her husband and writing partner, EGOT winner Robert Lopez, adds, "The other one is 'each night we are apart' – from [one character], that's like, 'I can't be with you tonight, my dear, but I'll see you again sometime.' " He purrs the latter, and one can practically hear his raised eyebrow.
Anderson-Lopez says for the third character, that line comes "after he has lost someone he loves and is thinking about them every night in his prayers."
"It's funny, that's the version that haunts me the most. We didn't even know" it would be used that third way, says Lopez. His voice turns softer, more reflective. "It's about loss, it's about the people who came before you, who allow you to be who you are. It's about music waking up someone through memory from the dead.
"The Promise"
From "The Promise"
For the end-title song of the Armenian genocide drama "The Promise," the production turned to perhaps an unexpected choice: former Soundgarden frontman Chris Cornell.
"Chris was at the first reading of the script," said director Terry George by phone. "It was April 24, 2015; the 100th anniversary of the Armenian genocide."
The late Cornell was brought on by his friend, "Promise" producer Eric Esrailian.
"Chris could envision the film before we even started writing a single word, and he was part of every draft of the script, every major casting conversation, dailies and every major cut," said Esrailian by email.
"He wrote me the following: 'I want to tell you that I am honored and that I am devoted to this film and I will give it my absolute best and I feel like my 30 years of discovery and development as a songwriter have led me to this...' "
The title song is a tender orchestral ballad that expresses the story's central themes of survival – and beyond.
"Promise to survive / persevere and thrive / as we've always done," Cornell sings. "If I had nothing to my name / But photographs of you / Rescued from the flame / That is all I would ever need …"
Esrailian says Cornell's focus on current refugee crises is reflected in the song's video. George says, "Normally, an end-credits song, the video for that would be clips from the film with the singer. This is a very proactive video about refugees today, the situation in the Middle East, where we're at."
George says, "I watched him perform it on 'Jimmy Fallon' [on television] – the power, the passion of the song made me choke up. … I never did get to see him do it live. I was looking forward to that experience."
"If I Dare"
From "Battle of the Sexes"
Former tennis champ Billie Jean King has perhaps become better known for her dogged determination and tireless activism than her championships. Nicholas Britell and Sara Bareilles' song, "If I Dare," from "Battle of Sexes," takes her quiet strength as a baseline.
"What a maverick. What a badass," says the stylish Bareilles at a table with Britelloutside a suite at the London. "I was gonna be less crass, but … how brave can you be? She's so deeply rooted in her position as an advocate for others — she won that match not for herself, but for women everywhere."
"That match" was the enormously viewed 1973 battle of the sexes between the leader of the burgeoning Women's Tennis Assn. and Bobby Riggs, the 55-year-old former men's champ who pledged to put the "show" into "chauvinism." Britell, previously nominated for "Moonlight," composed the "Battle" score.
Britell says, "I made a demo about how these [score elements] could follow a song structure, but that was just an initial idea."
"It was like an invitation to a conversation," says Bareilles. "That sort of placeholder demo was this beautiful and heart-wrenching ballad."
Apart from directly referencing King's push for gender equality ("You climbed the mountain / Sent pictures of the view / But can't believe when / I started climbing too"), Bareilles added a rhythmic, monotone vocal ("Doo doo doo …") that plays like a representation of King's persistence. "[King] said, 'I just want people to leave the theater feeling like they can do anything.' So I wanted the song to have that driving element, as in our little a cappella chorus."
Britell adds, "When I first heard that, I was blown away. It is intimate, but it has that persistence, that intensity, that force."
Bareilles says, "The whole jumping-off point was the scene with [Assn. of Tennis Professionals Executive Director] Jack Kramer where she says, 'It's when we dare to ask for just a little bit more, that's when you have a problem with us.' That was the line I kept chewing on … She embodies that so gracefully — to dare to do something, to dare to be great."
"Jump"
From "Step"
The documentary "Step" follows a group of girls living in a variety of difficult circumstances in urban Baltimore. United by their step dance team, they inch toward that big life-leap after high school.
"I think the director, Amanda Lipitz, was looking for some kind of anthem that could represent the spirit of the girls," says Laura Karpman, a Juilliard-trained composer with her two collaborators at Blakeslee Recording in North Hollywood.
"For me, it was really about the girls," says Grammy winner Raphael Saadiq. "It's real families. Real-life kids really trying to get ahead."
"I've had my electricity cut off," says veteran songwriter Taura Stinson. "So that moment [in the film], maybe a lot of people don't know how that feels, but I'm good for this because I know exactly how that feels. I know how it feels to go to high school and not think you can go to college."
The delicately building track features a knockout vocal from Broadway powerhouse Cynthia Erivo. "When Cynthia jumps octaves, 'When your knees are shaking / when your heart is racing' – I just can't take it sometimes," says Stinson.
"'I'm jumping for this.' 'I'm about to jump," Stinson says the song is an anthem for staying true to yourself. Be it "'I have to walk away from this abusive relationship.' 'I have to walk away from the thought process that I can't get into school.' Whatever it is that takes you away from who you are."
Karpman says, "My son sings it! He's 7. People get it right away. People have made videos … when kids like something, you know you hit it."
"It's not us," says Saadiq. "That song is definitely the girls. I never would have written a song like 'Jump' for me; it's tailor-made for them."
WATCH: Video Q&A's from this season's hottest contenders »
From the Oscars to the Emmys.
Get the Envelope newsletter for exclusive awards season coverage, behind-the-scenes stories from the Envelope podcast and columnist Glenn Whipp's must-read analysis.
You may occasionally receive promotional content from the Los Angeles Times.