'Into the Spider-Verse' brings in diversity, innovation and some special Easter eggs
There was plenty of reason for skepticism on hearing that, despite Spider-Man being assimilated into the Marvel Cinematic Universe, Sony would be continuing its own Spider-spinoffs outside that continuity. They still don't get it? It's the continuity that matters. And Sony's last three Spider-movies were less than, shall we say, "Amazing" — averaging 62 on Rotten Tomatoes, far below the MCU average of 84 (the MCU's "Spider-Man: Homecoming" scored a 92). Perhaps worst of all, the new movie would be … animated.
And then the innovative, live-wire "Spider-Man: Into the Spider-Verse," released Dec. 14, began blowing the webs off all expectations in early screenings. Loaded with intellectual and emotional energy — and Easter eggs — the film doesn't look like any other major animated release.
FULL COVERAGE: Get the latest on awards season from The Envelope »
Bob Perischetti, one of three co-directors of "Spider-Verse," said "The Lego Movie" filmmakers Chris Miller and Phil Lord initially turned down the studio's offer to make a new Spider-movie. "But then they thought about it and said, 'We'd love to do it if we could do it about this guy and these other characters. So that was the directive throughout: This is a story about Miles Morales and how we can make a film with a new character, make it contemporary, with a character who's 13 years old and has both parents and an uncle." Lord co-wrote "Spider-Verse" and co-produced with Miller.
For the uninitiated, Miles Morales is a black Latino Brooklyn teen who becomes Spider-Man in the Ultimate Marvel imprint of Marvel Comics, first appearing in 2011. This is as opposed to the Peter Parker Spider-Man most fans know. Miles is voiced in the movie by Shameik Moore ("Dope," "The Get Down") as a gifted student who's more interested in his street art than school. After Miles is bitten by a radioactive spider (don't you just hate when that happens?), he meets Spider-heroes from other dimensions in the Marvel Comics "multiverse." These include the teen Spider-Gwen/Spider-Woman, a manga-inspired version pairing a schoolgirl with a spider-robot, and a film-noir-inspired iteration, a cartoon pig and two Peter Parkers.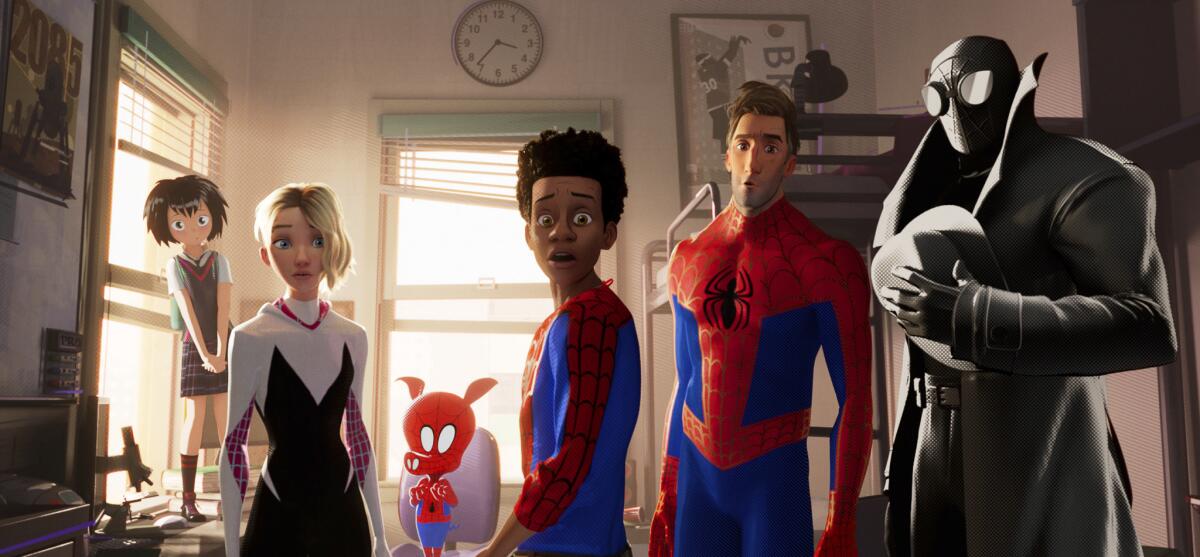 "In one fell swoop, you could address why another Spider-Man movie, and diversity in a genre that hasn't been that good on it," says co-director Peter Ramsey. "It's one of those things; all you have to do is take one step to the left and it becomes so simple."
Not only does this multiverse approach justify Miles Morales or Spider-Gwen movies while Peter Parker does his thing with the Avengers in the MCU, it also kicks open the doors for "Venom" and Sony's other franchises to peacefully coexist in the marketplace while not existing in each other's worlds.
Of course, none of that would matter if "Spider-Verse" didn't engage viewers, and that had to start with Miles.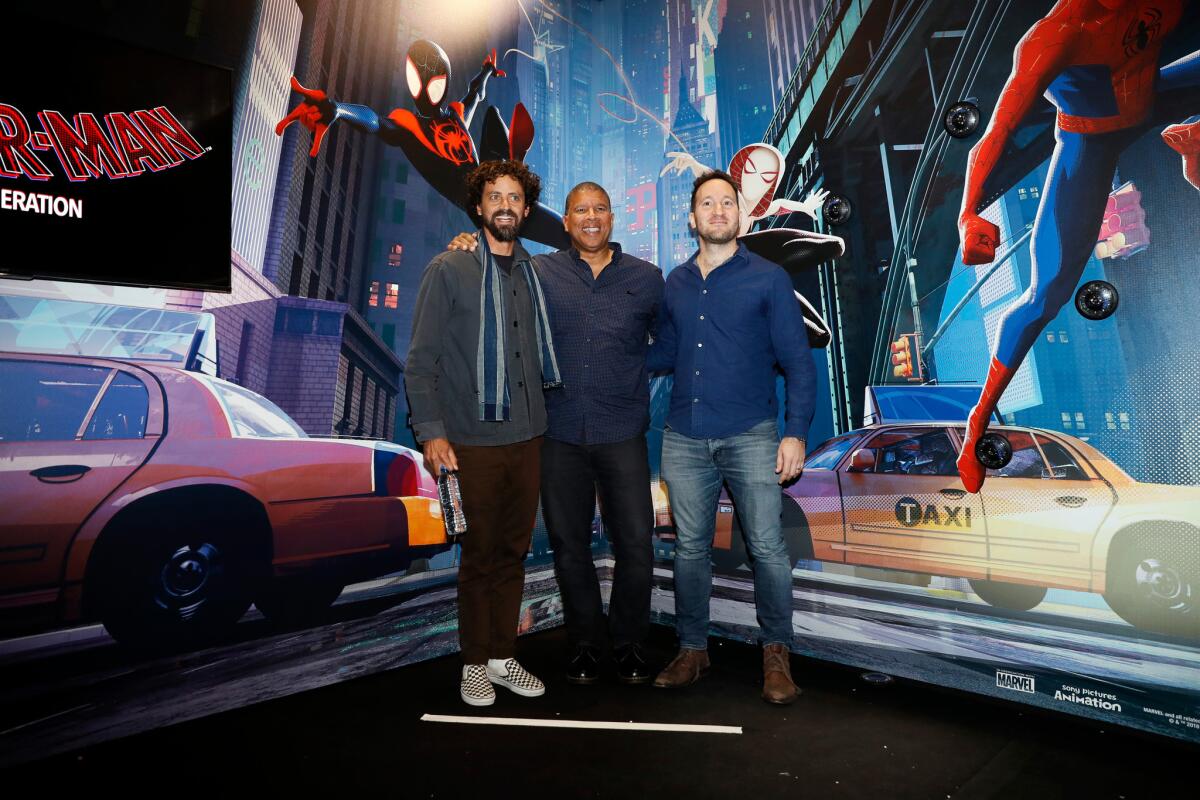 The third and final co-director, Rodney Rothman (who also co-wrote), says, "We wanted audiences to fall in love with Miles as a three-dimensional character. The animators did a fantastic job of [making] Miles feel very specific and very real, like an individual person."
There are references to the comic-book form, such as dialogue boxes expressing thoughts, panel borders and spelled-out sound effects. There are Easter eggs, such as the names of key comic creators in Miles' phone contacts, or references to how alternate this universe is, such as a billboard touting pro golfer Stephen Curry. Even Miles' costume logo is rethought to express the artist he is at his core.
But one of the film's most distinct aspects is its unique look, which combines the 3-D animation audiences are accustomed to now with a distinctly 2-D approach to motion and creating dimension.
Perischetti says, "When you look at a comic book, every panel has a dynamism, telling as much story as it can with a still image. We took an old 2-D approach to the way we animated the character. We only do 12 images per second, as opposed to 24. So there was a lot of experimentation; there was a lot of failure. Then all of a sudden, it all sort of clicked."
At different layers of depth in the image, there will sometimes be slightly shifted, monochromatic ghost images of objects and people — sort of like the old green-and-red 3-D process, but here mimicking errors in color separation in the printing of comic books.
They worked out cheats to avoid using "even a single frame of motion blur," says Perischetti. Sometimes the effect is just trippy. Sometimes, it's like your brain is being tricked into making 3-D out of a 2-D image without the glasses.
Ramsey says, "There are things in comics — errors in printing — that mimic that photographic process, but they do it in a way that's drawn from printing. The big idea was, let's put those in and turn them into cinematic language."
And Perischetti promises the actual stereoscopic version will blow viewers' minds because of those techniques: "The first time they put glasses on us, we were like — aaaahhhhh!"
From the Oscars to the Emmys.
Get the Envelope newsletter for exclusive awards season coverage, behind-the-scenes stories from the Envelope podcast and columnist Glenn Whipp's must-read analysis.
You may occasionally receive promotional content from the Los Angeles Times.